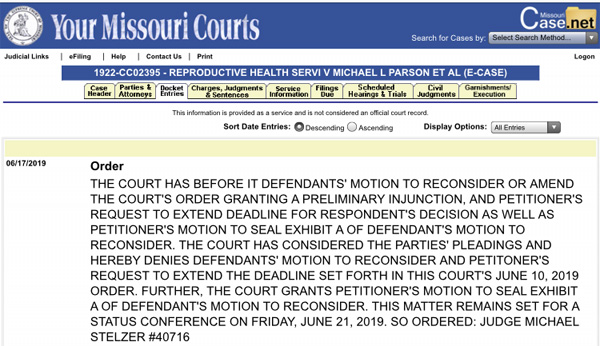 By Cheryl Sullenger
St. Louis, MO – This morning Judge Michael F. Stelzer denied the motion made on behalf of the Missouri Department of Health and Human Services asking the Court to reconsider or amend the Preliminary Injunction issued on June 10, 2019, that keeps Reproductive Health Services Planned Parenthood in St. Louis operating despite its facility license having expired on May 31, 2019.
Stelzer noted that the June 21, 2019, status conference set in the preliminary injunction order will still take place. The Court ordered the DHSS to rule on RHS Planned Parenthood's license application by that same date.
At the request of RHS Planned Parenthood, Judge Stelzer also sealed "Exhibit A," which was attached to the DHSS motion.
Operation Rescue received copies of Exhibit A on Friday, June 14, 2019, before it was placed under seal and released the documents publicly in an exposé published on Saturday, June 15, 2019.
Exhibit A consists of two documents. First is a 4-page letter from the DHSS to RHS Planned Parenthood discussing the attached 62-page Statement of Deficiencies and explaining why the lack of cooperation with the investigation coupled with the court-ordered deadline for a licensing decision has placed the complaint investigation on an accelerated schedule.
1922-CC02395 – 6-13-2019 – Exhibit A by Cheryl Sullenger on Scribd
The DHSS ordered RHS Planned Parenthood to submit a detailed Plan of Correction for all deficiencies by June 18, 2019. The plan must "address the failure of RHS and its physicians to cooperate in this investigation, which is unprecedented and unacceptable."
The letter also stated, "Due to this ongoing non-cooperation, in order to issue a Statement of Deficiencies based on the complaint investigation, we are forced to infer that each physician who declined to participate in an interview has no satisfactory explanation for the conduct under investigation, and we are forced to apply the same presumption to RHS."
The Statement of Deficiencies detailed horrifically botched abortions suffered by four women, one of whom nearly died, and another who was hospitalized with sepsis, a serious, potentially life-threatening infection.
It also revealed that Medical Director Michael Eisenberg and supervising abortionist Colleen McNicholas gave answers to questions by DHSS investigators that were false, contradictory, or nonsensical, causing the DHSS to note in their report that the answers were "insufficient to satisfy compliance."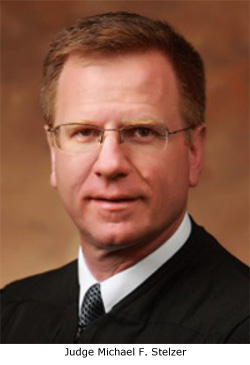 Steltzer earlier quashed subpoenas issued by the DHSS for nine staff members and physicians from RHS Planned Parenthood who were involved in the botched abortions, then sealed the subpoenas to hide the identities of the staffers.
However, before the subpoenas were sealed, Operation Rescue obtained their names from public records and published an exposé about them.
Judge Stelzer was appointed to the Circuit Court bench in July 2012 by former Governor Jay Nixon, a Democrat.
"It is in the public's interest to know who is harming women at the St. Louis Planned Parenthood and why this is being taken so seriously by the Missouri agency tasked with protecting the public," said Operation Rescue President Troy Newman. "The fact that RHS Planned Parenthood is working so hard to keep its abortionists from talking and to keep incriminating information from the public proves that they are trying to cover up dangerous practices that could potentially shut them down and cost abortionists their medical licenses."
Read Operation Rescue's June 15, 2019, exposé with supporting documents: St. Louis Planned Parenthood's New Deficiency Report/Court Docs, Reveal Obstruction of Truth in Horrifically Botched Abortions
Read Operation Rescue's June 11, 2019, exposé with supporting documents: Pathology Lab Deficiency Report Reveals Seriously Botched Abortion at St. Louis Planned Parenthood
Read Operation Rescue's June 5, 2019 exposé with supporting documents: Preliminary Injunction Ruling Pending in MO Planned Parenthood Licensing Case; More Now Known about Subpoenaed Abortionists