By Cheryl Sullenger
St. Louis, MO – The licensing dispute between Reproductive Health Services Planned Parenthood and the Missouri Department of Health and Senior Services (DHSS) took another dramatic turn yesterday with the release of the deficiency report for Boyce and Bynum Professional Services, the pathology lab that is under contract with RHS Planned Parenthood.
This lab is responsible for examining uterine contents extracted during surgical abortions that would contain the remains of aborted babies.
At the heart of the licensing dispute are multiple incidents of botched abortion attempts that left women still pregnant without having been informed that their abortions were incomplete. The DHSS sought to interview seven licensed physicians who worked at Planned Parenthood and were responsible for adverse patient outcomes.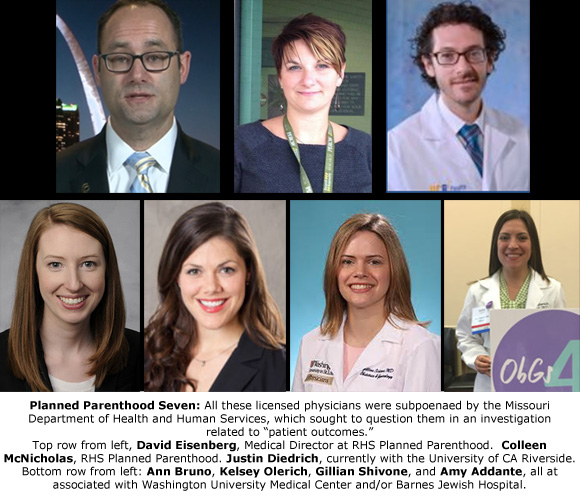 Only two of the Planned Parenthood abortionists have been interviewed. The other five have obtained legal representation and have refused to cooperate. That has left the DHSS unable to complete its investigation into the mishandled abortions.
The release of the Boyce and Bynum deficiency report, based on an inspection conducted on April 29, 2019, reveals further information on at least one of the abortions in question.
The contents extracted from an abortion done at RHS Planned Parenthood on "patient A" was collected on May 26, 2018, and sent to Boyce and Bynum for pathological examination. The final pathological report indicated that "placenta and fetal parts are grossly identified." Microscopic evaluation revealed evidence of pregnancy tissue.
However, patient A suffered an incomplete abortion and carried the partial remains of her baby and placenta for five weeks until a second abortion was done on June 30, 2018.
The extracted contents of that abortion were evaluated by the pathology laboratory, which discovered "placenta and fetal parts are grossly identified," and microscopic examination found evidence of pregnancy tissue.
Nevertheless, the person who conducted the pathology examination never checked the patient's previous history and never contacted RHS Planned Parenthood to inform them of its unexpected findings.
"Women who receive incomplete abortions are in danger of developing serious infections and other health issues if left untreated. This is a very dangerous situation for women," said Troy Newman, President of Operation Rescue. "When you couple RHS Planned Parenthood's pattern of botching abortions with a pathology lab that does not properly report results of its examinations, you have a recipe for disaster for women who get abortions."
Boyce and Bynum was also cited for failing to ensure the accuracy of their tests, failing to maintain proper step-by-step procedures for the examination of "Products of Conception," failing to have a procedure with which to correct problems, and failing to ensure that testing personnel had adequate education and training to perform high-complexity testing, among other violations.
Boyce and Bynum, founded in Columbia, Missouri, was purchased by the New Jersey-based Quest Diagnostics in November 2018.
Boyce and Bynum "dropped" their accreditation in January 2019, according to a statement issued by the College of American Pathologists. They were found to be in violation of federal regulations in May. They have fully cooperated with state and federal investigations and have now reapplied to regain their accreditation.
Meanwhile, Judge Michael Stelzer issued a preliminary injunction yesterday that allowed RHS Planned Parenthood to continue to conduct abortions even though the DHSS investigation is not yet complete and the clinic's facility license technically expired on May 31, 2019.
Judge Stelzer ordered the DHSS to make a decision one way or the other on RHS Planned Parenthood's facility license by June 21, 2019.
RHS Planned Parenthood is the last abortion facility in Missouri. If the DHSS declines to renew its facility license, the Planned Parenthood clinic would likely file an appeal at the Administrative Hearing Commission, which Stelzer noted was "the appropriate tribunal to hear this dispute."
View the Deficiency Report for Boyce and Bynum Professional Services.
Read Operation Rescue's Statement on Preliminary Injunction Order.