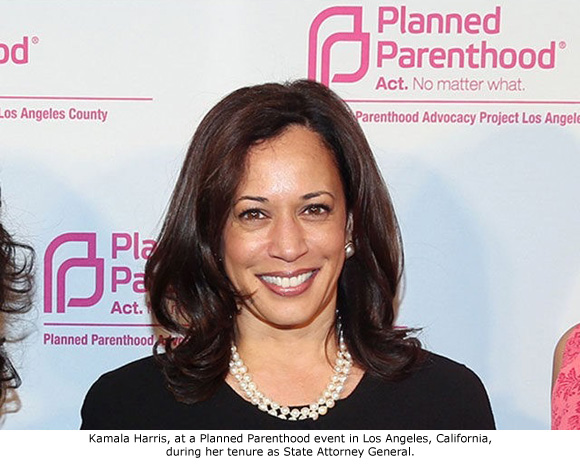 By Cheryl Sullenger
Washington, D.C. – Kamala Harris may be the Democrat's candidate for Vice President, but she is also a member of the prestigious and powerful Senate Judiciary Committee, the first stop for President Donald Trump's third nominee to the U.S. Supreme Court.
President Trump has announced that his pick to replace Justice Ruth Bader Ginsburg on the nation's highest court will be announced on Saturday at the White House. He has already promised that his nominee will be a woman – one of "four or five" on his short list.
That list includes the following:
Judge Amy Coney Barrett of Indiana, U.S. Court of Appeals for the 7th Circuit.
Judge Barbara Lagoa of Florida, U.S. Court of Appeals for the 11th Circuit.
Judge Allison Jones Rushing of North Carolina, U.S. Court of Appeals for the 4th Circuit.
Judge Joan Larsen of Michigan, U.S. Sixth Circuit Court of Appeals.
"We will support whoever Trump decides to choose from that worthy list. But when she is named, she should be ready to face the fiercest attacks that have ever been mounted against a nominee. I hope she has a steel backbone, because she is going to need it," said Operation Rescue President Troy Newman. "I predict it will make what happened to Justice Brett Kavanaugh look like child's play. I hope I'm wrong and that it will be a civil hearing, but with the angry treats to upend our government flying from the Democrats, it does not appear that they are in the mood for civility."
The often-contentious matter of abortion is expected to take center stage during the confirmation hearings.
Harris will be anxious to grill the nominee and have her time in the spotlight in the final weeks of the Presidential campaign that has seen little of her in the way of public appearances.
She certainly has ample experience as the Democrats' Judiciary Committee attack dog, having led the vicious attacks against Justice Kavanaugh during his confirmation hearings just two years ago.
With the Court one vote away from a conservative, pro-life majority, it's a good bet that Harris will do about anything to thwart the nomination in order to preserve abortion on demand and with it, the largest abortion organization in America, Planned Parenthood.
Protecting Planned Parenthood
Harris is a well-known supporter of abortion, and particularly Planned Parenthood. Documents obtained by Operation Rescue in 2015, showed that as California Attorney General, Harris had a very close working relationship with the abortion giant. She sought to support Planned Parenthood's legislative agenda in California and allowed a Planned Parenthood attorney to craft language for legislation that added harsh penalties for producing undercover recordings, such as the type made by the pro-life group Center for Medical Progress (CMP), which secretly recorded Planned Parenthood executives discussing the illegal sale of aborted baby body parts and their participation in partial birth abortions, which were banned in the United States in 2003.
In total, over $81,000 has flowed into Harris' Attorney General Campaign coffers from the five California Planned Parenthood affiliates and others that were most implicated in wrongdoing exposed by the CMP.
To protect her friends at Planned Parenthood, Harris launched an investigation into the undercover journalists. She had a search warrant served on David Daleiden's home where hundreds of hours of video were confiscated to prevent it from reaching the public.
George Soros
Billionaire George Soros, Planned Parenthood, and Kamala Harris are connected, and all three are expected to play large roles in the upcoming Supreme Court confirmation battle.
Here's a little backgound on those connections.
In 2015, Fusion GPS was hired by Planned Parenthood to conduct damage control due to the CMP baby parts videos. Fusion GPS concocted a phony "forensic analysis" of the videos that claimed they had been deceptively edited.* Harris depended on this fake analysis as the basis for launching her attack on the pro-life journalists.
New reports have exposed the fact that well-known Planned Parenthood supporter and Harris associate, billionaire George Soros, funded Fusion GPS as early as 2015, through a third-party organization called (ironically) the Democrat Integrity Project.
At the same time Fusion GPS was giving cover to Planned Parenthood, it was also working with Christopher Steele to produce the equally-phony Russian Dossier that attacked then-presidential candidate Donald Trump.
According to a 2018 report by the Daily Caller, Fusion GPS was hired by the Soros-funded Democrat Integrity Project in 2017, to continue its project to make it appear the Trump campaign colluded with Russia to win the 2016 Presidential election — something completely debunked by several different investigations. For its work on the Russia deception, Fusion GPS received $50 million from "Soros and a group of Silicon Valley billionaires."
Bailing out rioters
With the failed Russia hoax exposed, Soros began funding the campaigns of liberal district attorneys around the nation that would be compliant to his agenda of undermining American rule of law. When rioting broke out in Minneapolis, Minnesota, and elsewhere earlier this year after the death of George Floyd, it was Soros-funded district attorneys that refused to prosecute the rioters.
Kamala Harris appears to have been working in tandem with Soros to ensure rioters would be quickly freed to return to the streets. She took heat for posting an appeal on Twitter for people to donate money to the Minnesota Freedom Fund, which posted bail for rioters.
If you're able to, chip in now to the @MNFreedomFund to help post bail for those protesting on the ground in Minnesota. https://t.co/t8LXowKIbw

— Kamala Harris (@KamalaHarris) June 1, 2020
Members of both Harris' and Biden's staffs reportedly donated money to the fund, which was operated through ActBlue.com, a Democrat fundraising organization that is also raising money for the Biden/Harris campaign and other Democrat candidates.
FoxNews.com has reported that one man who was bailed out by the Harris fundraising scheme was Timothy Wayne Columbus, who has been charged with first-degree criminal sexual on an 8-year old girl. The report also noted that only a fraction of the money raised has actually gone to pay bail, raising questions of financial impropriety.
On the Harris-supported Black Lives Matters website, donations are taken in through ActBlue.com on behalf of the Tides Foundation, which financially backs liberal organizations. It is heavily funded by Soros' two Open Society foundations along with several other big-money pro-abortion groups known to support abortion and the training of new abortionists through the programs associated with the Bixby Center for Global Reproductive Health.
In June, Harris gave an interview with Stephen Cobert where she gave her support for the "protestors," which include those who have destroyed property and injured people during the riots. Her attitude toward the violence is telling:
They're not going to stop, I'm telling you. They're not going to stop. Everyone beware that they're not going to stop. They're not going to stop before Election Day in November and they're not going to stop after Election Day. And that should be – everyone should take note of that on both levels, that they're not going to let up and they should not. And we should not.
After a firestorm of outrage over her comments, Harris later made obligatory statements condemning violence, but it is clear she is supportive of the Antifa anarchists that are sowing chaos across the nation.
Who handles Harris?
While it is obvious that Harris will be taking some marching orders from Planned Parenthood when attacking the next Supreme Court nominee, the real people holding her leash will be money-man George Soros and his associates. That's not a conflict since Planned Parenthood, Soros, Antifa, and the Biden/Harris campaign are all playing for the same unholy team.
"Kamala Harris lacks moral standing to lecture anyone about anything," said Troy Newman. "Remember this when the confirmation hearings start and she begins her attack run on President Trump's nominee."
Newman concluded, "There is no doubt that a Biden/Harris administration would be the most pro-abortion in history, but it would also attempt to dismantle protections in our Constitution that make America a prosperous beacon of freedom. A new conservative majority on the Court will thwart those plans, so you can bet that they will try to stop Trump's nominee by any means necessary. We need to be ready for that, and be vocal in our support for President Trump and his nominee."
Operation Rescue urges pro-life supporters to do three things.
Support President Trump's nominee to the Supreme Court on social media and other platforms.
Vote for President Trump and other pro-life candidates — especially in the races for U.S. Senate — in person to ensure the votes are properly counted.
Pray for our nation and our President during these tumultuous times, and for decisions to be made that will preserve our Republic and finally end abortion in America.
_____
*During the Federal civil trial last fall in Planned Parenthood v. CMP, Planned Parenthood officials gave testimony that the CMP videos were in fact accurate. CMP project lead David Daleiden is now suing Planned Parenthood for defamation for claiming the videos were "deceptively edited."
_____