By Cheryl Sullenger
All photos by Fred Sokol.
Cleveland, OH – An ambulance and a fire unit were dispatched to Preterm, a Cleveland, Ohio, abortion facility, on October 15, 2021, for a 20-year-old woman who may have had a hole torn in her uterus during a 19-week second trimester abortion.
An evasive caller from Preterm was reluctant to give details about the woman's condition and what led them to suspect a uterine perforation had occurred.
Defective elevator
About two minutes into the 3 minute 49 second call, she finally informed the 911 operator that the elevator, which is the only gurney access to the third-floor surgical abortion rooms, was not working.
Because that meant the EMTs would need to carry the injured woman down two flights of stairs, the 911 operator dispatched a fire unit to assist.
The Preterm employee who phoned 911 downplayed the emergency and later refused to give details to the 911 operator regarding "symptoms that were causing concern."
911: What's going on there? What's your emergency? Tell me exactly what happened.

Preterm: Um, she's stable. We just want to rule out a perforation.

911: Okay. How old is the patient?

Preterm: Twenty.

911: And what were the circumstances?

Preterm: Uh, we were performing an abortion procedure.

. . .

911: Okay, so she's bleeding? Is that the issue? What is the issue when you say perforation?

Preterm: We're concerned that there is a perf.

911: You've confirmed what? I'm sorry. Could you repeat that?

Preterm: That we want to bring her in for observation to rule out the possibility of there being a perforation in her uterus.

911: Okay, because she is bleeding? Is she bleeding?

Preterm: (Aside), She's bleeding right now? (To 911), No. She's fine and stable.
"Abortion facilities usually only call an ambulance if it is absolutely necessary to make it appear their facilities are safer than they actually are," said Troy Newman, President of Operation Rescue. "If the woman was 'fine,' they wouldn't be calling an ambulance."
The 911 operator did not give up trying to find out what the injured woman's symptoms were so she could inform the paramedics. That information helps them prepare to provide immediate assistance to the injured party.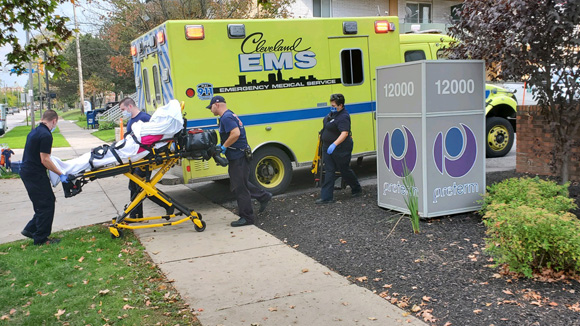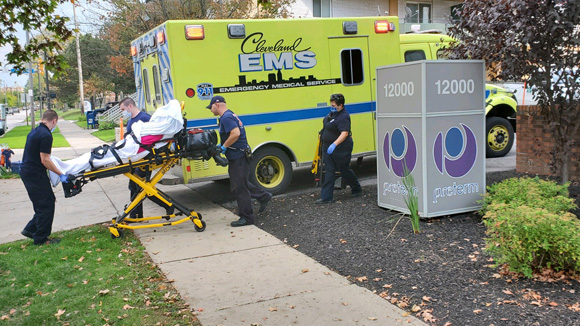 911 on hold
After asking for the Preterm caller to describe her symptoms two more times, the caller placed the operator on hold for several seconds. When she returned, she indicated that they wanted her transferred to make sure the abortion was complete.
This answer raised more questions than it answered. Most abortions are done under ultrasound guidance. An ultrasound provides a picture of internal structures in real time. The abortionist should have been able to tell whether the abortion was complete or not by viewing the ultrasound.
Why couldn't the abortionist read the ultrasound imagery? Was an ultrasound even used during the Dilation and Evacuation dismemberment abortion? Why did the caller not previously mention that there were two issues: the possible perforation and a possible incomplete abortion?
"Preterm's worker was giving a pretty fishy story to the 911 operator," said Newman. "They were obviously trying to hide something. It is likely that the woman was injured worse than she was letting on."
Wrecked ambulance
But the drama did not end at the evasive call to 911, which was placed at 2:38 p.m. on October 15, 2021.
Pro-life activist Fred Sokol, who witnessed and photographed the day's events, provided Operation Rescue with information about how the afternoon unfolded.
Upon arrival, the ambulance struck a concrete post that protruded into Preterm's driveway. The collision damaged the ambulance and rendered it disabled. Meanwhile the fire unit arrived.
A second ambulance was dispatched to the scene.
Finally, paramedics were seen pushing a collapsible wheelchair into the abortion facility along with a gurney. Paramedics and firemen were inside Preterm for 28 minutes before emerging with a woman on a gurney. They left the scene at 3:16 p.m. – 38 minutes after the 911 call was initiated.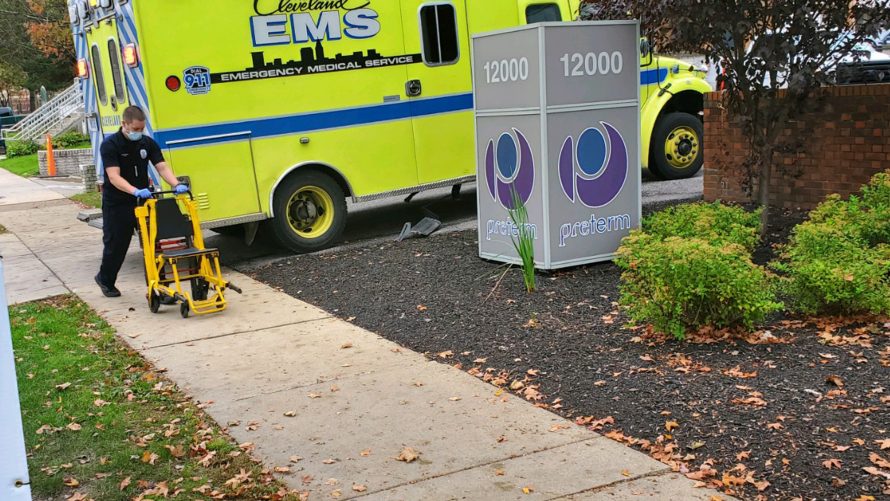 Sokol also observed abortionist Mitch Reider leaving the scene 19 minutes after the injured woman.
Since the elevator was not working, it is believed that firemen aided the paramedics in dragging the wheelchair up the stairs to the third floor, then hiking it back down with the injured woman in tow. She was then transferred to the gurney and pushed out to the ambulance for emergency transport.
Police reported to the scene to investigate the accident with the first ambulance. Sokol provided them with a witness statement. He explained how the ambulance hit the concrete post, then told them that he believed the post caused a hazard since he has observed other vehicles striking the post as well.
"If Preterm did not want attention, it sure got it anyway," said Newman.
Unreliable elevator endangering women since 2012
Preterm's elevator is notoriously unreliable, and has delayed emergency care to women since 2012, including one woman who stopped breathing during an abortion.
April 5, 2019: An elevator repair vehicle was parked at Preterm during an abortion emergency involving a 31-year-old hemorrhaging woman. An ambulance, a fire unit, and five police cars responded to Preterm's 911 call for help, including a police lieutenant who is tasked with supervising all emergency transports from Preterm.
February 13, 2016: A 220-pound woman that hemorrhaging after an abortion was carried down the stairs by emergency responders and placed on a gurney for ambulance transport t a local hospital. The clinic's elevator was not working at the time.
March 31, 2012: A woman who was hemorrhaging profusely after an abortion was carried down the stairs at Preterm so she could get to a gurney for emergency transport to a nearby emergency room. Extra help was dispatched because the woman weighed about 300 pounds.
March 21, 2012: Lakisha Wilson, 22, was not breathing when 911 was called for her during a surgical abortion. Paramedics were delayed by the broken elevator, which prevented them from reaching Wilson in time to prevent hypoxia. She was finally evacuated from the abortion facility and taken to a nearby hospital where she died six days later.
After Wilson's death, Operation Rescue filed a complaint with the Fire Marshall due to the hazard posed by the malfunctioning elevator.
The Fire Marshall inspected Preterm and noted in a report that since there were stairs that led to the third-floor abortion rooms, no hazard was posed to the patients. Preterm told him they were set to do a full renovation on the elevator, so he declined to act.
Because he ignored the problem other women have had emergency care delayed and were forced to go through the pain and indignity of having to be carried down two flights of stairs while suffering serious internal injuries.
22 ambulances and two patients dead
Preterm is a training facility for abortionists enrolled in the Kenneth J. Ryan Residency Training Program in Abortion and Family Planning, and has a history of causing frequent abortion injuries. Two women have died as the result of complications from abortions at Preterm, including Wilson in 2012 and Tia Parks in 2019.
This is the third known medical emergency requiring ambulance transport this year, and the twenty-second documented emergency at Preterm since 2012. This facility also despicably targets poor urban women of color for abortions.
"As we have done since Lakisha Wilson died, Operation Rescue been calling for the closure of Preterm but our pleas for the Department of Health to do its duty to protect the public have fallen on deaf ears," said Newman.  "It's time to put aside the political bias that has protected Preterm, and instead, protect women and their babies from the harm routinely caused by this dangerous abortion facility."
See heavily redacted CAD printout.
____
Note Correction: This story has been corrected to show that the abortionist left 19 minutes after them patient left, not before.