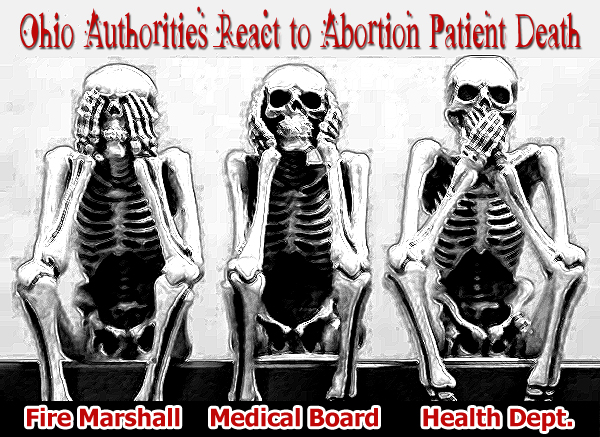 Pro-life groups demand Preterm's immediate closure — again!
By Cheryl Sullenger
Cleveland, Ohio – Despite indisputable evidence that a broken elevator at Preterm, a Cleveland abortion clinic, contributed to delays in emergency care for two patients, including Lakisha Wilson, who died of a fatal abortion at Preterm last year, the Fire Marshall has concluded that "no serious life safety violations were found" during a recent inspection.
[View Fire Marshall's Report]
The inspection was prompted by a formal complaint by Denver Sallee of Lake County Right to Life.
"This decision that completely ignores the dangerous elevator situation is unacceptable, and continues to place women's lives at risk. We are joining with pro-life groups in Ohio to call for the immediate closure of Preterm," said Operation Rescue President Troy Newman.
The Fire Marshall's report stated, "Preterm is currently in the process of obtaining permits through the City of Cleveland to begin extensive repairs to its elevator."
But that's not good enough for Newman, who points out that a Schindler elevator repair truck is frequently seen at Preterm, yet the elevator malfunctions have not been resolved.
A formal letter demanding the closure has been sent via e-mail to Jennifer Smith in the State Fire Marshall's office along with documentation to support the closure. Those signing the letter were:
Denver Sallee, Lake County Right to Life
Cheryl Sullenger, Operation Rescue
Pastor Ernie Sanders, Geauga County Right to Life
Molly Smith, Cleveland Right to Life
Denise Leopold, Right to Life of Northeast Ohio
WRWL Radio Ministries
HELP Pro-Life Apostolate
[Read the Letter]
All five of Preterm's abortion procedure rooms are located on the third floor. Paramedics depend on the elevator to move patients from the third floor to ambulances on the street below. Stair wells in the building are inadequate to ensure that patients can be accessed and transported quickly when minutes can mean the difference between life and death.
Attached to the letter seeking Preterm's closure was a recording of a 911 call placed on March 31, 2012. That recording indicated that a 300-pound woman was hemorrhaging after a second-trimester abortion.

The Preterm abortion worker who placed the call told the dispatcher that the "elevator is down," and that "They may need an extra person…to move her" due to her weight. On a video taken by a pro-life activist from the scene, an EMS worker is seen fetching a stretcher from the ambulance and used that instead of a gurney to carry the woman down two flights of stairs to the awaiting ambulance.
Also included with the letter was the complete, unredacted EMS report detailing how on March 21, 2014, an abortion patient, Lakisha Wilson, suffered respiratory and cardiac arrest. The report states that Preterm's malfunctioning elevator delayed the first responders from reaching Wilson, who was "not breathing at all" according to the 911 call that was placed seeking emergency help for the 22-year old woman.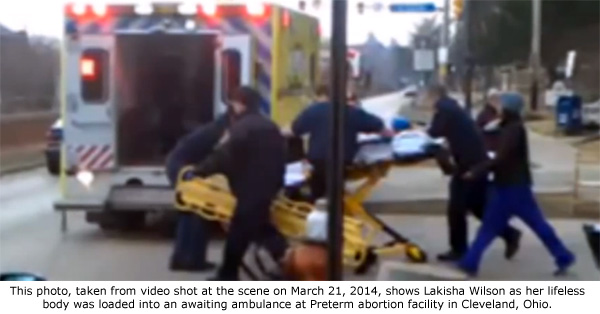 The report narrative further states that EMS workers were unable to intubate Wilson or reinsert her IV while in the third floor procedure room due to the fact that the elevator did not accommodate a gurney in a fully reclined position that was required before intubation could take place.
Instead, Wilson was placed in a seated position so the gurney could fit in the elevator and was only intubated once she was loaded into the ambulance. It is believed that this delay in establishing an airway contributed to anoxic brain damage that caused her death.
"If these well-documented incidents do not convince the Fire Marshall that Preterm's malfunctioning and inadequate elevator poses a 'serious life safety violation,' then nothing will," said Newman.
Operation Rescue has joined with state and national pro-life groups in filing numerous complaints with the Ohio Department of Health, the Ohio Medical Board, and the Ohio Attorney General's office and more. In each case, Ohio authorities have chosen to ignore the evidence of unsafe conditions at Preterm even though they have contributed to the death of at least one patient.
"It is almost as if inspectors went into Preterm with their eyes covered, their ears plugged, and their mouths gagged. A woman has died. One patient after another has been injured. You would think that would mean something to these people, but so far it has not," said Newman. "We cannot in good conscience stop demanding the closure of this dangerous abortion mill until it is shut down permanently!"
Take Action!
Please contact Jennifer Smith with the State Fire Marshall's office at jennifer.smith2@com.state.oh.us and voice support for the demand to shut down Preterm in the face of documented emergency care delays caused by its broken elevator.
__________
[Image: Skullspiration.com]