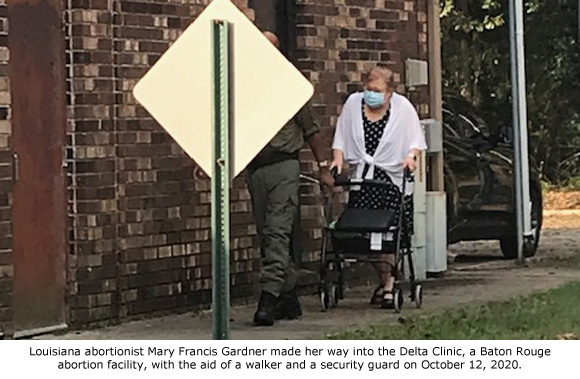 By Cheryl Sullenger
Baton Rouge, LA – Mary Francis Gardner is 80 years old. She can no longer drive her own vehicle. Even though she walks with a walker, she still often requires additional human assistance to get from her vehicle into her place of business.
Yet, despite her advanced age and obvious physical limitations, Mary Gardner is still actively employed. That's because Mary Gardner is an abortionist – something in short supply these days in Louisiana.
A photo taken by pro-life activist Richard Mahoney outside the Delta Clinic on October 12, 2020, illustrated Gardner's deteriorating physical health. Nevertheless, she keeps a demanding schedule, currently working at two Louisiana abortion facilities: the Delta Clinic in Baton Rouge, and Woman's Health Center in New Orleans.
Despite the demand for her services, she is not particularly good at her chosen "profession."
Last year, one woman filed a complaint against her with the Louisiana State Board of Medical Examiners (LSBME) after Gardner determined that she was 5 weeks 4 days pregnant then arranged an appointment for her to have a chemical abortion at the total cost of $625.00.
So why was that a problem?
The patient, who we will call Jennifer, was not pregnant. She was given an ultrasound at the Women's Health Center that showed clearly she was not pregnant, yet measurements were taken of a dark space inside Jennifer's uterus in order to make it appear she was.
[View Jennifer's full abortion appointment form and informed consent form.]
Gardner was insistent that Jennifer have an abortion, and scheduled one for her on the spot.
Selling abortion drugs to non-pregnant women is a serious offense.
In December 2014, due to an Operation Rescue complaint, Oklahoma abortionist Naresh Patel was arrested and charged with racketeering and fraud. State investigators found that he was informing women who were not pregnant that their pregnancy tests were positive so he could sell them abortion drugs for $650.00 per woman.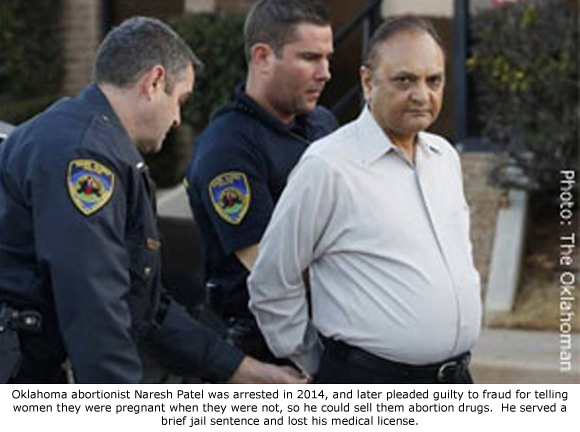 In October 2015, Patel pleaded guilty to fraud, surrendered his medical license, and closed his Oklahoma City abortion facility. He was sentenced to 18 days in a private correctional facility, ordered to pay $21,100 in fines and court costs, and was placed on 10 years of probation, which he is still serving.
Yet, in Louisiana, Mary Gardner was never held accountable for the very same behavior that sent Patel to jail in Oklahoma.
Unfortunately, Louisiana's State authorities have exhibited a disturbing pattern of ignoring complaints against Gardner.
"There is ample evidence that Gardner may have committed crimes. We strongly believe that she poses a danger to the public and has for some time," said Operation Rescue President Troy Newman. "Other serious accusations have been made against her."
Newman referenced complaint filed by his organization in 2011 – this time on behalf of a woman known as "Jane Doe." She said Gardner conducted an excruciatingly painful surgical abortion on her without anesthesia at the Delta Clinic after a failed chemical abortion. She also accused Gardner of inflicting physical and verbal abuse on her. Gardner allegedly told Jane she should stop "crying like a baby" and that she could not wait to get Jane "out of her hair." The painful surgical abortion done by Gardner was botched and resulted in Jane Doe requiring a full hysterectomy.
"So, my opinion is that Dr. Mary Frances Gardner butchered me in anger for having to provide extra care to me," stated Jane Doe.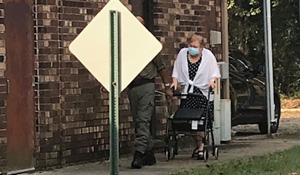 Sadly, the LSBME closed the investigation without action just two months after the complaint was filed – and never even gave the complainant the courtesy of informing her of the dismissal, which is standard practice. A criminal complaint made with the Baton Rouge District Attorney's office was never charged after investigative delays ran out the two-year statute of limitations.
"It is clear that Mary Gardner has been protected for years by a system that puts the interests of abortionists above the lives and health of women," said Newman. "Now that Gardner is 80 years old with failing health, it should be clear that it is extremely unsafe for her to continue to conduct abortions on women. And it is also clear that the responsibility for any further graft and harm caused by Gardner must be laid directly at the feet of the LSBME, who has turned a blind eye to Gardner's bad behavior and in so doing, failed in their duty to protect the public."