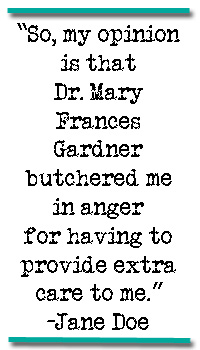 Baton Rouge, LA – Last week District Attorney Hillar C. Moore met with a woman who suffered a hysterectomy after a horrifically botched abortion at the Delta Clinic of Baton Rouge and told her, in spite a list of crimes they say were committed by Delta over the course of time, all of the violations have exceeded the two year statute of limitations for prosecution.
"That may not be the case," said Cheryl Sullenger, Senior Policy Advisor for Operation Rescue, who filed a separate medical board complaint on behalf of Jane Doe. "There is suspicious behavior by the District Attorney and the Department of Health and Hospitals that indicates there is a political environment that is protecting this abortion clinic from accountability under the law."
The victim, who goes by Jane Doe to protect her privacy, referred Operation Rescue to a list of alleged Delta Clinic violations that included:
Failure to report suspected sex abuse of minors.
Failure to provide pre-abortion counseling as mandated by law.
Failure to maintain the privacy of patient records.
Failure to gather and report complete information to the Office of Public Health Vital Records registry.
Fraudulently used pre-printed reporting forms indicating "no complications" whether there were complications or not, a violation previously reported on by Operation Rescue.
Failure to sterilize syringes and surgical instruments.
Failure to ensure proper dosage of drugs and other drug-related violations.
Jane Doe told Operation Rescue that she met with Moore on March 15, 2012, after he received information about her case from DHH about three weeks ago. According to Doe, Moore read to her the list of violations that met the threshold of criminal conduct, but told her that since all the allegations, including Doe's abuse and abortion injuries suffered at Delta, were beyond two years old, there was nothing he could do.
"Why did it take over a year for Jane Doe's case to reach the District Attorney's desk? Either the DHH or the DA's office are stonewalling to protect this dangerous abortion mill that continues to endanger the lives of women," said Sullenger.
Operation Rescue obtained a letter from the Department of Health and Hospitals to District Attorney Moore dated March 17, 2011, showing that the DHH forwarded to Moore survey reports from inspections that took place on December 7, 2009, and February 3, 2011, that noted numerous violations at the Delta Clinic.
"There can be no doubt that violations took place. In spite of what District Attorney Moore is saying, the statue of limitations on the 2011 violation report referred to his office last year has not run out. He has been aware for some time that violations have occurred at that facility over the course of several years. This is a failure of the system to function in its duty to protect the public," said Sullenger.
On April 9, 2009, Doe went to the Delta Clinic for a medical abortion. When she began to suffer complications, she was treated rudely by abortionist Mary Frances Gardner and the clinic staff. They told her that her complications had nothing to do with the abortion and told her to see a "Gastro Doctor."
When Doe persisted, Gardner "reluctantly" ordered an ultrasound where a technician named "Betty" told her, "You still have a lot of crap inside that needs to come out." Betty phoned Gardner who told her to give Doe another round of abortion pills. Betty then administered the pills to Doe.
Again, Doe experienced no bleeding, only pain. She returned to the Delta Clinic on April 21, 2009, and was treated with rudeness and disrespect by Gardner, who told her to "stop crying like a baby" and that she couldn't wait to get Doe "out of her hair." When Gardner discovered that Doe had been texting from the clinic on her cell phone, Doe said Gardner assaulted her and pinned her to the abortion table. Gardner then gave her a surgical abortion without anesthesia, yelling at Doe when she lifted off the table in pain.
After the barbaric treatment by Gardner, Doe began seeing her own doctor, and was subjected to a hysterectomy in May of last year to ease the painful symptoms she had experienced since the abortion. She was told that the cause of her pain had been a tremendous amount of scar tissue that was a result of the only surgery she had ever had – the abortion inflicted on her by Mary Frances Gardner.
"So, my opinion is that Dr. Mary Frances Gardner butchered me in anger for having to provide extra care to me," stated Jane Doe in a written statement.
A complaint was filed by Sullenger against Gardner with the Louisiana Board of Medical Examiners on Jane Doe's behalf in May, 2011. On March 20, 2012, Sullenger contacted the Board to check on the progress of the investigation that had been opened as a result of the complaint. To Sullenger's surprise, the case had been closed without notification to the complainant just two months after it was filed, with the determination that there had been no violation of the health standards act.
"Jane Doe was assaulted by the abortionist for texting on her cell phone, verbally abused, essentially tortured by being forced to undergo surgery without anesthesia, and left sterile, yet none of that violates the health standards act in Louisiana? I find that very hard to accept. Now the District Attorney is admitting that a pattern of criminal conduct exists at Delta, but says there is nothing he can do. That is unbelievable," said Sullenger.
Meanwhile, local activists are taking legal action to force the authorities to do their duty under the law to protect the public and prosecute crimes. Doe has filed a civil suit seeking recompense for her injuries.
Sullenger concluded, "If Delta can get away scot-free after such egregious abuse, then the oversight agencies in Louisiana have suffered a catastrophic breakdown and no medical patient in that state is safe."

View profile page for the Delta Clinic on AbortionDocs.org.
View profile page for Mary Frances Gardner on AbortionDocs.org.