Operation Rescue® is one of the leading pro-life Christian activist organizations in the nation. Operation Rescue® recently made headlines when it bought and closed an abortion clinic in Wichita, Kansas and has become perhaps the most visible voice of the pro-life activist movement in America. Its activities are on the cutting edge of the abortion issue, taking direct action to restore legal personhood to the pre-born and stop abortion in obedience to biblical mandates.
Click here to donate.
Click here to contact.
Troy Newman, President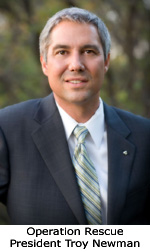 Troy Newman has actively worked on behalf of the pre-born for over twenty years. Through innovative new tactics, Newman's work is responsible for the closure dozens of abortion clinics around the nation. He continues as an innovator of new tactics that have helped close abortion clinics and garner criminal prosecutions for abortionists from coast to coast.
Newman's groundbreaking work has been featured in Rolling Stone Magazine, the Los Angeles Times, The New York Times, the Chicago Tribune, and CNN. Newman gives hundreds of interviews each year has been quoted in every major news paper and network news program in the nation.
In 2006, Newman bought and closed Central Women's Services, an abortion clinic in Wichita, Kansas, that has been renovated and now serves as Operation Rescue's national headquarters and a memorial to the pre-born.
Newman is a sought-after public speaker and a published author whose works include the book Their Blood Cries Out! Newman also holds a black belt in the Korean martial art of Taekwondo and is an avid equestrian. He and his wife of twenty years, Mellissa, raise their five children on their beautiful ranch in rural Kansas.
Read: How Troy Newman Rescued Operation Rescue
Full-sized Color Photo of Mr. Newman
Full-sized Black & White Photo of Mr. Newman
a
Cheryl Sullenger, Senior Policy Advisor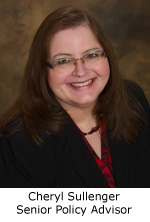 Cheryl Sullenger has been involved in the pro-life movement since 1984. She founded and directed the California Life Coalition in San Diego and worked with Troy Newman and Operation Rescue to help close over a dozen abortion clinics and influence over 40 abortionists to quit the abortion business. Her sidewalk counseling ministry has saved over 2,500 lives.
In a 1987 act she now regrets, Sullenger was charged and pled guilty to conspiracy to damage an abortion clinic. Even though the clinic was not damaged, Sullenger took responsibility for her actions, and served 2 years in Federal Prison. Since then, Sullenger has openly denounced violence as a means to stop abortion and has worked for over two decades as an advocate of peaceful activism as a means to save babies and stop abortion.
Later, Sullenger served for seven years as an elementary school teacher at a Christian school, and was an elected member of the San Diego County Republican Central Committee.
In 2003, Sullenger relocated to Wichita, Kansas, where she serves as Senior Policy Advisor to Operation Rescue. Sullenger conducted extensive research on abortionists around the nation. Her research and documentation has helped bring attention to the seedy underbelly of the abortion industry and has been instrumental in launching investigations and bringing disciplinary action against abortionists around the country.
Sullenger is an accomplished writer and published editoralist who co-authored Their Blood Cries Out! with Newman, and has also written a number of other educational publications. She and her husband, Randall, have been married for 35 years, have two married daughters, and eight beautiful grandchildren.
a
a
CAUTION ABOUT DISINFORMATION
Operation Rescue was among the first to denounce the murder of late-term abortionist George Tiller in 2009. All accusations, implications, or inferences that there was any involvement by Operation Rescue in the death of George Tiller is completely false. Operation Rescue and its staff were not involved in any way. Operation Rescue explicitly denounces violence in any form as a means of ending abortion. [Read our press statement regarding the death of George Tiller]
Randall Terry is not associated with nor does he speak for Operation Rescue. Read statements about this.
lnformation about Operation Rescue and Troy Newman found on Wikipedia is inaccurate and should be ignored. It should also be noted that numerous independent blog sites found on the Internet have no accountability and should not be trusted as a source of accurate information about Operation Rescue. If anyone has any questions about us, please contact us directly.