By Cheryl Sullenger
Cleveland, OH – Operation Rescue now knows more about what happened to a woman who was transported by ambulance from Preterm, a Cleveland, Ohio, abortion facility, on September 14, 2019.
911 records reveal that a 24-year old woman was hemorrhaging after an abortion procedure. When the Preterm receptionist, who placed the call to 911, was asked if the woman was completely conscious, she answered, "Um, in and out."
An over-redacted Computer Aided Dispatch printout included with the recording shed little more light on the incident.
According to the website Healthline.com, a person can become unconscious after losing 30-40 percent of his or her blood volume.  At that point, the risk of cardiac arrest dramatically increases as the heart beats faster to compensate for the decreased blood volume.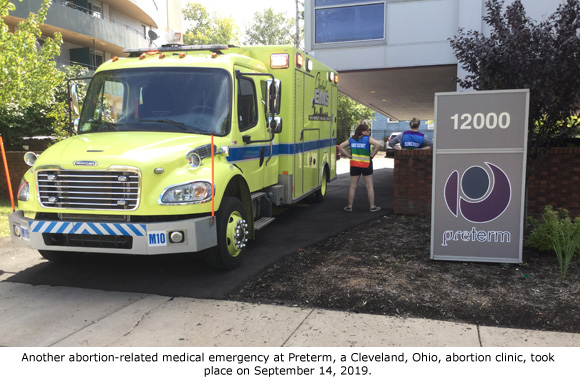 As reported earlier by Operation Rescue, a staff person wearing purple scrubs and covering her head first came out of the abortion business and climbed into the ambulance. She was followed minutes later by the bleeding woman, who was on a gurney and completely covered with a sheet.
"This was a very serious abortion complication. Something went terribly wrong for this to happen," said Operation Rescue President Troy Newman. "After all women who have been injured or killed at Preterm, it is beyond belief that this dangerous abortion facility is allowed to continue operating."
Preterm has been responsible for numerous abortion injuries and at least two maternal deaths, all documented by Operation Rescue with the help of local pro-life activists.
Lakisha Wilson died in 2014 after a fatal Preterm abortion, and Tia Parks died from a misdiagnosed ectopic pregnancy that ruptured just after Preterm aborted her intrauterine pregnancy in June 2019. Both women bled to death.