By Cheryl Sullenger
Cleveland, OH – The same Cleveland, Ohio, abortion facility that has been responsible for the deaths of two women has now sent another abortion patient to the hospital by ambulance – for the second time this month.
On Saturday, September 14, 2019, a medical emergency occurred at Preterm, which resulted in the emergency transport of a woman to a nearby hospital emergency room.
A fire unit arrived at Preterm at 1:25 p.m., followed five minutes later by an ambulance that arrived with sirens blaring.
A woman wearing purple scrubs came out of the Preterm abortion facility with her face covered and climbed into the ambulance. Later, the suffering woman was brought out on a gurney and loaded into an ambulance that soon whisked them both away to a hospital emergency room using lights and sirens.
Preterm clinic personnel tried to impede those that were attempting to video record the incident.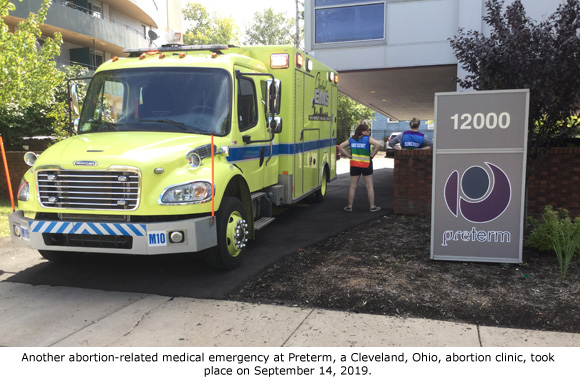 One witness told Operation Rescue that a car belonging to abortionist Mitch Reider was in the Preterm parking lot at the time of the incident.
Operation Rescue has requested 911 records for this emergency, which are expected to shed light on the woman's condition, which could not be handled by Preterm's staff.
Tia Parks' 911 recording released
Operation Rescue has, however, received the 911 records related to a call placed by a friend of Tia Parks on June 8, 2019, who died later that day at the hospital as a result of a ruptured ectopic pregnancy that caused her to hemorrhage internally.
Parks had a rare condition known as a heterotopic pregnancy. That means that she was actually pregnant with fraternal twins. One twin was properly growing inside the womb while the other was implanted into her left fallopian tube. Preterm staff aborted the baby in the womb, but failed to diagnose and notify Parks that she suffered from a potentially life-threatening ectopic pregnancy.
The day after her abortion at Preterm, Parks was at a friend's home when her pain and labored breathing became so bad that she had difficulty speaking. Her friend called 911 and asked for an ambulance for Parks, who was transported to the Cleveland Clinic where she died about two hours later. [Read the Computer Aided Dispatch printout.]
Ambulances are routine at Preterm
Operation Rescue has documented many other abortion emergencies at Preterm that have resulted in women being transported by ambulance to hospital emergency rooms.
The most recent occurred on April 17, 2019, when an ambulance was called for a woman who had just had an abortion, but was hemorrhaging. The caller said she required "medical attention" – something apparently not available at Preterm.
"After all the patients in ambulances and two dead women, I have to wonder why this dangerous abortion facility is allowed to operate," said Troy Newman, President of Operation Rescue. "I suspect it may be because Preterm is partially funded with revenues from the Ryan Residency Abortion Training Program, which is funded by the politically connected, including a Warren Buffett family foundation. Women's lives and the lives of their babies should be worth more than a political agenda."
Press conference
A press event will be held at Preterm on Tuesday, September 17, 2019, at 10:00 AM, led by Pastors Walter and Darleen Moss. The event will address the harm and loss of life at Preterm, which targets poor urban women of color for abortions. The public is encouraged to attend in support of efforts to protect women and their babies by closing the Preterm abortion facility.