By Cheryl Sullenger
Albuquerque, NM — The University of New Mexico has settled a negligent referral case with the family of Keisha Atkins, who died on February 4, 2017, as the result of a septic abortion she obtained at Southwestern Women's Options in Albuquerque, New Mexico.
UNM agreed to pay $365,000 for referring Atkins to Southwestern Women's Options (SWO) for an elective 24-week induction abortion that killed her.
Operation Rescue first learned of Atkin's abortion death after Abortion Free New Mexico received a tip that Atkins had died as the result of an abortion. Abortion Free New Mexico requested and received Atkin's autopsy report then consulted with Operation Rescue over the confusing determination that she died from her pregnancy, not the abortion.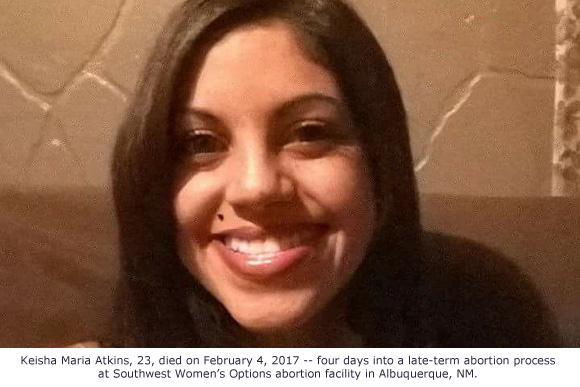 However, once the autopsy report was analyzed by experienced Operation Rescue staff, it became obvious that the listed cause of death was untrue, and that UNM, which conducted Atkins' autopsy, was attempting to cover up for SWO's apparent negligence as well as their own liability in the tragedy.
Operation Rescue realized that the autopsy report itself noted that Atkins developed an infection during the abortion that turned septic. As a complication of the septicemia, she developed a clotting disorder. It was a blood clot found in her lung that eventually took her life.
At the time, Operation Rescue wrote:
No matter how much UNM may have tried to obfuscate what happened to Keisha Atkins, the truth seeps through in the pages of the autopsy report in descriptions of her physical condition and the complications she experienced in what must have been an excruciatingly panic-filled and painful death.

"Somehow, these people want us to believe that Atkins developed blood clots as a result of her pregnancy, and through no one's fault, a blood clot just coincidentally moved to her lung and killed her in the middle of a late-term abortion, which, of course, played no part in her death," said Operation Rescue President Troy Newman. "That's ludicrous in light of the rest of the autopsy report findings."
That analysis led the family to file suit against UNM. Over five years after Keisha Atkins' avoidable death, attorneys with AbortionOnTrial.org, who discovered more information about Atkins' death and ensuing cover-up, were eventually able to reach a settlement agreement with UNM.
It was learned that SWO abortionist Carmen Landau spent 20 minutes chatting with Atkins, then delivered the determination that Atkins required an abortion for so-called "health" reasons. This fallacious determination allowed Medicaid to cover the cost of Atkins' fatal abortion.
It was also learned that during her harrowing four-day ordeal, Atkins was repeatedly dosed daily with dangerous amounts of Oxycodone, Versed, and Fentanyl.
UNM and SWO have had a collaborative relationship for many years. In fact, Southwestern Women's Options is the sole supplier of aborted baby remains to UNM – a relationship that was known since 2015.
"It was a complete conflict of interest for UNM to conduct Atkin's autopsy, given their close relationship in which SWO abortionists were given 'perks' at UNM in exchange for tissues and organs harvested from aborted babies," said Operation Rescue President Troy Newman. "That relationship was in violation of state and federal law."
In fact, a U.S. House committee investigated the links and referred both UNM and SWO to the Department of Justice for criminal prosecution in June 2016. However, no prosecution ever resulted due to corruption with the DOJ.
In an unusual twist, Keisha Atkins' sister, Nichole, sued UNM in 2019 after she received medical records and discovered she had suffered unrepaired cervical lacerations during her own abortion at 17 weeks at SWO in 2010, which left her unable to bear children.
To add to her anguish, among records she obtained was a disturbing note that the brains of a 17-week aborted baby were donated to UNM on the same day as her abortion, indicating that the remains were likely from her child.
"The trauma and tragedy that this family has suffered is incomprehensible, and it is doubtful that any sum of money can make up for it," said Newman. "However, it is my hope that the Atkins family can find some closure from the settlement of the Keisha Atkins case."