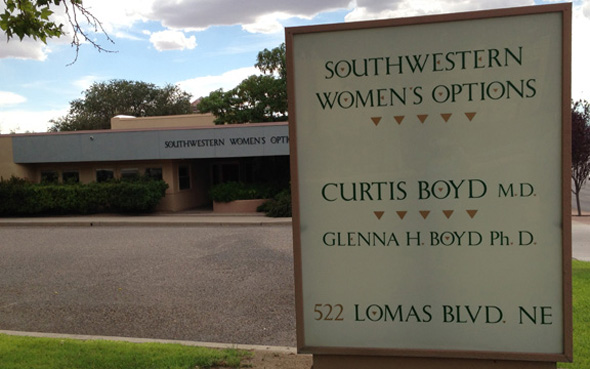 By Cheryl Sullenger
Albuquerque, NM – A New Mexico woman who unknowingly suffered injuries that led to a hysterectomy after a bungled abortion filed suit against an Albuquerque abortion business last month for medical malpractice.
But this is not just a run-of-the-mill abortion-related malpractice suit. This story takes surprising twists and turns into the dark world of aborted baby organ trafficking and a devastating personal family tragedy.
According to court records obtained by Operation Rescue, Nicole Atkins was 24-years old when she visited Southwestern Women's Options (SWO), on December 27, 2010, for a consultation regarding an abortion in her second trimester of pregnancy.
SWO is one of the few facilities in the U.S. that openly conduct abortions throughout all nine months of pregnancy. Its owner, Curtis Boyd, abortionist Carmen Landau, and third-trimester abortion "specialist" Shelley Sella are named defendants in Atkins' lawsuit.
Once at the abortion facility, Atkins signed a two-page consent form for the abortion and was prepared for the procedure, which would happen the following day.
On the second page of the consent form was a list of potential abortion complications, including lacerations, hysterectomy, and emotional distress. A hand-drawn bracket encompassed the entire complication list with a note of "NA" in the margin, implying that these were not applicable to Atkins. This was in spite of the fact that Atkins had informed SWO's staff of her history of depression and anxiety.
Also buried in the 25-paragrahs of small font type was the following:
I understand that tissue and parts will be removed during the procedure, and I consent to their examination and their use in medical research, and their disposal by the clinic and/or physician in the manner they deem appropriate.
Not providing separate consent forms for the abortion and the fetal tissue donation is a violation of "Federal regulations and industry standards," according to Atkins' complaint.
Atkins had no idea that SWO was in active collaboration with the University of New Mexico (UNM) was, in fact, the sole supplier of aborted baby tissues and organs to the UNM Health Sciences Center. She was unaware that Boyd, and the abortionist who "treated" her, Carmen Landau, were UNM faculty members.
The next day, Atkins underwent the abortion.
In her medical records obtained just recently, was a notation that the foot of her baby measured 23 centimeters, a measurement consistent with 17 weeks gestation.
After the abortion, she suffered "extreme pain" and eventually underwent a hysterectomy – one of the complications that were marked "not applicable on her consent form." As a result, Atkins will never be able to bear another child.
Keisha Atkins
Just over six years later, misfortune would once again strike the Atkins family when Nicole's sister, Keisha, would also seek a 24-week second trimester abortion at Southwestern Women's Options.
Keisha's abortion proved fatal.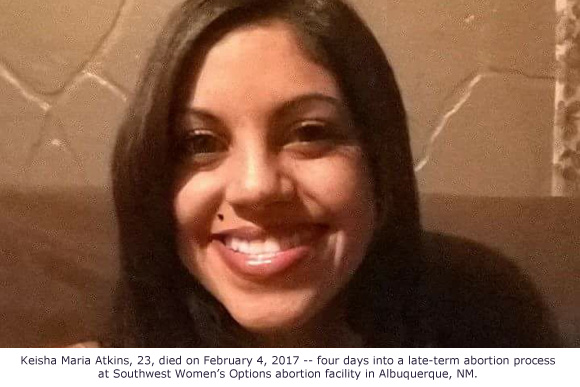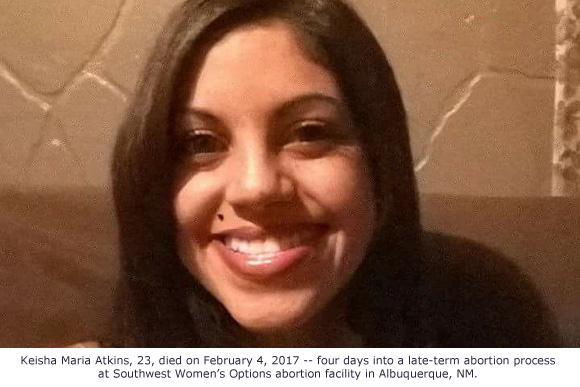 Her autopsy report was obtained by the pro-life group Abortion Free New Mexico, who was tipped off to the death by another family member. Abortion Free New Mexico provided the report to Operation Rescue for review.
The autopsy was conducted by UNM, which posed a conflict of interest due to their relationship with SWO and their abortionists. That conflict became apparent during Operation Rescue's analysis of the report.
At first glance, the cause and manner of death of this healthy 23-year old woman was made to appear to be pregnancy related, with no mention of her abortion. The cause of death was listed as "Pulmonary thromboembolism due to pregnancy." Her manner of death was "natural."
However, a closer reading of the autopsy revealed that the abortion – not the pregnancy – was responsible for Keisha Atkins' death.
At the time, Operation Rescue wrote:
No matter how much UNM may have tried to obfuscate what happened to Keisha Atkins, the truth seeps through in the pages of the autopsy report in descriptions of her physical condition and the complications she experienced in what must have been an excruciatingly panic-filled and painful death.

"Somehow, these people want us to believe that Atkins developed blood clots as a result of her pregnancy, and through no one's fault, a blood clot just coincidentally moved to her lung and killed her in the middle of a late-term abortion, which, of course, played no part in her death," said Operation Rescue President Troy Newman. "That's ludicrous in light of the rest of the autopsy report findings."
Evidence in the autopsy report showed that the younger Atkins sister suffered an infection and retained fetal remains that led to symptoms consistent with an often-fatal condition known as Disseminated Intravascular Coagulation (DIC). (Read Operation Rescue's full analysis.)
"It's hard to even imagine the kind of pain and suffering this family has endured because of abortions done at Southwestern Women's Options," said Newman. "They have had to endure one botched abortion that left one sister unable to bear children and another who was taken far too early."
But there was more emotional anguish ahead.
New revelations
Nicole Atkins received two startling revelations on April 24, 2018, when she apparently received copies of her own medical records related to her 2010 second-trimester abortion.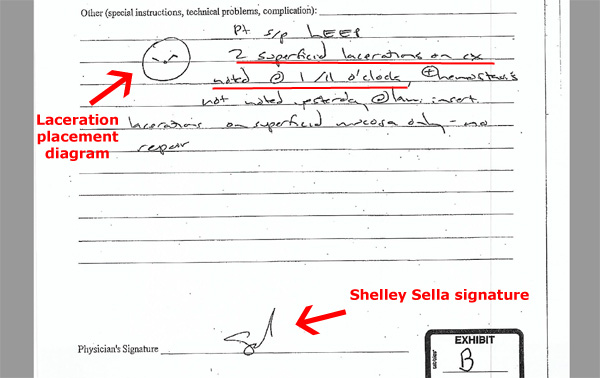 It was then that she discovered her cervix had been lacerated in two places during the abortion, and were left unrepaired. The procedure log that contained documentation of her lacerations was signed by abortionist Shelley Sella. These injuries were likely the source of her post-abortion pain and suffering.
Also included in those records was a page from an organ procurement log with a macabre lone entry for the date of December 28, 2010, the date of Atkins' abortion. It indicated that the brain from a 17-week old aborted baby – her baby – was procured, then presumably sent to UNM for so-called "research" purposes.
Seeking Injunction
Atkins had no idea that any of this had happened. These revelations appeared to be the primary motivation for filing the lawsuit on June 21, 2019, which contains seven counts of allegations, including unfair trade practices, unconscionable trade practices, informed consent violations, negligent violation of the Maternal Fetal and Infant Experimentation Act, negligent supervision, medical malpractice, and intentional infliction of emotional distress.
Atkins' suit is also seeking an injunction from the court against Southwestern Women's Options to prevent them from "donating" aborted baby tissues and organs until they come into compliance with all state and federal laws.
In Atkin's case, there was a statute of limitations issue to overcome. Because the lawsuit accuses the SWO and its abortionists of a "breach of fiduciary duty," Atkins' position is that the statute of limitations, which would have expired long ago, can be waived.
Baby Brains
So exactly what does UNM do with aborted baby brains?
In a 2016 video posted by the New Mexico Alliance for Life, an activist questions Dr. Paul Roth, Chancellor of the University of New Mexico Health Sciences Center and dean of the School of Medicine after a meeting where the disposition of fetal remains it received from SWO were discussed. She asked, "Can I ask you to repeat what you said before about the workshop with UNM fetal remains with high school students?"
"Yes, we had a faculty member who obtained some tissue, and during one of these summer workshops, uh, dissected I think one or two fetal brains," Dr. Roth replied.
Whether or not the brain of Atkins' aborted baby was dissected by high school students is unknown, but is clear that the babies of some women were.
Criminal Referrals
While what happened to Atkins' baby was news to her, the fact that SWO was engaged in the trafficking of aborted baby remains has been long known.
In 2012 and 2015, SWO consent forms were obtained by the pro-life group now known as Abortion Free New Mexico. Those consent forms first raised concerns about SWO's involvement in baby parts trafficking.
In 2015, an investigation conducted by the House Select Investigative Panel on Infant Lives uncovered evidence that there was an exchange of aborted baby tissues and organs in which SWO abortions illegally received "valuable consideration."
Criminal referrals were issued by the Select Panel to New Mexico's Attorney General's office and the U.S. Department of Justice, The State Attorney General's office declined to prosecute, and instead, deferred to the DOJ's investigation, the results of which is still forthcoming.
Criminal referrals were also made against Planned Parenthood, and there are indications that results of the DOJ investigation into the illegal trafficking of aborted baby remains by Planned Parenthood and Southwestern Women's Options could be released soon, although there has been no announced timetable on such a release.
"The trafficking in aborted baby remains is behavior that is ripe for corruption and abuse. We believe there is ample evidence that the laws have been broken and women like Nicole Atkins have been exploited to financially benefit the abortion businesses," said Newman. "Ms. Atkins needs closure and we, as a nation, need closure on the baby parts trafficking allegations that shook our country to its moral core. We pray justice will soon be done."