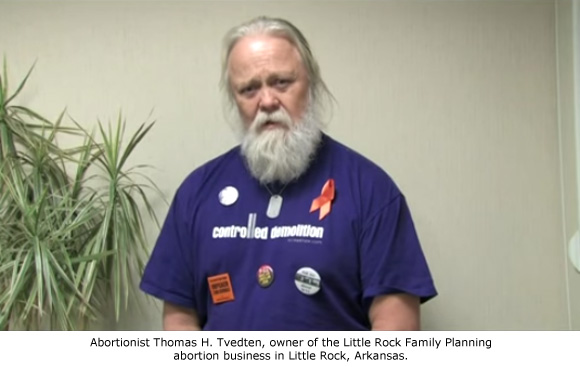 By Cheryl Sullenger
Little Rock, AR — An Arkansas abortionist, Tom Tvedten, 74, whose medical license was suspended on an emergency basis in August, will apparently be allowed to resume abortions – at least temporarily – but remains blocked from certifying medicinal marijuana cards.
Tvedten's license was suspended on August 13, 2020, after the Arkansas State Medical Board (ASMB) determined that his evaluation and certification of a minor girl for a medical marijuana card rose to the level of "gross negligence and ignorant malpractice" that posed a danger to the public.
News outlets have reported that during a disciplinary hearing held on October 1, 2020, Tvedten offered to stop certifying medical marijuana cards for minors, but in a unanimous vote, the Board rejected that offer.
The Associated Press reported, "Several board members expressed serious concerns about Tvedten's evaluation of the girl and suggested they would prefer he be barred from certifying any additional patients, whether minors or adults, to receive medical marijuana."
Meanwhile, Operation Rescue has documented 67 known medical emergencies at Tvedten's Little Rock Family Planning Services that have required women to be transported by ambulance to local hospitals for emergency treatment of serious abortion-related complications.
"It seems almost absurd that Tvedten is too dangerous to certify medical marijuana cards, but not too dangerous to continue surgical abortions – minors included – even though his abortion business has sent dozens of women to hospital emergency rooms," said Operation Rescue President Troy Newman. "It is clear he poses a threat to the public each day at his abortion clinic, both to mothers and their unborn babies. We will be sending our documentation to the ASMB so they can make a more informed decision about the danger posed by Tvedten, which is much more serious than they may think."
Tvedten's license status remains under suspension as of this writing, but that is expected to change when the new Board order is finalized, likely this week.
Disgraced abortionist Willie Parker, who has been under a cloud since sexual assault allegations were leveled against him last year, has temporarily replaced Tvedten as Medical Director at Little Rock Family Planning.
Little Rock Family Planning Services is one of two abortion facilities in Arkansas, and is the only one that conducts surgical abortions. A third abortion facility in Fayetteville closed last year.
Related: Arkansas Abortionist Suspended on Emergency Basis Is Replaced by Accused Sexual Predator Willie Parker