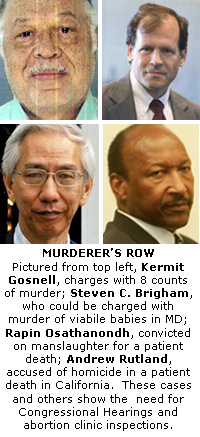 By Cheryl Sullenger
Philadelphia, PA – Operation Rescue joins with the Christian Defense Coalition, Generation Life, and other groups in calling for federal inspections of every abortion clinic in America and for Congressional hearings into the political corruption that has covered up for squalid mills and dangerous abortion practices in the wake of recent abortion scandals that have claimed the lives of women and newborn infants.
A press conference will be held at 1:00 PM outside Kermit Gosnell's shuttered abortion mill located at 3801 Lancaster Avenue in Philadelphia.
Gosnell was arrested last week along with nine of his unlicensed employees for the murder of a woman and seven new born babies. A grand jury report laid part of the blame on "complete regulatory collapse" due to a political climate that shielded abortionists and covered up known abortion abuses.
"The illegal and dangerous practices discovered at Gosnell's 'house of horrors' are not isolated incidents," said Operation Rescue President Troy Newman. "We know for a fact that many of the violations discovered at Gosnell's mill exist at abortion mills nationwide. There is a health care crisis in this country that must be immediately addressed to bring an end to the epidemic of abortion abuses inflicted on women and their babies."
This story of abortion horrors come at the same time that other abortion abuses are making news, adding urgency to the call for inspections and a Congressional investigation. Here is a partial listing.
Read about Gosnell's connections to other troubled abortion clinics.