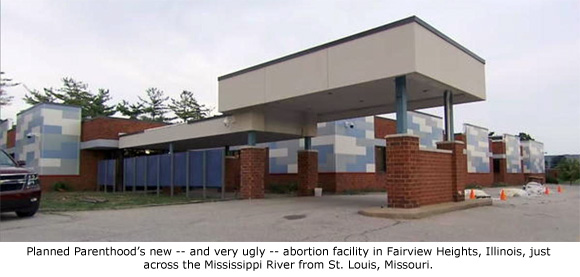 By Cheryl Sullenger
Fairview Heights, IL – Planned Parenthood of the St. Louis Region and Southwest Missouri, which operates the notoriously dangerous Reproductive Health Center abortion facility in St. Louis, has announced that over the past year, it has secretly built a large abortion facility nearby in Southern Illinois.
The new facility is located at 317 Salem Place in Fairview Heights, Illinois. It boasts of 18,000 square feet of space and was built using an existing building with funding from "stakeholders." The work on the building was done quietly under an assumed name to keep pro-life supporters from objecting to the abortion clinic and causing construction delays.
And certainly, Planned Parenthood could afford no delays.
That's because its St. Louis abortion facility – the only active abortion clinic in Missouri – is locked in a licensing dispute with the Missouri Department of Health and Senior Services (DHSS), which refused to renew its abortion facility license because Planned Parenthood refused to fully cooperate with a DHSS investigation of life-threatening injuries to three women. 
The St. Louis Planned Parenthood has been allowed to operate under an injunction pending an administrative court hearing that is set for the week of October 28.
It is expected that the hearing will result in the loss of RHS Planned Parenthood's Missouri abortion facility license.
But that's not a problem for Planned Parenthood.
Not coincidentally, their new abortion facility will be open for business that same week and is large enough to absorb all patients from the St. Louis location, should it lose its abortion license, and a smaller facility in Belleville, Illinois where it transferred its chemical pill abortion customers last year after Missouri enacted new safety regulations that Planned Parenthood opposed.
New CEO Yamelsie Rodriguez, who took control of the embattled Planned Parenthood organization on August 12, admitted at an October 2 news conference that the building was a response to the new laws and licensing issues in Missouri.
Rodriguez also stated, "We have no plans of closing any of our facilities."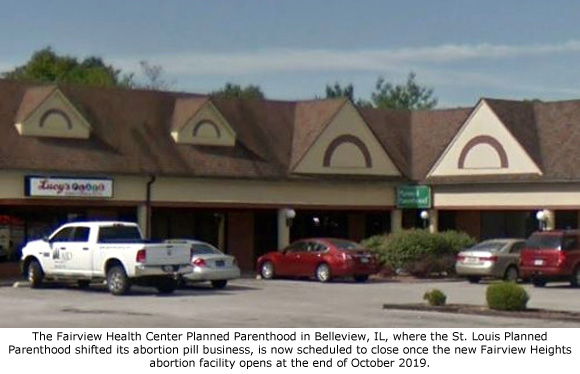 She was later forced to correct that statement when she confirmed that Planned Parenthood will indeed close its Belleville abortion pill clinic the last week of October and consolidate all services under one roof.
Despite the obvious fall back plan to shift services to the liberal state of Illinois in an effort to avoid accountability to Missouri's safety laws, Planned Parenthood's Medical Director, Colleen McNicholas, stated, "I do want to be clear about something. Our expansion to Illinois should not be interpreted in any way as a shift from our commitment to continuing the fight in Missouri."
That statement lacks credibility in light of Rodriguez' admissions and the hostility Planned Parenthood has shown toward the Missouri Department of Health and Senior Services, along with lack of cooperation demonstrated during a recent investigation into horrifically botched abortions.
"It almost seems like Planned Parenthood wants to lose their abortion license in Missouri so they could justify the move to Illinois where there are virtually no abortion regulations and a smaller pro-life presence. Their belligerent and uncooperative attitude made sure the DHSS would not renew its license," said Troy Newman, President of Operation Rescue. "It appears the Planned Parenthood licensing appeals in Missouri were just a feint to appease their supporters and cause a delay until their new facility was ready."
But don't expect this new abortion location to be safer than the St. Louis facility where Operation Rescue, with the help of local activists, has documented 74 medical emergencies requiring ambulance transport.
With fewer safety laws in Illinois will come more lax safety practices at Planned Parenthood – and that means more ambulances for injured women.
"Abortion is not safe, no matter what the abortionists say. If it was, we would not be seeing so many injured women, some of which will never be able to have another baby due to botched abortions obtained at Planned Parenthood," said Newman. "They will move more than the furniture to Illinois. Their shoddy practices will follow them there, too. We pray that pro-life supporters in the area of Fairview Heights will rise up and begin a constant presence outside this Planned Parenthood in order to save the lives of babies and their mothers that will be at placed risk there."
The opening of the Fairview Heights location may have a silver lining for Missouri pro-life supporters who have worked very hard to make Missouri a state that protects and cherishes life.
They have done something that has not yet been done elsewhere. They have caused Planned Parenthood to flee the state because the abortion business cannot or will not comply with abortion safety regulations passed to protect women from substandard practices.
Missouri may well become the first state without an active abortion business in just a matter of weeks. Other states should consider the successful Missouri model and work similar plans to become abortion-free states.