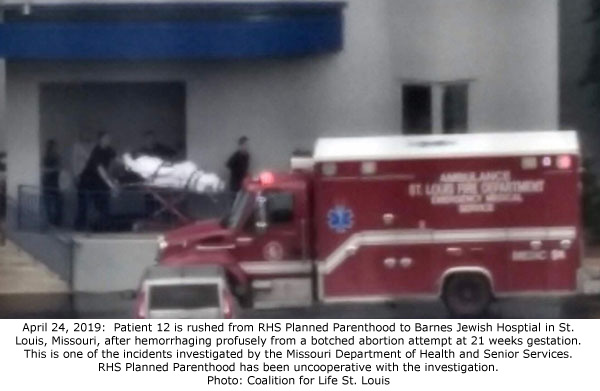 By Cheryl Sullenger
Jefferson City, Mo – A telephonic pre-conference hearing in the Missouri Planned Parenthood licensing case was held on July 2, where it was agreed that the scheduled August 1, 2019, hearing would be delayed until October at the earliest, pending scheduling availability with the hearing location.
Update 7/2/2019 at 2:40 pm): The hearing has now been set for October 28 through November 1, 2019, at the Wainwright State Office Building, 111 North 7th Street, Room 116, St. Louis, Missouri.
Chuck Hatfield, represented Reproductive Health Services Planned Parenthood in St. Louis, and Missouri's Solicitor General, Jon Sauer, represented the Department of Health and Senior Services. Both attorneys agreed to the delay.
Originally, the hearing before the Administrative Hearing Commission was scheduled for one 8-hour day, but today, it was extended to five full days at each party's request.
Hatfield indicated that RHS Planned Parenthood also plans to file an amended complaint and will seek a protective order to file some documents and exhibits under seal.
AHC Commissioner Sreenivasa Rao Dandamudi, who is overseeing this case, reminded Hatfield that HIPAA laws do not apply to the Commission, but that some accommodation can be made to keep patient identifying information private.
Although both parties agreed that there is an element of unpredictability in this licensing dispute, they indicated that they expected a total of about 15 witnesses overall.
Sauer noted that the state was prepared to enforce any subpoenas that may be issued since the AHC has no power to enforce subpoenas.
This case centers on the DHSS decision to deny renewal of RHS Planned Parenthood's facility license that allows it to conduct surgical abortions. That decision was reached after RHS Planned Parenthood was found to not have acceptable explanations for four the deficient treatment of four women who received failed or botched abortions at RHS Planned Parenthood.
RHS Planned Parenthood, which is the only abortion facility in Missouri, is currently open under a Order to Stay that is allowing it to continue conducting surgical abortions.
The DHSS had conducted an annual inspection in March 2019, and discovered 31-pages of health and safety violations, including breeches in infection control practices.
It also launched an investigation into the treatment of the women who were injured during abortions and requested interviews with seven licensed physicians who were involved. Five of those retained attorneys and have refused to cooperate with the investigation. That caused the release of a damning 62-page Statement of Deficiencies that has not been resolved. That second Statement of Deficiencies has since been sealed, first by the St. Louis Circuit Court, where this case was first heard, and then by the AHC. The full, unredacted version was obtained by Operation Rescue prior to the sealing and is available for viewing online.
Planned Parenthood disputes the allegations of botched abortions – one of which caused a woman to hemorrhage during the first day of a 21-week abortion and was admitted to the ICU in critical condition. It also disputes allegations of violations of informed consent, lack of adequate supervision of trainees from Washington University St. Louis, and other patient care violations.
"We want to see this dangerous abortion clinic shut down for good using every legal avenue available as soon as possible, because every day of delay is costing the innocent lives of pre-born babies and is placing women at risk of great harm," said Troy Newman, President of Operation Rescue. "With that said, we look forward to this hearing – whenever it happens – with the hope that it will finally mean the end to the most dangerous abortion facility in the U.S. and make Missouri the first abortion-free state."
Read the Order resulting from today's pre-hearing conference.
[Note: This breaking news has delayed the release of Part 2 of our special report on RHS Planned Parenthood's abortions, Colleen McNicholas, and her declaration filed in this case. Watch for it tomorrow!]
View Operation Rescue's archive of reports on the Missouri Planned Parenthood licensing case.