As each year draws to a close, it is our custom to reflect on the past months and remind ourselves of the great things God has done though this ministry, with the partnership of our faithful supporters. The year 2009 was a demanding, sometimes tumultuous year that produced much fruit. We are thankful for what has been accomplished.
We are winning the war on abortion through peaceful, legal means. That is expressing itself in lower demand for abortion. Clinics are closing, and that means lives are being saved. Operation Rescue's National Headquarters is in a former abortion clinic that we bought and closed. Every day, we have growing confidence that we are closer to the day when abortion will be defeated.
For your encouragement, we present Operation Rescue's Top Ten Stories of 2009. It is only through the generosity of our supporters that we are able to continue this important, live-saving work. Please make a special year-end gift to Operation Rescue by CLICKING HERE. We are deeply appreciative of every gift!
-Merry Christmas and Happy New Year from the Operation Rescue Staff!
1. "Keep It Closed" keeps late-term abortionist LeRoy Carhart out of Kansas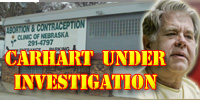 Upon the death of Kansas abortionist George Tiller, Nebraska abortionist LeRoy Carhart told the media that he would be resuming late-term abortions in Kansas. Operation Rescue immediately went to work to prevent that from happening.
• OR launched an online petition that successfully persuaded Wesley Medical Center to promise to deny Carhart hospital privileges or a hospital agreement.
• OR joined with other groups and asked for a criminal investigation of Carhart and disciplinary action against his license.
• Once OR released information that investigations had begun, Carhart fired nearly half his staff.
• Some of those former employees, along with others who contacted Operation Rescue, came forward with information of illegal activity at Carhart's clinic. Three submitted affidavits with their allegations to the Nebraska Attorney General.
• Our "Keep it Closed" outreach in Nebraska resulted in a CNN profile of Newman's work to close Carhart's abortion operations, it saved at least two babies, and trained a dozen volunteers about how to work through the legal process to close abortion clinics.
• On December 2, Carhart announced that he had abandoned plans to open a late-term abortion clinic in Kansas.
2. Tiller's infamous late-term abortion clinic permanently closes


During the first part of this year, our focus was on efforts to try late-term abortionist George Tiller for criminal charges that we discovered and exposed. Unfortunately, Tiller was acquitted of performing illegal late-term abortions in March. But minutes after the verdict was read, the Kansas State Board of Healing Arts released a statement indicating that they had filed an 11-count petition against Tiller on those same charges, and that the burden of proof was different than in a criminal case. They assured us that the case was progressing. Those counts were based on a complaint filed by Operation Rescue staff. We expected to see discipline, perhaps even the revocation of Tiller's license, within six months.
Then, on May 31, we were stunned with the shocking news that Tiller had been gunned down at his church. Operation Rescue was among the first to denounce Tiller's needless murder. The KSBHA then closed all cases involving Tiller. It was frustrating to know that while our peaceful efforts though the legal system were working, the victory that was just around the corner was denied to the pro-life movement.
The Tiller family made the decision to permanently close Women's Health Care Services, the infamous late-term abortion clinic in Wichita. It was closed over the objections of abortionist LeRoy Carhart, who callously wanted to resume abortions the day after Tiller was killed. The family made it very clear that the clinic building would never be used for abortions again. Today, the largest city in Kansas remains abortion-free. For that we rejoice and gave thanks to God.
3. Special Report reveals a dramatic decline in the number of surgical abortion centers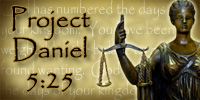 Operation Rescue released a report showing that over two-thirds of the nation's abortion clinics have closed since 1991. The report included a listing the 713 remaining abortion clinics and encouraged pro-lifers to participate in Project Daniel 5:25 by investigating them and reporting abuses.
The report showed that there is a general correlation between the number of abortion clinics and the abortion rate. When abortion clinics close, fewer babies are aborted. In fact, statistics show that the abortion rates have continued to decrease each year from a national high in 1980. As public opinion shifts toward the pro-life position and as access to abortion services decreases, women are increasingly rejecting abortion in favor of life for their babies.
4. Hodari Meltdown – Forced abortion suit prompts Michigan abortionist to try to sell out, take the money, and run


Operation Rescue continued to expose abortionist Abraham Alberto Hodari, publishing a story about a woman who had a forced abortion at his clinic twenty years ago. Since then, another woman has come forward and sued Hodari for a forced abortion she received last year. Caitlin Bruce says she withdrew her consent after viewing her baby on ultrasound. Hodari then directed his assistant to hold her down and cover her mouth as he forced the abortion on her while she screamed.
In November, Hodari put his abortion clinics on the market along with his collection of expensive classic cars and hastily filed for divorce from his wife of 29 years. Local activists told Operation Rescue that it appeared that he was attempting to liquidate his assets so he could flee the country, possibly to his former home in Argentina.
Operation Rescue has since filed complaints with the Attorney General's office and the Health Department asking for investigations and appropriate criminal charges and/or disciplinary action. OR's exposure of the Hodari story has generated headlines in the mainstream media.
5. Abortionists disciplined, arrested, and jailed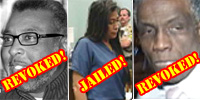 In 2009, a number of abortionists were held accountable for their negligence and/or crimes. Each one of them was the subject of exposure by Operation Rescue.
• Belkis Gonzalez arrested and charged in March with practicing medicine without a license and tampering with evidence for her part in the death of Baby Shanice Osbourne, who was born alive at 23 weeks during a failed abortion, shoved in a trash bag, and tossed on the abortion clinic roof in Hialeah, Florida. Three years of public pressure finally paid off when charges were filed after a press conference demanding action outside the State Attorney's office.
• Illegal abortionist Bertha Bugarin was sentenced to 6 years, 7 months in prison for conducting illegal abortions in Los Angeles and San Diego Counties. Operation Rescue has worked 10 years bring her and her negligent staff of abortionists to justice. Two of Bugarin's accomplices were also sentenced this year.
• California abortionist Nolan Jones' medical license was finally revoked after years of botched abortions negligence, and malpractice. Operation Rescue had exposed Jones' troubles, including his serious financial debt and the fact that at one point was living out of his abortion clinics and his car. He was considered one of the most dangerous abortionists in the nation, but now he is out of the abortion business for good.
• Florida abortionist Pierre Renelique had his medical license revoked after the Florida Medical Board questioned him about his part in the Hialeah born-alive baby incident. They found him to have committed "gross medical malpractice" with one Board member commenting, "I don't want him touching my family member." Renelique was then caught in New York working at another seedy clinic in the Bronx by a NY Fox affiliate, which produced the best news piece on an abortionist that we have ever seen.
6. Opposition to tax-funded abortion in health care bill


Operation Rescue helped lead efforts to block tax funding for abortions in Obama's government health care take-over plan. We joined with a number of pro-life groups to launch the I AM 71 Campaign where Americans would voiced their opposition to tax-funded abortion online. We also encouraged Americans to speak out and contact their Congressmen and Senators and sponsored several protests outside the Capitol and the White House.
Because of these efforts and those of other groups, abortion became the lynch-pin issue that has put abortion in the headlines and in the thoughts of the American people, causing them to rethink their positions on the most critical moral issue of our day. In fact, polls show that since the debate over abortion funding began, more people are identifying themselves as pro-life. As the year draws to a close, the battle over abortion in health care continues. There is still a chance that it could be the issue that scraps "Obamacare" for good, and that would be good news for the American people.
7. Opposition to nomination of Kathleen Sebelius as Secretary of HHS politically damaged her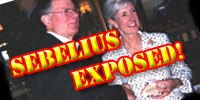 When President Obama nominated former Gov. Kathleen Sebelius to head up the Department of Health and Human Services, Operation Rescue went into full gear to oppose her nomination. We exposed her radical abortion agenda and her connections to late-term abortionists George Tiller and LeRoy Carhart, providing photos we had obtained of a secret party Sebelius held to honor Tiller and his entire abortion staff.
Operation Rescue also broke the story that Sebelius had grossly underreported the amount of campaign contributions she had received from Tiller. This scandal delayed her nomination and placed it at risk as 32 Congressmen asked for Obama to withdraw her nomination. While political posturing from a Kansas lawmaker ensured her confirmation, the work of Operation Rescue severely damaged her politically to the extent that she is now viewed with distrust by the American people.
8. Late-term abortionist Martin Haskell exposed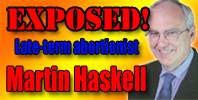 In October, Operation Rescue published a three-part exposé on late-term abortionist Martin Haskell of Ohio, revealing that the Health Department has exempted Haskell's Dayton abortion clinic from complying with the laws that all other clinics must obey. The report also published a series of 911 emergency calls from Haskell's Dayton abortion clinic that show the clinic is a danger to the public. The report was the first of its kind exposing the abortion giant.
9. Operation Rescue launches a new interactive web design and expanded Internet and media presence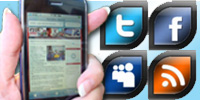 In July, Operation Rescue launched a new interactive web design with new features such as an opinion poll, a featured video, and multi-media resources.
Through the Internet and other multi-media outreaches, Operation Rescue is spreading the message of Life far and wide. We expanded our Internet presence with profiles on Twitter and Facebook, MySpace, and Youtube.
In addition, Troy Newman is featured regularly on the Bott Radio Network with one-minute radio commentaries called "Take a Minute for Life." Troy also serves as co-host for the popular Life Dynamics, Inc. video magazine LifeTalk.
This year, Operation Rescue spokespersons were quoted in nearly every major news source, including the New York Times, the LA Times, WorldNetDaily, CNN, Fox News, Chicago Tribune, and the Wall Street Journal to name a few.
10. Truth Truck fleet rolls from Washington State to Washington DC, changing hearts and saving lives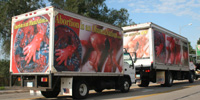 Operation Rescue's fleet of ten Truth Trucks was busy this year saving lives and drawing attention to the horrific plight of aborted children. Here are just a few of our stories:
• Washington, DC: In January the US Supreme Court upheld a lower court ruling that the graphic images on the sides of the Truth Trucks are protected by the First Amendment. In the suit brought by the Center for Bioethical Reform, the lower court judges concluded that "the government cannot silence messages simply because they cause discomfort, fear, or even anger." Thanks to CBR for this victory that has kept our Truth Trucks rolling!
• Wichita, Kansas: Prior to the closing of Women's Health Care Services, OR's Truth Truck was a part of saving several babies from abortion, including some who were saved from abortions in the later terms of pregnancy.
• Washington State: The Truth Truck on tour there made headlines in communities that would otherwise not be exposed to the truth about abortion.
• Omaha, Nebraska: After a judge ordered police to stop arresting peaceful protesters who were not breaking the law, the City of Bellevue passed an ordinance limiting free speech activities in neighborhoods. As a result, instead of small groups praying throughout the neighborhoods of abortion collaborators, Larry Donlan of Rescue the Heartland drives the Truth Truck and down the streets, causing no small stir. The Truth Truck also regularly ministers outside Carhart's late-term abortion mill in Bellevue.