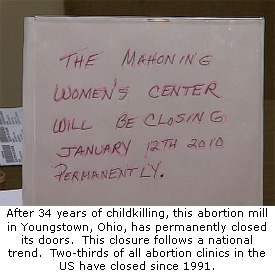 Youngstown, OH – After 34 years in the abortion business, the Mahoning Women's Center in Youngstown, Ohio, permanently closed its doors on January 12, 2010. The owner has retired and the building will be sold. The closure leaves the community of Youngstown abortion-free.
"This is such great news for the people of Ohio and all Americans. It means that lives will be saved," said Operation Rescue President Troy Newman. "We know from experience that when abortion clinics close, many women who would otherwise have opted for abortion will instead happily keep their babies or release them for adoption."
The closure follows a well-documented national trend. In 1991, there were nearly 2,200 abortion clinics, but today there are 712. Since 1991 over two-thirds of all abortion clinics have permanently closed. That trend reflects the shifting attitude of Americans toward the pro-life position.
Operation Rescue documented this trend in Project Daniel 5:25, which lists the remaining abortion clinics and encourages pro-life supporters to maintain a presence outside each one.
"This week, we mark the 37th memorial of the Roe v. Wade Supreme Court decision that decriminalized abortion and we mourn for the 50 million babies that were the cruel victims of that decision. Yet, at the same time, we rejoice that abortion clinics are closing at an unprecedented rate and that an increasing number of Americans are rejecting abortion in favor of embracing and cherishing life. The foundations of Roe have crumbled, and the abortion industry is not far behind," said Newman.
To further speed the closure of abortion clinics, Operation Rescue is offering a $10,000 reward for information leading to the arrest and conviction of abortionists who are breaking the law.