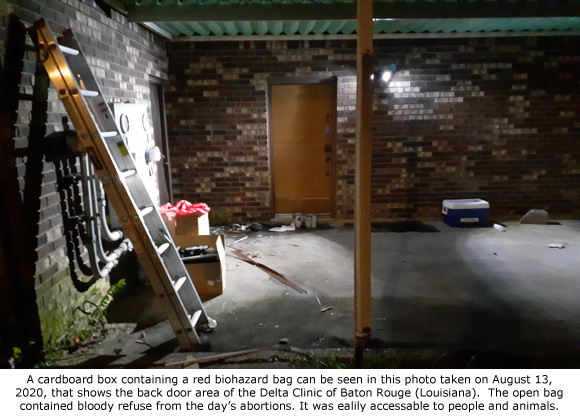 By Cheryl Sullenger
Baton Rouge, Louisiana – During a time when people are urged to wear masks and wash incessantly in an attempt to keep from getting sick, a Baton Rouge, Louisiana, abortion facility has committed a very real – and appallingly disgusting – public health violation without response from state authorities.
According to pro-life activist Richard Mahoney, after the Delta Clinic of Baton Rouge finished conducting a full day of abortions, on August 13, 2020, a construction crew moved in to begin tearing out walls, carpeting, and other items in preparation for a remodel.
One of the items removed from the facility was a waste container filled with bloody refuse from abortions that had obviously taken place earlier that day.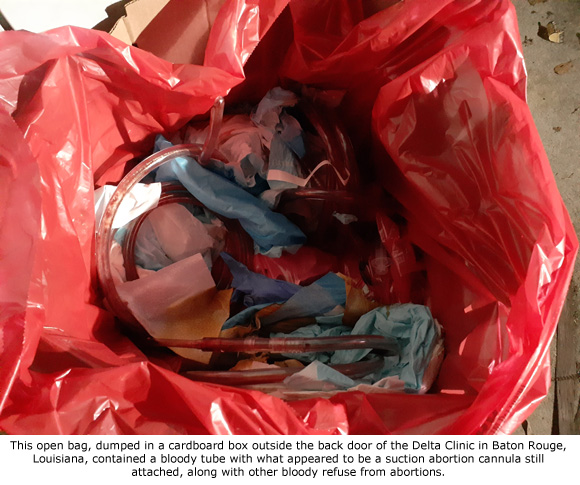 Photos provided to Operation Rescue by Mahoney show an open cardboard box lined with a red biohazard bag that was partially filled with soiled blue pads, used masks, and bloody tubing with what appeared to be a cannula used in surgical abortions still attached. 
The open box was placed in a trash-strewn area outside the back door of the facility where the biohazard material was fully accessible to people and animals.
The Louisiana Department of Environmental Quality includes the following in its description of biohazardous materials on its website:
Human pathological wastes including tissue, organs, body parts and fluids that are removed during surgery or autopsy.
Human blood, human blood products, blood collection bags, tubes and vials.
The website further states:
Blood and other potentially infectious material (other than sharps) must be placed in leakproof, color-coded (or biohazard-labeled) container before it leaves the facility. If outside contamination occurs, or if the container is punctured, it must be placed in another leakproof, labeled or color-coded container.

…Potentially infectious biomedical waste (i.e., medical waste) must be packaged in a manner that prevents exposure to the material. Liquids must be in a sturdy, leak-resistant container.
Complaints made by Mahoney about the biohazard waste disposal violation have so far been ignored by Louisiana authorities.
As of August 17, 2020, the open box containing the bloody refuse was still present and unmoved from the back of the abortion facility.
"In a climate where there is a hyper-alertness to contaminates, allowing abortion facilities to dump bloody abortion waste outside in an open cardboard box is inconsistent with claims of wanting to keep the public safe," said Operation Rescue President Troy Newman.
It should be little wonder that biohazard waste at the Delta Clinic is treated with reckless disregard for health and safety laws.
On April 2, 2020, an abortionist named Musa Williams, an intern at the LSU Medical Center, traveled from what was then the coronavirus hot spot of New Orleans to conduct abortions at the Delta Clinic of Baton Rouge wearing disgustingly soiled scrubs in violation of the most basic infection control protocols.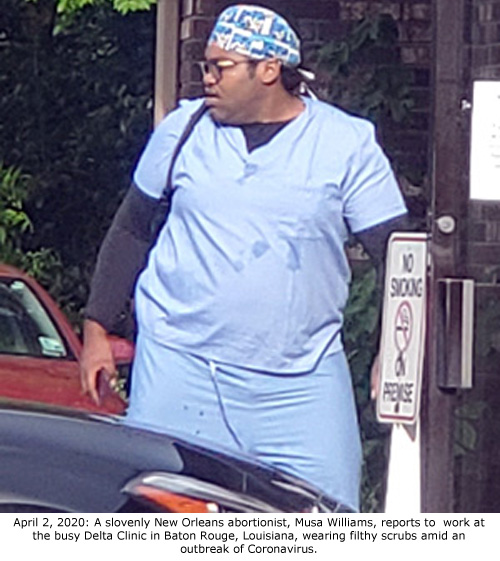 "Why the Louisiana Department of Health allows such infection control violations without a word of response shows that it is unconcerned about health violations at abortion facilities," said Newman. "Sadly, this means that abortion facilities can get away with any violation without consequence in Louisiana, and that just makes them more dangerous than they already were."
Bit of trivia about the Delta Clinic:  That facility is allegedly still owned by Leroy T. Brinkley, who once owned two abortion facilities in Delaware.  Prior to 2010, those Delaware facilities employed a Pennsylvania abortionist named Kermit Gosnell.  Brinkley had another employee at the Delta Clinic named Eileen O'Neill, who relinquished her Louisiana medical license due to what she called "post-traumatic stress," which speaks volumes about her time at Delta.
Brinkley recommended O'Neill to Gosnell for hire at his Women's Medical Society clinic in West Philadelphia. There, O'Neill practiced as a "doctor" even though she held no valid medical license. O'Neill was arrested and tried with Gosnell in 2013, when Gosnell was convicted of murdering three babies who were born alive in the midst of squalid conditions at his "House of Horrors" abortion facility.  In the wake of the Gosnell scandal, Brinkley's two Delaware abortion facilities were closed by the state after it was learned that Gosnell illegally started late-term abortions on women there then sent them to his Philadelphia abortion clinic for completion of the abortions.  Meanwhile, the Delta Clinic continues to operate.
That should answer some questions about why Operation Rescue believes the Delta Clinic poses a serious and ongoing danger to the public.