Michigan Attorney General sues to close a 9th abortion clinic for licensing violations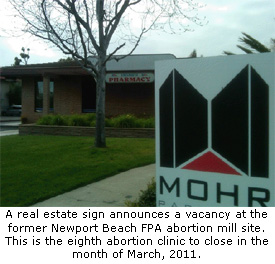 Newport Beach, CA – Family Planning Associates, one the largest abortion clinic chains in California, has closed its Newport Beach office, Operation Rescue has confirmed.
"This is an old abortion mill where pro-lifers have been sidewalk counseling and praying for decades. Its closure is an encouragement that we are winning," said Operation Rescue President Troy Newman.
Family Planning Associates was founded by the notorious abortionist Edward Allred, who once claimed to have personally aborted at least 500,000 babies and famously stated during an interview with the San Diego Union that he wished he could set up a free abortion clinic in Mexico to "stem the tide" of illegal immigration*.
Allred retired in 2005, and sold FPA, then operating 20 abortion sites in two states, to Irving "Bud" Feldkamp III. His son, I.M. Feldkamp, IV continues to operate the chain. With the closing of the Newport Beach clinic, FPA now consists of 14 surgical abortion clinics and one that offers only the abortion pill.
This is the eighth surgical abortion clinic to close this month.
Earlier closures include all five locations of Golden Gate Community Health, formerly Planned Parenthood Golden Gate, which closed due to financial difficulties after Planned Parenthood disenfranchised them due to financial mismanagement.
Also closing in March were two Pennsylvania abortion clinics operated by abortionist Soleiman M. Soli. Inspections in the wake of the discovery of Kermit Gosnell's "house of horrors" uncovered violations at Soli's "Abortion as an Alternative" clinics. Soli closed the clinics and retired rather than clean them up.
That brings the number of surgical abortion clinics to 681 nationwide, down from nearly 2,200 abortion clinics in 1991. Operation Rescue maintains a listing of abortion clinics by state at the Project Daniel 5:25 web page.
In addition, the Michigan Attorney General's office has sued notoriously troubled abortionist Alberto Hodari to close his Lathrup Village abortion clinic because it does not meet licensing requirements.
"The abortion movement is failing and the industry is imploding. Public opinion continues to move toward the pro-life position. Even the political climate is beginning to shift. The days of abortion on demand in America are numbered and each day we move closer to the time when it crumbles for good under the weight of public rejection and its own indiscretions," said Newman.
*"Doctor's Abortion Business is Lucrative," San Diego Union, B-1, col. 1 (Oct. 12, 1980).