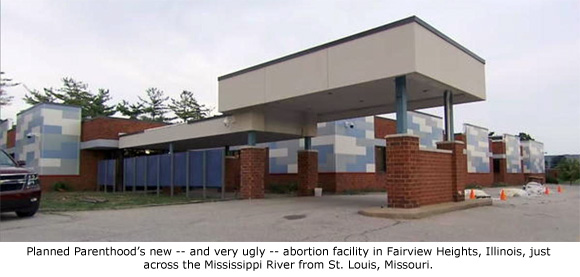 By Cheryl Sullenger
Fairview Heights, IL – The secretly constructed Planned Parenthood facility in Fairview Heights, Illinois, is set to open officially on Wednesday, October 23, 2019, with a ribbon-cutting ceremony and a schedule full of abortion appointments.
The Planned Parenthood facility, which is not new construction but a $7 million renovation of an old brick structure, was opened in Illinois to take advantage of its newly relaxed abortion safety laws.
In June, 2019, the Illinois state legislature passed a law expanding protections for abortion facilities (but not for women) and ensuring that Illinois will remain an abortion state should Roe v. Wade fall and return the decision to allow abortions back to the states.
The Illinois Planned Parenthood intends to serve as an abortion destination should the U.S. Supreme Court over turn Roe v. Wade anytime in the future.
Planned Parenthood joins the Hope Clinic for Women in Granite City, Illinois as major abortion centers in close proximity to St. Louis, located just across the Mississippi River.
Missouri's lawmakers passed much-needed abortion safety regulations in light of 74 medical emergencies documented at the Reproductive Health Services Planned Parenthood abortion facility in St. Louis. This facility has the distinction of being the last active abortion clinic in Missouri.
But RHS Planned Parenthood ran afoul of those new regulations and failed to pass a health and safety inspection earlier this year. Its failure to cooperate with an investigation launched by the Missouri Department of Health and Senior Services (DHSS) into severely botched abortions that resulted in near-death experiences for four women resulted in the Department's decision not to renew RHS Planned Parenthood's abortion facility license.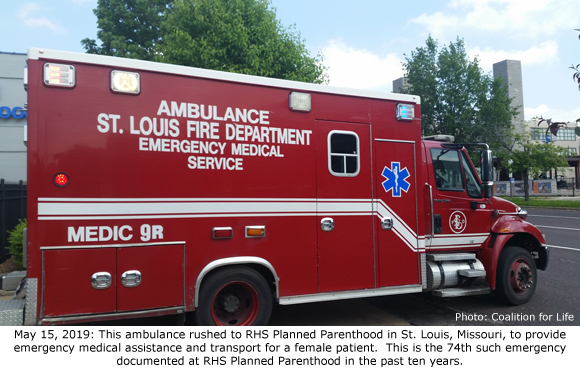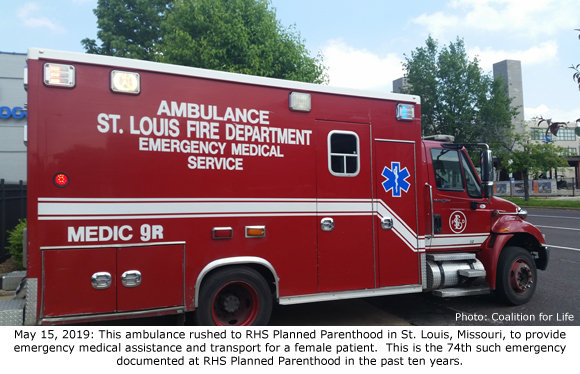 That decision is being appealed by Planned Parenthood to the Missouri Administrative Hearing Commission and is scheduled for a week-long hearing on October 28 through November 1, 2019, where there is a good chance that the DHSS's decision will be upheld.
Should that happen, Missouri will become the first state since Roe v. Wade to have no functioning abortion facility.
Increased competition in a contracting abortion market
Meanwhile, in Illinois, Erin King, medical director for the Hope Clinic for Women, has stated that they have increased staffing by 30 percent in expectation of an influx of abortion customers from Missouri should the St. Louis Planned Parenthood lose its abortion license.
But with the new Fairview Heights Planned Parenthood geared up to compete for that same influx of women, it is doubtful that both abortion facilities will have enough business to pay for their new expenses.
In Missouri, abortion numbers have consistently decreased since the 1990s. In 2017, the last year for which abortion numbers are available, Missouri conducted 3,903 abortions, down 51% over a twelve-year period beginning in 2005.
In Illinois, 39,329 abortions were done in 2017 a decrease of 10% over 2005 numbers.
Planned Parenthood's medical director Colleen McNicholas told a press conference earlier this month that they never ran the numbers to learn if there would even be enough abortion business in Fairview Heights to keep that facility viable.
"Abortion numbers are shrinking overall in Missouri and in Illinois. This means that the Hope Clinic and the Planned Parenthood in Fairview Heights will be competing for an ever-contracting market of abortions from both states," said Troy Newman, President of Operation Rescue. "I expect competition to be fierce for every abortion dollar, which means women will be more at risk than ever from corners cutting in the impending Abortion Price War in Illinois."
It will be interesting to see how this drama plays out, especially if RHS Planned Parenthood in St. Louis is allowed to keep its abortion facility license.
Already, it appears that RHS Planned Parenthood has deferred all abortion appointments to the new Fairview Heights facility for Wednesday's opening day, in one indicator that there is not enough demand for abortions to keep the St. Louis and Fairview Heights locations open.
Mary Maschmeier, of Defenders of the Unborn headquartered in St. Louis, reported last Saturday that RHS Planned Parenthood was closed and no employees were in the building on what would have traditionally been a high-volume abortion day.
"It is like they want the St. Louis clinic to close down.  They have failed to cooperate with licensing regulations and an abortion safety inspection.  That's not how to keep an abortion license," said Newman.  "Let's pray that abortion numbers continue to drop until all these abortion facilities go out of business for good."