By Cheryl Sullenger
St. Louis, MO – The head of Planned Parenthood of the St. Louis Region and Southwest Missouri has told NPR that women are opting to have their abortions in Illinois rather than scheduling them at the last abortion facility in Missouri, located in St. Louis. She blamed the Missouri laws for influencing women's decisions to voluntarily travel to Illinois for abortions.
But is that conclusion really the truth?
Abortions have dramatically decreased in Missouri. Gov. Mike Parson stated on February 21, 2020, that at that time there had been only seven abortions in Missouri this year. The NPR report noted that only three abortions had taken place in Missouri in February, compared to 174 that took place there in February of last year.
The March 12, 2020, the NPR report stated:
Yamelsie Rodriguez, CEO of Planned Parenthood of the St. Louis Region and Southwest Missouri, said she believes patients are opting to have the procedure in Illinois, a state with more liberal abortion laws, rather than navigating requirements such as Missouri's 72-hour waiting period.

"When they are weighing their options, the majority of patients are clearly seeing that abortion access is so unmanageable that they're choosing to cross state lines," Rodriguez said.
However, Operation Rescue has found that Planned Parenthood has flatly refused to book abortion appointments in Missouri, forcing women to travel to their Fairview Heights, Illinois, facility for abortions – even if that travel means hardships for women. This has been their apparent policy for several months.
To confirm that this is still the case, an Operation Rescue staff member phoned RHS Planned Parenthood on the morning of March 12, 2020, posing as a woman who was seeking an abortion.
As in the past, the Planned Parenthood scheduler told the OR caller that there was "no availability" for abortions at the St. Louis location, but offered to schedule an abortion at their Fairview Heights facility. However, the caller insisted that she needed an appointment in St. Louis and even offered to pay extra for an appointment there. Even then, the Planned Parenthood scheduler declined to allow an appointment.
Below is a transcript of the March 12, 2020, call.
Caller: I need to get an abortion appointment in St. Louis.

RHSPP: Our St. Louis, Missouri, location doesn't have any

availability at this time. We do have available appointments

at the Illinois location.

Caller: I'm not really able to travel out of state. Isn't there some

way you can fit me in to the schedule?

RHSPP: We don't have any op — procedures available at that

location at all.

Caller: Oh, like, even though it says online that you offer abortions?

RHSPP: Yes, at this time, the St. Louis, Missouri, location does not

have any availability for those services.

Caller: So there's just no way? Like, you don't just have a half hour or

an hour that I could get an abortion in St. Louis right now?

RHSPP: No.

Caller: Ok, well, that stinks, because I can't go out of state. Um, like if I —

Is there a way I could pay extra and get the abortion in St. Louis?

RHSPP: No, ma'am.
"It is clear that Planned Parenthood is no longer scheduling abortion appointments at their St. Louis facility, and the reason is obvious. In Missouri, Planned Parenthood continually runs afoul of abortion laws and has to give an account for botched abortions. In Illinois, they can cut as many corners as they want without legal or regulatory consequence," said Troy Newman, President of Operation Rescue. "To say that women are deciding to go there to avoid Missouri's abortion reflection period is patently untrue – and Yamelsie Rodriguez knows it."
So, why lie about such a thing? Perhaps it was an attempt to gaslight the public into believing that women are victims of Missouri abortion laws. That makes Planned Parenthood deceptively appear to be the hero of this story.
In truth, Missouri laws protect women from dangerous and exploitative abortion practices. It is actually Planned Parenthood that is harming women as they continually run afoul of those laws.
RHS Planned Parenthood is currently in big trouble in the State of Missouri. It is awaiting a decision by the Missouri Administrative Hearing Commission as to whether it will be allowed to keep its abortion facility license, which was revoked by the Missouri Department of Health and Senior Services (DHSS) after RHS Planned Parenthood refused to completely cooperate with a DHSS investigation into a series of botched and mishandled abortions that occurred at the St. Louis Planned Parenthood.
A decision on that licensing case, which was initially expected in February, has been delayed until April at the earliest. If RHS Planned Parenthood loses its facility license, Missouri will become the first state with no active abortion facility since the early days after Roe v. Wade.
But already, few if any abortions are currently being done in that state. That means women are being protected and the lives of unborn babies are being saved.
In addition, Operation Rescue has collected strong evidence that abortions at RHS Planned Parenthood are far from safe. With the help of local activists, Operation Rescue documented 75 medical emergencies at RHS Planned Parenthood that required ambulance transport to local emergency rooms. Since abortions were moved to the Fairview Heights Planned Parenthood in Illinois in October 2019, an additional medical emergency has been documented there.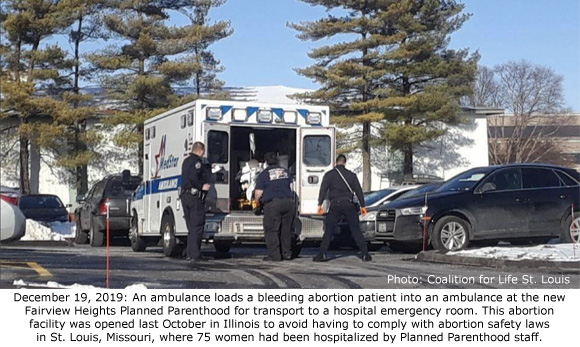 It can be argued that women are less safe having abortions at Planned Parenthood's facility in Fairview Heights, because there are essentially no safety regulations or state accountability there.
"Planned Parenthood can continue their sloppy, corners-cutting abortion practices in Illinois without consequences. That is the true reason they are sending women to Illinois for abortions. When Planned Parenthood botches abortions and injures women in Missouri, they are under the scrutiny of oversight agencies. If they botch an abortion in Illinois, that is just business as usual and everyone looks the other way," said Newman. "The same crew that sent 75 women to the emergency room by ambulance in St. Louis is the same crew over at the Illinois Planned Parenthood. Nothing has changed at all. Women are certainly not being empowered. They are being controlled by Planned Parenthood, that continues to place them and their babies at risk."