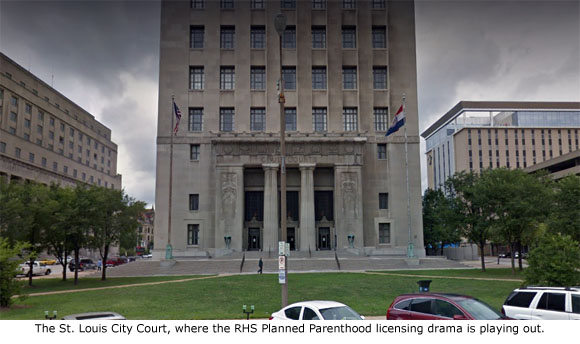 By Cheryl Sullenger
St. Louis, MO – The Missouri Department of Health and Human Services, which is locked in a licensing battle with Reproductive Health Services Planned Parenthood in St. Louis, has filed a motion to unseal a May 28, 2019, Statement of Deficiencies and cover letter that was quickly sealed by order of Judge Michael Stelzer at RHS Planned Parenthood's request before the DHSS had the opportunity to respond.
The state's motion asks the court to unseal the documents because it was not allowed the opportunity to reply. It also provides information to debunk what the DHSS says are "meritless" arguments made by RHS Planned Parenthood in their motion to seal the record.
It is easy to see why RHS Planned Parenthood was desperate to have the Statement of Deficiencies sealed.
"It's clear that RHS Planned Parenthood was attempting to hide the incriminating information contained in the report because it completely destroys their arguments that they provide safe abortions and are being somehow wrongly persecuted by the DHSS," said Troy Newman, President of Operation Rescue, which obtained a copy of the documents and published them prior to them being sealed by the Court.
The 62-page Statement of Deficiencies contained horrifying information about deficient patient care practices that resulted in the hospitalization of four women who had suffered botched abortion procedures at RHS Planned Parenthood. In some cases, women were forced to endure multiple abortion attempts for the same pregnancy.
How this fits into the bigger case
At issue in the case is RHS Planned Parenthood's facility license, which expired on May 31, 2019. At that time, the DHSS was conducting an investigation into seriously deficient patient care practices at the abortion facility and had not yet had the opportunity to conclude that investigation due to Planned Parenthood's obstructive behavior before the license expired.
The DHSS sought to interview seven licensed physicians involved in the adverse patient outcomes. Two cooperated with the investigations, but the other five hired attorneys and have refused to be interviewed. Subpoenas issued to the seven physicians and two staffers of RHS Planned Parenthood were quashed by Judge Stelzer.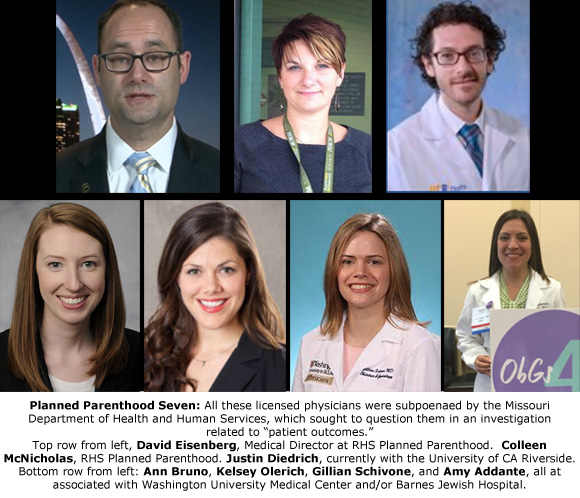 Planned Parenthood then filed suit and obtained a temporary restraining order and later a preliminary injunction that prevented its license from expiring until "further order of the court." Judge Stelzer, an appointee of former Gov. Jay Nixon, a Democrat, ordered the DHSS to make a decision on whether to relicense RHS Planned Parenthood by June 21, 2019.
"Judge Stelzer is a city judge that is used to dealing with municipal issues, not matters related to state agencies or abortion laws," said Operation Rescue President Troy Newman. "It's a bit of a wonder how he even has jurisdiction over the Department of Health and Senior Services."
In turn, the DHSS issued the Statement of Deficiencies to RHS Planned Parenthood and ordered them to submit a detailed and acceptable plan of correction by June 18, 2019. It is currently unknown if the plan of correction was submitted by the deadline.
Why unseal the report?
Planned Parenthood indicated that releasing the Statement of Deficiencies was a violation of Missouri law, when in fact, Missouri Law specifies that Statements of Deficiencies "shall be made available to the public."
Planned Parenthood also alleged that the release of the Statement of Deficiencies was a violation of HIPAA privacy laws and risked identifying patients involved in their botched abortions. The DHSS is emphatic that no patient or staff identifying information is contained in the Statement of Deficiencies – a fact that is supported by the report itself.
The DHSS argues that it has released similar reports even in the current case and never has a single patient ever been identified. In fact, Planned Parenthood referenced no part of the report that it believes might compromise patient privacy – because there isn't any.
RHS Planned Parenthood pretended to be unaware that the Department's Division of Regulation and Licensure is not a "covered entity" under HIPAA, so there can be no HIPAA violation. However, the DHSS motion stated that RHS Planned Parenthood "has been on notice of this determination for many years."
But even the Department was a covered entity, it released no information that would violate HIPAA privacy laws. RHS Planned Parenthood's dubious "concern rests entirely on unsupported speculation," the motion stated.
Planned Parenthood's Playbook
It is clear that the public's right to know outweighs RHS Planned Parenthood's baseless conjecture, which is often enough to intimidate agencies into keeping records from the public.
"This is a page from Planned Parenthood's standard playbook," said Newman. "They threaten agencies with raw speculation about HIPAA violations in order to intimidate the agency to keep their secrets about botched abortions and other abuses. We see it all the time in our efforts to obtain public information, such as 911 records. In many jurisdictions that we were able to easily and quickly get those public records, once we publish the documents related to medical emergencies at Planned Parenthood clinics, our other requests are then denied using the HIPAA excuse. That's not a coincidence. It's cause and effect."
In fact, Operation Rescue was forced to sue for public 911 records related to RHS Planned Parenthood after the St. Louis Fire Department, which once simply redacted identifying information then freely released such records, suddenly denied all requests.
Over the past ten years, Operation Rescue, with the help of local activists, has documented 74 medical emergencies at RHS Planned Parenthood. Although Planned Parenthood alleges that not all 74 were related to medical emergencies, documentation obtained from the St. Louis Fire Department suit indicates otherwise, with hemorrhaging being the most common complication noted.
"We are so glad that Missouri officials are standing up to this intimidation tactic and misuse of HIPAA. The public has a right to know if this abortion facility is in compliance with the laws and regulations. Right now, it looks like RHS Planned Parenthood is not," said Newman.
As of this writing, Judge Stelzer has yet to rule on the state's motion to unseal the Statement of Deficiencies and cover letter, which are posted in full below. (Obtained before they were placed under seal.) A status hearing is set for Friday, June 21, at 10:00 a.m.
___________
Note: The Court just posted an update (as of 3:06 p.m. 6/19/2019) on the time of the June 21, 2019, hearing. The article now reflects that new time.
1922-CC02395 – 6-13-2019 – … by on Scribd