Kalamazoo, MI – Pro-life supporters, holding signs that read "Justice for Cree and Her Baby," gathered outside the Planned Parenthood abortion facility in Kalamazoo, Michigan, on a frigid Friday morning to call attention to Planned Parenthood's responsibility for the death of a 24 -year-old patient.
The March 31, 2017, protest, led by Lynn Mills of Pro-Life Michigan and Monica Miller of Citizens for a Pro-Life Society, pointed to documentation that shows Cree Erwin-Sheppard died from injuries, including a perforated uterus, during an abortion she received during an early suction aspiration abortion at the Kalamazoo Planned Parenthood. [Read more and view full documentation.]
While Erwin-Sheppard's death certificate listed the full cause of death, the autopsy report was heavily redacted and made no mention of her abortion, which took place on June 30, 2016. Erwin-Sheppard died three days later in her mother's home in Battle Creek.
"We know she died as a result of coming to this place for a surgical abortion. We'd like to put pressure on the M.E. to release all facts related to the autopsy report," Mills told reporters.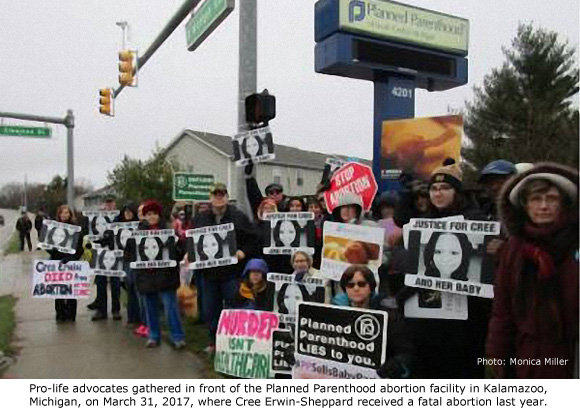 Mills went on to say in an interview with the Kalamazoo Gazette that the heavy redactions were not about protecting Erwin-Sheppard's privacy, but more likely were done to protect Planned Parenthood.
"We want to know why the medical examiner felt it was necessary to black out, to redact, all of these complications," Mills said. "Why is she covering up for Planned Parenthood?"
Mills refuted the notion that the redactions were done for privacy reasons.
"They are not protecting the privacy of Cree Erwin," she said, noting that "they put out everything females would not want exposed," from Erwin-Sheppard's weight to condition of her body, tattoos and piercings and details of her underwear.
"They are not protecting Cree's privacy, they are covering up that horrible place and what they did to Cree," she said, gesturing toward the clinic beyond the metal fence that surrounds it.
The protest prompted reporters to reach out to Detective Sgt. Troy Gilleylen of the Battle Creek Police Department, who had opened a homicide investigation into Erwin-Sheppard's death last July. He indicated that the case had been turned over to the State of Michigan Department of Licensing and Regulatory Affairs, and that he planned to "release more information next week."
Currently there are open complaints filed by Operation Rescue against the Kalamazoo Planned Parenthood and an abortionist, Laura Castleman, whose name was found on an unused prescription slip issued from Planned Parenthood on the day of Erwin-Shepard's abortion.
"A healthy woman walked into Planned Parenthood, received an abortion and died. I don't care how safe Planned Parenthood says abortions are, it was fatal for Cree or her baby. Those involved in killing Cree must be held accountable for her death," said Troy Newman, President of Operation Rescue.
__________
Note: Operation Rescue's Cheryl Sullenger teamed up with Lynn Mills and Catherine Davis Founding Core Member for the National Black Prolife Coalition in July to investigate Cree Erwin-Sheppard's death and Planned Parenthood's involvement. The documents referenced above were obtained by them.