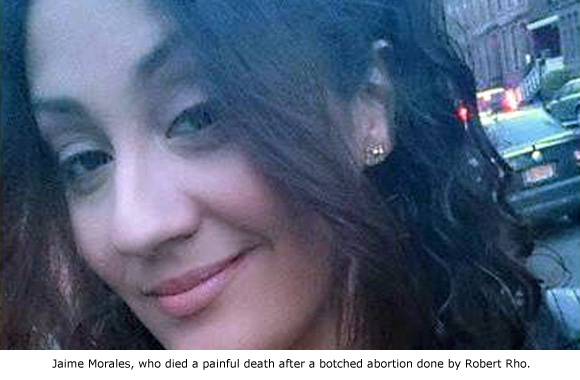 By Cheryl Sullenger, with Lauren Handy
Queens, NY – In a surprise move, no testimony was taken Tuesday, April 30, 2018, in the Robert Rho manslaughter trial. Instead attorneys met in the chambers of Judge Gregory Lasak for a prolonged conference.
Rho is on trial for Second Degree Manslaughter (reckless homicide) for causing the death of Jaime Morales, 30, as the result of a severely botched second trimester abortion in 2016.
Lauren Handy, Operation Rescue's in-court observer, indicated that a reporter from the Associated Press joined her in court. Handy said that the reporter had also been in the courtroom on Friday but had not yet submitted a story.
Around 11:40 a.m., attorneys returned to the courtroom without the judge.
Apparently, the subject of the chambers conference involved one particular crime scene photo that had not yet been submitted as evidence. Defense attorney Jeff Lichtman argued that a bottle in the photo contained Misoprostol, a drug often used vaginally to soften the cervix for later-term abortions. However, only the bar code and not the name of the drug could be seen in the photo.
Earlier testimony from one of Rho's employees indicated that she saw Rho insert pills into the patient's vagina prior to the abortion but did not see him insert laminaria dilators.
However, there was some disagreement about whether the photo could be submitted as evidence.
Prosecutor Brad Leventhal had argued that a search of Rho's abortion facility in Flushing, New York, found no evidence of Misoprostol or laminaria dilators. This mean that Rho had never prepared the victim's cervix for dilation prior to starting the dismemberment (D&E) abortion on Morales' nearly 26-week pre-born baby. Without preparation, the woman risks serious cervical tearing of the kind found during Morales' autopsy.


If Lichtman is allowed to enter the crime scene photo as evidence and can prove through the bar code that the bottle in the photo is Misoprostol, he will then be able to argue that Rho attempted to prepare the cervix for dilation. In this case, a lesser charge may be requested, such as negligent homicide, which is a Class E Felony and carries a penalty of up to 4 years in prison and a potentially substantial fine.
Rho's current charge is a Class C Felony that can result in a sentence of up to 15 years in prison.
Leventhal was seen gathering Morales' family together to discuss the possibility of the lesser charge. It is unknown if there are plans for a plea to a reduced charge, or how the case may proceed from here.
Meanwhile, Lichtman began to pack up his materials for the day while Rho began another argument about money. Throughout the trial, the two have been observed in heated discussions over the cost of the trial, with Rho being particularly angry about the high price of his defense.
Lichtman is considered one of the best criminal defense attorneys in New York today. Lichtman, who practices in state and federal courts, is considered the attorney of choice for those involved in organized crime. He has successfully defended the likes of John Gotti's son, John A. Gotti; Thomas Rachko, a former police officer who was accused of stealing from mob-related drug dealers; and Jacob Orgad, The largest trafficker of the drug Ecstasy ever arrested in the U.S.
Lichtman is currently representing Sinaloa Cartel leader Joaquin "El Chapo" Guzmán, in addition to Rho.
"It seems somehow appropriate that an attorney who specializes in defending those involved in organized crime would also represent an abortionist," said Troy Newman, President of Operation Rescue. "However, we pray that Mr. Lichtman will be unsuccessful in his defense of Robert Rho. If he gets off, it will be a gross miscarriage of justice."
On a side note, Handy indicated that the AP reporter was in court on Friday and told her that Friday's primary witness for the defense was a physician from Johns Hopkins University Hospital, whose name is unknown at this time. He served as an expert witness on the matter of abortion. It was revealed that the defense had paid this physician $30,000 for his testimony, compared to around $3,000 that was paid by the prosecution to their expert witness Steven Chasen, who serves on the Executive Board of Planned Parenthood of NYC.
Operation Rescue plans to report on breaking developments in this trial, which is tentatively expected to conclude on May 3.
_______
Operation Rescue's previous trial coverage:
Abortionist's Manslaughter Trial Testimony Reveals Patient Suffered a Painful Death
Testimony: Fatal Injuries Resulted from Rho's Single-Day Dismemberment Abortion of 6-Month Old Pre-Born Baby
Prosecution Rests as Tensions Rise in Abortion Manslaughter Case
Devastating Testimony Countered by Witness Badgering in Abortion-Manslaughter Trial