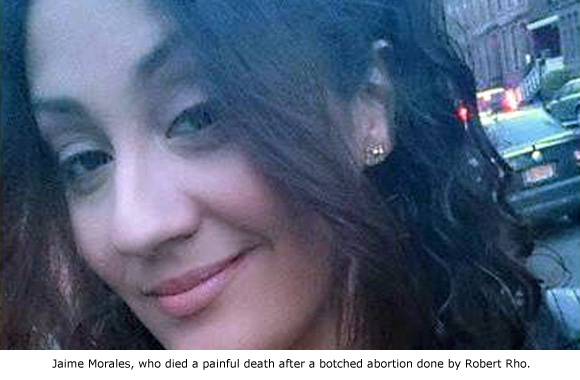 By Cheryl Sullenger, with Lauren Handy
Queens, NY – Abortionist Robert Rho has been on trial in a Queens, New York, courtroom since April 9, 2018, for the unnecessary death of abortion patient Jaime Morales, but news coming from this important trail has so far been non-existent – until now.
This week, Operation Rescue has an observer, pro-life activist Lauren Handy, in court who is giving us the first details about witnesses and evidence in the case that is expected to run through May 3.
"The case against Rho seemed so cut and dried that we actually expected him to take a plea bargain. We never expected this case to go to trial, much less to a four-week trial," said Troy Newman, President of Operation Rescue.
Rho was arrested on October 11, 2016 and charged with Second Degree Manslaughter (reckless homicide), a Class C Felony that carries a penalty of 3 1/2 to 15 years in prison.
The trial involved a botched elective second trimester abortion that Rho conducted on Jaime Morales, 30, at his Liberty Women's Healthcare office in Flushing, New York, on July 9, 2016. When Morales continued to bleed profusely after the abortion, Rho determined that she required a second abortion procedure during which he attempted to repair injuries.
Instead of calling for an ambulance, Rho released Morales, who had fainted while still at the clinic and remained woozy. Morales again passed out in her sister's car on the way home and was finally transported to a Bronx-area hospital where she died from her injuries.
Trial Day 10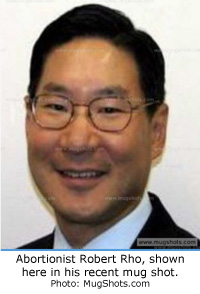 Monday, April 23, 2018, represented Day 10 of the trial, which is being held in the courtroom of Judge Gregory Lasak at the Queens Supreme Court, Criminal Division. In attendance were Rho's wife and Morales' family and friends. No reporters were present in the courtroom.
Once Judge Lasak took the bench, Handy observed Rho take some pills of an unknown type before the jury was brought in.
A jury is comprised of four women and eleven men were hearing the case. Out of those 15 jurors, four were white and the rest were people of color.
With the prosecution's case still underway, experienced lead prosecutor Brad A. Leventhal called his first witness of the day.
Paula M. Breen, Deputy Director of the Office of Professional Medical Conduct (OPMC) took the stand. She testified that she has jurisdiction over doctors via disciplinary action and also oversees investigations.
Breen testified that she has been investigating Rho since 2013 for infractions involving sedation and office staff. Breen had sent three letters regarding the violations to Rho on May 29, 2014, March 17, 2015, and December 18, 2015. She had sought an interview with Rho regarding the letters, but she testified that Rho never responded.
Search Warrant
On July 14, 2016, just five days after Morales' fatal abortion on July 9, Breen said she accompanied police to Rho's abortion facility to "shadow" them during the execution of a search warrant where they found a large cabinet of sedation medicine. However, they found no laminaria sticks or misoprostol, which are commonly used during second trimester abortions.
Breen was cross-examined by defense attorney Jeff Lichtman, who questioned her about the use of anesthesia, which comprised most of Rho's violations. According to Handy, Lichtman became angry during the cross examination, at which time Judge Lasak called a recess.
There appeared to be come tension during the breaks between Rho and his attorney involving the cost of the lengthy trial, according to Handy.
Anesthesiologist Testimony
After the break, the second witness of the day was called. Dr. Arup De, is an anesthesiologist affiliated with Albany Medical Center in Albany, New York. He testified as an expert witness in the field of anesthesiology.
Dr. De testified that it is possible that Morales' anesthesia report was forged because it did not accurately represent what an average patient's vital signs would be. He said it was nearly impossible for anyone to have the numbers that were noted on the medical records.
Dr. De further testified that Rho is not a certified anesthesiologist and neither is anyone on his staff. For Rho to administer anesthesia and conduct an abortion at the same time without trained staff to monitor vitals is a gross deviance of medical practice standards.
The prosecutor then reviewed with Dr. De the timeline leading up to Morales' death.
• 1:40 p.m.: Abortion started. Uterus lacerated and an attempt is made to suture it together to stop the bleeding.
• 3:00 p.m.: Abortion ended.
• 3:45 p.m.: Morales was brought back to the procedure room for a second abortion procedure.
• 4:05 p.m.: Second procedure ended.
• 6:30 p.m.: Morales is wheeled into the hallway and eventually discharged.
A security video from the clinic was shown to the jury. This video showed that at 6:03 p.m., Morales was wheeled into the hallway. Her head was tilted back and her eyes were closed. She was unresponsive as the staff wiped and fanned her face. Vitals were not checked. A few minutes later, someone tried to give her a drink of water but her head falls back again. Vitals were still not checked.
After the video was shown, Dr. De testified that Morales should not have been discharged in that condition.
Upon cross examination by the defense, Dr. De testified that the condition of the patient shown in the video was inconsistent with the notes that appeared in what he believed was her forged anesthesia report.
Uproar
Defense attorney Jeff Lichtman began to question the witness about how sedation medicine affects different people in different ways. Then, Lichtman dropped a bombshell on the court when he revealed that Morales' sister had indicated that the victim was a heavy drinker.
This revelation caused what Handy described as an "uproar" in court, causing Judge Lasak to call the attorneys to the bench.
"It is common for those defending abortionists in malpractice or patient death cases to attempt to blame the injured or dead woman for her injuries. It is a means of shifting the blame away from the abortionist and onto the woman," said Operation Rescue President Troy Newman.
After a brief conference, Lichtman resumed questioning by rewording his question to, "If a person was a heavy drinker, would that affect sedation levels?"
Dr. De responded that it would.
Judge Lasak ended the court session for the day. Since Dr. De was not available on Tuesday, it was ruled that he would continue his testimony on Wednesday.
Trial Day 11
Before the jury was brought in, there was a discussion between Lichtman and the prosecutor, Brad Leventhal. There was talk of the need to "wrap this up quickly." The prosecution is expected to rest their case on Thursday.
On Monday, Paula Breen of the OPMC had testified that no misoprostol had been found during the execution of a search warrant on Rho's abortion facility. Lichtman and Rho had reviewed the photos taken during the search and found what appeared to be a bottle of Misoprostol.
Misoprostol is a drug used in tandem with laminaria dilators to soften the cervix and expand it in preparation for later abortions. Misoprostol can also cause unpredictably strong uterine contraction.
Handy observed Rho showing his attorney a pill bottle that Handy recognized as Misoprostol. Rho dumped the pills into his wife's purse then handed the empty bottle to Lichtman.
The jury was then brought in and the day's testimony began.
"Expert" Abortionist
Dr. Steven Chasen was called to the stand by the prosecution. Chasen is a Professor and Ob/Gyn at Weill Cornell Medicine who testified that he "managed women in complicated pregnancies." He is also an abortionist who sits on the Executive Board of the New York City Planned Parenthood and has personally conducted 500-1,000 abortions.
In cases like this, it is common for an abortionist to testify as an expert witness on behalf of the prosecution in order to explain how the abortionist on trial erred or acted outside patient care standards.
Chasen had been asked to review Morales' medical records, autopsy report, and the video that had been shown in court the previous day and form an opinion about them.
Included in the documents reviewed by Chasen was one from Planned Parenthood in the Bronx. Morales had visited Planned Parenthood under an assumed name and indicated on paperwork that she had lupus, a chronic autoimmune disease that can damage any part of the body, including skin, joints and organs. It was later determined that lupus had no bearing on Morales' abortion.
Morales had been too far along in her pregnancy for an abortion at Planned Parenthood, so she was referred to an independent clinic, where she also used a fake name, as she also had done at Rho's clinic.
On the stand, Chasen gave a lengthy description of fetal development, stating that pregnancy begins at conception when the sperm meets the egg – a true statement that seemed an unusual admission coming from an abortionist.
He then described different methods of abortion and discussed potential complications in future pregnancies as the result of abortion, including miscarriage and preterm births.
The prosecution established through Chasen's testimony that laminaria dilators and Misoprostol are needed together to prepare a cervix for a late-trimester abortion and pointed out that medical records showed that Rho had only used "mechanical methods" (dilators) to open the cervix.
Autopsy Photos
Jaime Morales's autopsy photos were then shown to Chasen, who showed them to the jury as he explained Morales' injuries. Family members were seen sobbing throughout this emotional part of the testimony.
The photos showed that Rho had lacerated her uterus and uterine artery and had cut deep into her vagina. During the first surgery, Rho attempted to suture the wounds to stop the bleeding, but the bleeding continued. Chasen showed the jury the stitches around the uterus from the second surgery.
Chasen testified that Rho had "cinched" her cervix shut. That did not stop the bleeding, but had the effect of creating a "dam" that held the bleeding inside. There was no indication that there was an attempt to repair the lacerated uterine artery, so blood pooled up inside Morales' abdomen.
Chasen displayed one of the autopsy photos that showed the victim's distended abdomen, which had filled up with blood and expanded. He described this using the metaphor of an empty Zip-Loc bag that expanded as it was filled.
During cross examination, Lichtman attempted to discredit Chasen's testimony by arguing that Morales did not disclose her full medical record to Rho, which included a history of lupus, previous pregnancies that ended is miscarriage, a previous abortion, and a car wreak that made her wheel-chair bound for two years. Because of these omissions, Lichtman argued that Rho was not at fault.
"Did you see blood on her pants?" Lichtman asked.
Chasen responded that he was not there so he could only guess.
It was then revealed that Morales had gone into the bathroom at the clinic at some point after her abortion procedures, passed out, and hit her head.
"It is obvious from the testimony that Jaime Morales experienced extreme suffering as the result of her botched abortion. Her's was tragically a very painful death," said Newman.
Lichtman then presented the empty Misoprostol bottle to Chasen and asked him to identify it. Chasen responded that the bottle label indicated it was Misprostol but without the tablets, he could not say for sure whether the bottle had contained Misoprostol. Lichtman pressed Chasen to admit the bottle had contained Misoprostol.
This discussion seemed odd since Rho had emptied the bottle of Misoprostol tablets prior to the start of the court session. It appeared that the defense was attempting to prove that Misoprostol was present at Rho's clinic with the implication that it had been used on Morales.
The prosecution, upon re-direct questioning asked Chasen if Misoprostol was alone sufficient to prepare a cervix for a second trimester abortion, to which Chasen responded, "No."
That ended the court session on Tuesday, April 24, 2018. Court resumed Wednesday morning. Dr. De was expected to again take the stand.
Operation Rescue will continue to report on this trial throughout the week.
______________________
Correction and clarification: A previous version of this story mistakenly said that the search warrant was executed on Rho's office prior to Morales' abortion. It was actually executed on July 14, 2016, days after her abortion, and three months prior to Rho's arrest. The story now reflects these corrections.