By Cheryl Sullenger, with Lauren Handy
Queens, NY – On the thirteenth day of testimony, the prosecution rested its case against abortionist Robert Rho, who is being tried for Second Degree Manslaughter (Reckless Homicide) for causing the death of Jaime Morales, 30, during a horrifically botched late-second trimester abortion.
Judge Gregory Lasak quickly denied a motion made by defense attorney Jeffery Lichtman to dismiss the case.
Yesterday, it became clear that those involved in the trial have become aware of Operation Rescue's coverage of the case, with Rho appearing to be particularly upset by the news.
But it was tension between Rho and his attorney that characterized the week's proceedings, according to Operation Rescue's in-court observer Lauren Handy.
Handy believes it is possible that Rho has plans to open another abortion business somewhere on the east coast, should he be exonerated. Lichtman was heard telling prosecutor Brad Leventhal that they wanted to "wrap this up quickly," apparently so Rho could get on with plans for a "new clinic he's heading."
Rho surrendered his New York medical license soon after his arrest and closed his Liberty Women's Healthcare office in Flushing, New York. A search for licensing in surrounding states turned up no immediate results.
"It is possible that he may apply for licensing in another state or seek reinstatement of his New York license if he wins the case," said Troy Newman, President of Operation Rescue. "We don't want to see anyone else hurt by this man, so there is a lot is at stake in this trial. That is probably why Rho appeared not want any media attention on this case."
Statements made in the courtroom during breaks indicated that Rho was also very worried and angry about the cost of his legal defense. He was heard arguing with his attorney about money on several occasions.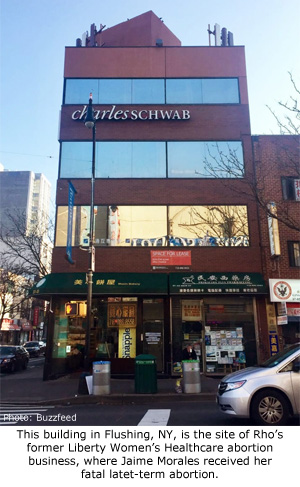 "Jeff, I expect you to win this case," Rho was heard to have said to his defense attorney during a break.
"I expect to," Lichtman responded, after which another argument ensued about money, despite Lichtman's attempt to reassure his client.
At one point, Lichtman told Rho, "I don't know what it's going to cost. I'm just trying to keep you out of jail."
Later, Rho was seen slamming his hand down on the defense table during yet another argument about money. Rho was heard yelling, "I'm stretched thin in my bank account!"
"Rho's obsession with money is very telling. A young woman is dead because of him, and all he can do is worry about his bank account and getting on with his plans for the future," said Newman. "From what we are learning in court, we aren't seeing a lot of remorse from him."
Rho is hardly a sympathetic character. He has a history of patient care issues and sexual harassment allegations.
According to a December 6, 2016, article about him that appeared in Buzzfeed, patients have sued Rho three times for medical malpractice, including a case involving a failed second trimester abortion after which a child was born with brain damage. That case was settled for $2 million.
Two of Rho's female employees filed sexual harassment lawsuits against him.
The Buzzfeed article stated:
In 2010, a medical assistant alleged in a lawsuit that Rho backed her against the wall of the clinic's consultation room to "hug and kiss her against her will" on several occasions, including once pressing his erection against her body. He was accused of giving her a free cosmetic procedure so she would accept his sexual advances. In this case, a preliminary conference was ordered, where settlement discussions were conducted. There's no record of how the case concluded.
Rho is also known for liposuction and labial reconstruction surgeries, in addition to abortions. In a 2008 sexual harassment case, a receptionist accused Rho of pressuring her into performing "sexual favors" after he gave her a free liposuction. That case was eventually dismissed.
But the current manslaughter case against Rho looks like it provides greater hurdles for the abortionist.
Earlier testimony in the manslaughter case laid out a timeline leading to Morales' death and set the age of the Morales baby at 24-26 weeks gestation – just under six months – at the time of the abortion. Despite the advanced stage of pregnancy, the prosecution has argued that Rho attempted to conduct a dismemberment abortion in one day, when normally such a procedure would take a minimum of two days in order to prepare the cervix for opening without causing injury.
As a result of rushing the procedure, Morales suffered extensive internal injuries, including a lacerated uterus and uterine artery, damaged cervix, and cuts deep into the vagina, all of which caused massive hemorrhaging.
In order to make it appear that her bleeding had stopped, Rho "cinched" her cervix, which forced blood to pool up in her abdominal cavity. Instead of calling an ambulance, he released her in an unresponsive condition at 6:30 p.m. on the evening of the abortion on July 9, 2016. Morales died a few hours later.
Rho's trial is tentatively expected to last through May 3.
Operation Rescue's observer, Lauren Handy, will not be in court today due to unforeseen circumstances.
Operation Rescue plans to report on other developments in the case as they happen.
__________________________
Read previous exclusive trial coverage from Operation Rescue:
Abortionist's Manslaughter Trial Testimony Reveals Patient Suffered a Painful Death
Testimony: Fatal Injuries Resulted from Rho's Single-Day Dismemberment Abortion of 6-Month Old Pre-Born Baby