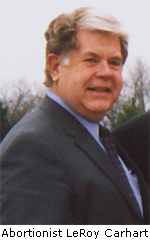 Lincoln, NE – A bill in Nebraska that would ban nearly all abortions after 20 weeks has advanced out of the Judicial Committee by a vote of 5-3 vote. LB 1103 would ban the abortions at the time when many experts believe that the pre-born baby can feel pain.
Speaker of the Legislature Mike Flood introduced the bill in response to statements made by late-term abortionist LeRoy Carhart that he would be doing late second and third trimester abortions at his Bellevue, Nebraska, abortion clinic in the wake of the closure of the infamous Women's Health Care Services (WHCS) in Wichita, Kansas, where Carhart had been employed.
LB 1103 has stirred controversy because it lacks a mental health exception. However, Operation Rescue applauded the Nebraska legislature for not including that loophole, since abortionists have used such exceptions in other states to commit late-term abortions for frivolous reasons.
Operation Rescue noted that in Kansas, every late-term abortion committed at WHCS was for 'mental health' exceptions that included such petty reasons as the women would not be able to attend rock concerts, rodeos, or buy a new computer if they continued their pregnancies. The state had no record of any late-term abortions being done to save the mother's life or even protect her physical health.
"Post-viability abortions are more about money than about anything else. We have seen late-term fees charged, based on gestational age from $5,000-20,000 per abortion. It is a very lucrative business," said Operation Rescue President Troy Newman, whose group is headquartered in Wichita.
"The mental health exception is simply a ruse so that abortionists like Carhart can commit abortions at any age of gestation for any reason," said Newman. "We have every confidence that if this Nebraska ban on late-term abortions is litigated to the U.S. Supreme Court that it will prevail."
Operation Rescue has worked to expose Carhart's often bumbling abortion business and dilapidated conditions at his Bellevue clinic. Since then the clinic has been painted, an cosmetic effort that OR called akin to putting "lipstick on a pig." OR also worked with Nebraska groups to file complaints against Carhart and have submitted affidavits to the State Attorney General from former Carhart employees who allege he has been engaged in criminal and dangerous conduct at his abortion business.