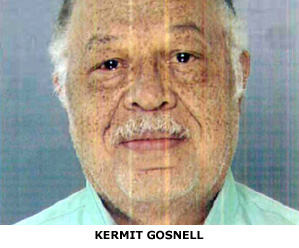 Philadelphia, PA – Jury selection is set to begin on Monday in the highly publicized capital murder case against Philadelphia late-term abortionist Kermit Gosnell, whose squalid "house of horrors" abortion clinic and callous, almost flippant attitude toward his macabre abortion practices shocked the nation.
"The Gosnell case is a watershed moment for the issue of abortion," said Troy Newman, President of Operation Rescue and Pro-Life Nation. "The discovery of his horrific practices helped shed light on an abortion industry that has run amok without oversight or accountability for decades, and has prompted significant changes in abortion laws and attitudes toward enforcement in several states."
In all, Gosnell faces 43 criminal counts, including eight counts of murder in the death of one patient, Karnamaya Monger, and seven newborn infants. Additional charges include conspiracy, drug delivery resulting in death, infanticide, corruption of minors, evidence tampering, theft by deception, abuse of corpse, and corruption.
The case began in January, 2010, when police raided Gosnell Women's Medical Society in West Philadelphia, thinking that it was a "pill mill" that was the city's largest supplier of Oxycontin that ended up on the streets for illegal sale. But once officers entered the clinic, they discovered it was something much worse.
The stench of cat urine permeated the air. Authorities found blood stained furniture and blankets, piles of bags of medical waste, and other filthy conditions. But they also found something else: rows of jars containing the severed feet of what appeared to be late-term aborted babies, then the corpses of several aborted babies with suspicious cuts on the backs of their necks.
Authorities immediately closed the clinic then began a grand jury investigation into Gosnell's appalling abortion operation. What they found is described in a scathing 281-page Grand Jury Report that is stated with such simple clarity that it is painful to read.
Gosnell's clinic had two functions. By day it supplied scripts to pretty much anyone who wandered in off the street. By night, it was a horrific late-term abortion operation that was conducted with the aid of unlicensed workers who drugged patients into stupors, spread venereal disease by reusing disposable equipment, perforated wombs and bowels, and killed at least two patients.
Gosnell would deliver late-term, viable babies alive then murder them by thrusting scissors into the backs of their neck and "snipping" their spinal cords.
Four other employees, Steven Massof, Lynda Williams, Sherry West, and Adrienne Moton masqueraded as physicians even though they had little if any training, and certainly no medical license. They frequently conducted illegal abortions, including the grisly procedure Gosnell called "snipping" of newborns' spinal cords.
In January, 2011, police arrested Gosnell and 8 of his employees, including his wife, Pearl, and charged them with hundreds of criminal counts. One by one, Gosnell's associates began to enter guilty pleas to avoid trial. In exchange, some charges have been dropped or reduced. Most await sentencing that will depend on the outcome of Gosnell's trial.
At least two, Williams and West, but perhaps others, are set to testify against Gosnell at his upcoming trial. They will be sentenced afterward and may receive possible leniency based on the quality of their testimony.
Gosnell, who has remained incarcerated since his arrest in January, 2011, faces a possible death penalty for his crimes.
The Grand Jury Report had great impact on abortion policies. It exposed in no uncertain terms the political climate that created conditions where abortionists were never investigated and clinics were never inspected, no matter how egregious the allegations. It forced resignations of those who looked the other way, even in the face of complaints related to patient deaths.
This case has also influenced new legislation and clinic regulation, but more importantly, prompted stronger enforcement of abortion laws, not only in Pennsylvania, but also in Maryland, Delaware, and others.
Clinic inspections that followed in Pennsylvania revealed massive violations at clinics across the state. At least two abortion clinics closed rather than clean up.
In Delaware, two additional abortion clinics closed that had associations with Gosnell, who was using the clinics to begin late-term abortion processes that would be finished across state lines at his Philadelphia abortion clinic.
In Maryland, the Gosnell case, along with the discovery of a similar illegal bi-state abortion operation run by the notorious Steven Chase Brigham, helped prompt new clinic licensing regulations and accountability in a state where essentially no meaningful abortion laws existed.
"We are looking forward to the court testimony of Gosnell's associates. We may have much more to learn from this horrific case," said Newman.
"The frightening thing about all this is that we know Gosnell is not unique," Newman continued. "We know other shoddy abortionists are out there running filthy operations that endanger the lives and health of women, such as the filthy abortion mill that was recently discovered and closed in Muskegon, Michigan. We know that abortionists are landing women in hospital emergency rooms at an alarming rate, and have the frantic 911 recordings to prove it. We also know that many times, babies are born alive after failed late-term abortions then secretly murdered. We have heard many reports of this dirty little secret – and worse."
Across the U.S., there still remains far too much resistance to the enforcement and prosecution of abortionists who break the law. Because of that, shockingly unsafe conditions and below standard practices continue to be overlooked and ignored in most states. While the Gosnell case has brought the issue of abortion abuses to light with some positive impact, there is still a long way to go.
"The more conversation we have as a nation about the wide spread epidemic of abortion injuries, deaths, and other abuses, the closer we will come to the solution to these problems through the complete abolition of abortion," said Newman.