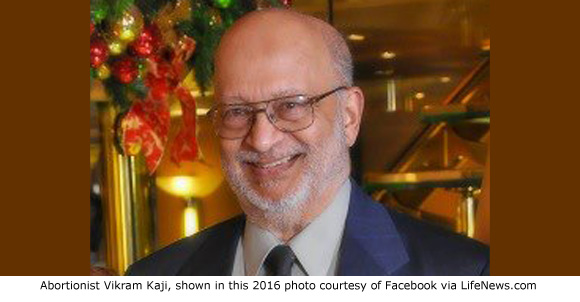 By Cheryl Sullenger
Trenton, NJ – The fate of seven New Jersey abortion facilities affiliated with the disgraced abortionist Steven Chase Brigham hang in the balance without a licensed physician to claim ownership of the troubled abortion chain as required by state law.
An initial decision dated January 25, 2019, from an Administrative Law Judge Thomas R. Betancourt has ordered the long-awaited revocation of 82-year old Vikram Kaji's medical license based on his history of heart disease, stroke depression, and cognitive impairment due to a diagnosis of dementia.  He also has some loss of dexterity in his dominate right hand.
During Kaji's administrative hearing held on September 26-27, 2018, Judge Betancourt noted that at times Kaji seemed confused and could not list the seven abortion clinics that he worked at, much less the nine total clinics he is said to oversee. The judge also noted that during one day of the hearing, Kaji arrived late and seemed confused about where he should sit, then fell asleep during testimony from one of the witnesses.
"Dr. Kaji is in decline," Betancourt stated in his written decision.  "He cannot perform the duties of a fully functioning physician…At what point will he no longer be able to do any of the junctions required of a physician is anyone's guess.  That time and place should not be discovered by an unsuspecting patient."
Kaji's initial revocation order follows the revocation of Brigham's own New Jersey medical license in 2014, for operating an illegal bi-state late-term abortion business that was discovered when one woman nearly died from a botched procedure at his clandestine abortion mill in Elkton, Maryland, in 2010.
Unable to legally hold ownership in his New Jersey abortion businesses after his license revocation, Brigham transferred ownership of his New Jersey abortion businesses – at least on paper — to his long-time employee Kaji, despite his long history of troubles that included discipline for sexual offenses and evidence of a forced abortion.  Suspiciously, no money changed hands in the transaction.
In 2015, when Kaji was questioned by state officials about his ownership in the American Women Services clinics, Kaji seemed confused and answered that Brigham was "the only one who runs the show."
Operation Rescue conducted its own research into Brigham's business transfer to Kaji, and found evidence that Kaji had been used as a pawn in a scheme to help Brigham maintain secret control under the guise of providing only non-medical business administration.  A formal letter of complaint was fined with the New Jersey Attorney General's office by Operation Rescue on April 15, 2015.
Then on June 16, 2015, the Attorney General's office filed a complaint against Kaji calling Brigham's business transfer to him a "sham."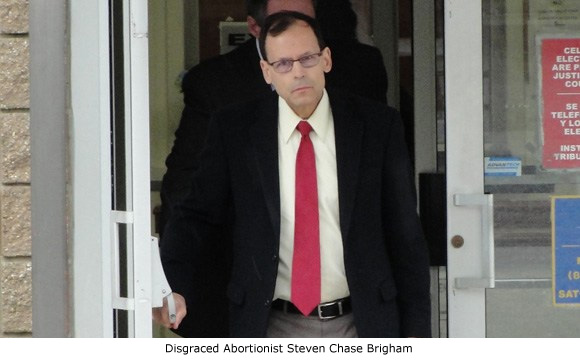 That case, which sought to close the seven New Jersey American Women's Services abortion clinics, was put on hold while Kaji's competency case was heard.  That case has now led to the revocation of his medical license.
This leaves Brigham's New Jersey abortion clinics without a licensed physician to claim legal ownership.  That should be enough to order them closed, yet, there has been no word of when or if that original business transfer case will resume.
In the meantime, Brigham continues to illegitimately and surreptitiously control and profit from his New Jersey abortion clinics located in Elizabeth, Englewood, Galloway, Hamilton, Phillipsburg, Voorhees, and Woodbridge.
"It is time for the State of New Jersey to stop playing along with Brigham's con games and shut down his shoddy New Jersey abortion clinics," said Troy Newman, President of Operation Rescue.  "After studying his business practices over the years, it is fair to say that his deceptive practices know no bounds.  One literally cannot believe one word that comes from his mouth."
Brigham was once licensed in six states.  Today, he holds no valid medical license in any state. Reasons for stripping his licenses have included repeated acts of gross negligence, criminal conduct, failure to comply with multiple consent agreements, use of dishonesty and deception, and unprofessional conduct, and more.  In Florida, he surrendered his medical license to halt license revocation proceedings against him.  Yet, he continues to operate in four states one of the largest abortion clinic chains in the country outside Planned Parenthood.
Status of Steven Chase Brig… by on Scribd

"I'm not sure what it will take to get Brigham out of the abortion business and shut down his shoddy clinics that endanger women's lives with their corners-cutting and deceptive practices, but we won't stop using every legal tool at our disposal until it's done.  He should have been shut down years ago," said Newman.  "The first step is for the state prosecutors to stop taking him at his word. The only thing he can be trusted to do is deceive and lie his way out of trouble, as he has been doing for his nearly 40-year career. It just has to stop."