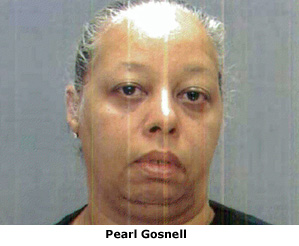 Philadelphia, PA — The wife of accused murderer Kermit Gosnell admitted guilt Tuesday in a horrific criminal late-term abortion case that shocked the nation with grisly details of hundreds of infant murders that authorities say took place in a filthy abortion West Philadelphia mill now known as a "house of horror."
Pearl Gosnell, 50, pled guilty to performing an illegal abortion on a baby over 24 weeks and two counts of conspiracy and participating in a corrupt organization. The charges qualify her for up to 54 years in prison, but Judge Benjamin Learner told her she is likely to receive much less time when she is sentenced in February 15, 2012. Defense attorneys confirmed that she will not testify against her husband.
Pearl Gosnell, a cosmetologist by training, assisted her husband with the latest of abortions at his ill-kept Women's Medical Society mill on Sundays, when the other staff were not present, according to a grand jury report. The viable babies were delivered alive then murdered by "snipping" their spinal cords with scissors. Authorities discovered the severed feet of larger babies kept in jars lining shelves in the clinic during a raid that uncovered the macabre illegal abortion scheme, which led to the arrests of Gosnell and eight of his employees, including Pearl.
Gosnell, 70, is charged with seven counts of murder on viable infants and one count of murder for killing abortion patient Karnamaya Mongar with a drug overdose. His capital murder trial is expected to take place in March, 2013. He could face the death penalty if convicted.
"We look forward to a full airing of the evidence in a court of law so Americans can come face to face with the atrocity of abortion. As disturbing as this case is, we know that what went on at Gosnell's abortion mill is little different than what goes on at late-term abortion mills around the country. The public needs to know the unvarnished truth," said Operation Rescue President Newman. "This case also serves as a warning to abortionists who break the law. Sooner or later you will get caught."
So far, six of Gosnell's co-defendants have taken plea bargains in exchange for their cooperation and testimony against Gosnell at the time of his trial. The remaining two are expected to also agree to plea deals to avoid having to be tried with Gosnell and face the likelihood of harsher sentences.