The "Window Well Abortionist" has now been identified as Charlie Browne of Seattle, Washington.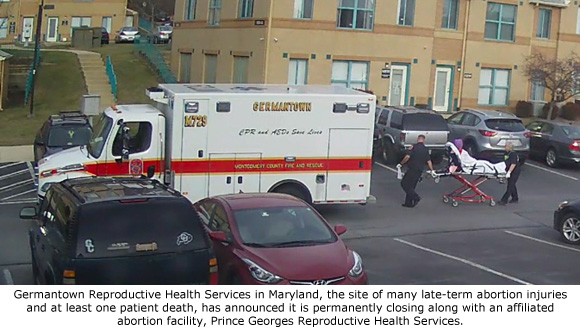 By Cheryl Sullenger
Germantown, MD — News broke last week that Germantown Reproductive Health Services, a late-term abortion facility located in Germantown, Maryland, is being purchased by a pro-life group and must permanently close. Already the facility has stopped taking abortion appointments. Wednesday, August 30, 2017, is set to be the facility's final abortion day.
The buyout deal, made with the Maryland Coalition for Life, also will shut down GRHS's affiliated abortion facility, Prince George's Reproductive Health Services, according to a posting on GRHS's website, abortionpages.com.


However, late-term abortionist LeRoy Carhart, who began conducting abortions through all nine months of pregnancy as an independent contractor at GRHS in 2010, has vowed to continue his late-term abortion business in Maryland and is attempting to locate a new facility, according to a fundraising blog.
"Due to efforts made by anti-choice terrorists, they have been able to raise enough money to buy out the [GRHS] clinic. For a few years, Lee has been trying to purchase a clinic in Maryland that will not only provide gestationally advanced abortion care, but also training future providers," stated Carhart's fundraising page.
However, false and incendiary rhetoric aside, his efforts to raise money for the new clinic have been an abysmal failure, with only a little more than $2,000 pledged toward the $2 million goal.
Carhart, who is 76, actually resides in Nebraska and runs his own abortion facility in Bellevue, a suburb of Omaha, which conducts abortions up to 20 weeks of pregnancy. It would be impossible for him to operate a full-time late-term abortion facility in Maryland without help.
That's where the "Window Well Abortionist" comes in.
Earlier this month, Operation Rescue reported on an African-American abortionist who was arriving at GRHS for his abortion shifts by climbing down a ladder into the window well and entering the facility through the window. At that time, his identity was a mystery.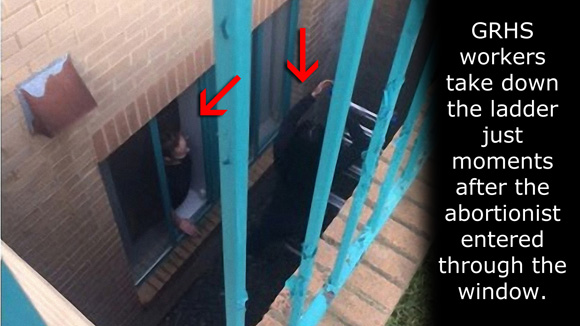 Local activists have now identified him as Charlie Browne, 54, an abortionist who operates the All Women's Health North abortion business in Seattle, Washington. Brown was spotted just this week at GRHS wearing a false beard.
It is the word on the street that Browne plans to go into business with Carhart in opening a new late-term abortion facility in Maryland – possibly at another location in Germantown.


With big money to be made conducting expensive late-term abortions, which can cost thousands of dollars, it is easy to see why Carhart and Browne don't want to see this lucrative income stream dry up.
"Everything is very much up in the air at this point. However, Carhart is well known for making public promises he cannot keep. Much of what he says is just empty bravado for the sake of the gullible left-wing media," said Troy Newman, President of Operation Rescue. "I'll believe he has a new facility when I see it."
For example, in 2009, Carhart was working at Women's Health Care Services in Wichita, Kansas, which at that time was the largest late-term abortion facility outside Communist China. When that facility suddenly closed, he pledged to open his own late-term abortion facility within 25-50 miles of Wichita.
Carhart then told the media he planned to open a late-term abortion facility in Council Bluffs, Iowa, which also failed when the public flooded a City Council meeting in 2010 in opposition of his plans to kill babies throughout all nine months of pregnancy in their community.
Despite Carhart's boasting, none of those plans ever materialized.
During his time at GRHS, there have been numerous medical emergencies, patient injuries, and even one patient death. Jennifer Morbelli died from complications to a 33-week abortion after Carhart had boarded a plane back to Nebraska. He was inaccessible to the family, who futilely attempted to contact him when Morbelli's condition worsened. This delayed emergency medical care for Morbelli. The Maryland Board of Physicians ignored calls for disciplinary action.
"We pray that this unholy alliance between Carhart and Browne will never materialize and that there will be no replacement for Germantown Reproductive Health Services," said Newman. "There has been more than enough human suffering there and it's past time for it to end."