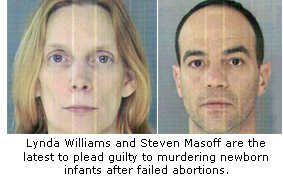 Philadelphia, PA – Former abortion clinic worker Lynda Williams, 43, pled guilty yesterday to two counts of murder, one related to the death of an abortion patient and the other for the death of an infant born alive during a botched abortion at Kermit Gosnell's now-closed Women's Medical Society abortion mill in Philadelphia.
In addition to the two counts of third degree murder, Williams also pled guilty to conspiracy to commit murder, conspiracy to participate in a corrupt organization, and illegally administering drugs to women undergoing late-term abortions. Williams has only a ninth grade education.
Williams' crimes could net her 200 years in prison, but her plea bargain agreement allows for a reduced sentence in exchange for providing testimony against Gosnell. Her sentencing has been delayed until after the Gosnell trial, which may not happen for another year.
Williams is the fifth of Gosnell's nine co-defendants to enter pleas after a judge denied their request for separate trials. Those who have already entered pleas are:
Elizabeth Hamilton, 52, pled guilty to perjury. She is Gosnell's sister-in-law.
Adrienne Moton, 34, pled guilty to one count of third degree murder related to killing a newborn infant and several related charges.
Sherry West, 52, pled guilty to one count of third degree murder in the death of Karnamaya Mongar, an abortion patient, and several related charges.
Steven Masoff, 49, pled guilty to two counts of third-degree murder related to the stabbing deaths of two newborn infants after failed abortions. He confessed that he killed hundreds of babies in this way. He also pled guilty to numerous related charges.
Gosnell's "house of horrors" abortion clinic was discovered after District Attorney Seth Williams raided the clinic, thinking it was an illegal "pill mill." Discoveries of the bodies of murdered infants and the severed feet of aborted babies apparently kept as trophies launched a grand jury investigation into the largest abortion-related murder conspiracy case in history. The 281-page Grand Jury Report stunned the public with gruesome details of Gosnell's "criminal enterprise" that had been operating without governmental accountability for years. The Grand Jury concluded that abortion supporters in oversight agencies created a political climate that was responsible for ignoring complaints against Gosnell's illegal operation. This enabled his murderous rampage to continue for years at the cost of hundreds, perhaps thousands, of lives.
Gosnell is charged with seven counts of murder and faces a possible death penalty if convicted.
Four others who were charged with Gosnell could also accept plea deals in the coming weeks and spare themselves having to be tried alongside Gosnell.
"This case highlights the abortion cartel's dirty little secret that abortion clinics routinely operate outside the law. While Gosnell's case is extreme, aspects of his 'house of horrors' inhabit every abortion clinic in the nation," said Operation Rescue President Troy Newman. "This is what happens when states fail to enforce the laws and treat abortionist as if they are above it. It is frightening to think that there are likely other abortionists as bad as Gosnell operating out there right now under the protection of a pro-abortion political climate. Our country still has lessons to learn from the Gosnell case."
View shocking photos of the victims.
View mug shots of the accused with a list of their charges.