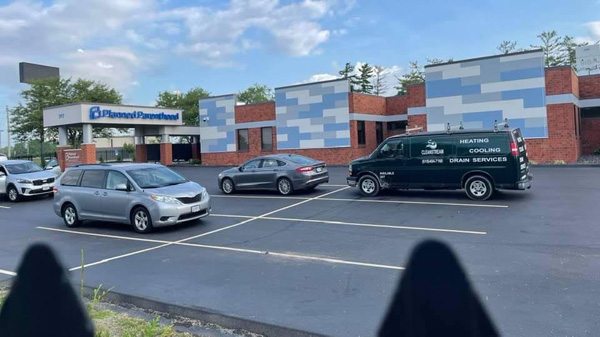 By Cheryl Sullenger
Fairview Heights, IL – It's never a good thing when a drain cleaning service is called to an abortion facility, but that is exactly what happened on Friday, August 20, 2021 at a Planned Parenthood abortion facility in Fairview Heights, Illinois.
Pro-Life Activist John Ryan was outside the Planned Parenthood building offering assistance to abortion-bound women when he noticed a van from Cleanstream, a heating, cooling and drain cleaning business based in nearby O'Fallon.
Ryan later called the company and shared on Facebook that he confirmed the company is doing business with the high volume Planned Parenthood facility.  He particularly addressed the issue of the clogged drains, which the company apparently did not deny.
So, what might be clogging the drains at Planned Parenthood?
A look back at testimony during the 2013 murder trial of Pennsylvania abortionist Kermit Gosnell may shed some light on this minor mystery.  Gosnell, if you remember, operated a squalid abortion facility in West Philadelphia where two women died from complications to horrifically shoddy late-term abortions.  Gosnell was convicted on three counts of First-Degree Murder for stabbing late-term babies in the back of the neck with scissors to sever their spinal cords after they had been born alive during abortions.
I attended that trial and wrote about the testimony of Gosnell's handyman, Jimmy Johnson:
Johnson frightfully testified that the toilets in the clinic would back up once or twice a week. When Johnson opened the clean out drain on the outside of the building, out gushed material in which he observed tiny arms and other body parts. He went inside and told Gosnell what had happened. Gosnell told him to clean it up. Johnson took a shovel and scooped up the human remains with a shovel into a plastic bag and put it in the freezer. He had to conduct this drain unclogging process over and over.
But Gosnell's famously shoddy abortion business has not been the only one with plumbing problems due to the improper disposal of aborted baby remains.
In February 2005, a sewer line broke at the Texas Ambulatory Surgical Center, an abortion facility operated by abortionist Douglas Karpen in Houston, Texas. The sewage flowed into the parking of a car dealership next door. One of the employees of the car dealership was appalled to notice tiny arms, legs and other body parts in the sewage spill.
A few days later, a Health Department worker called 911 to report a second spill at the same abortion clinic. When asked who she was with she told the dispatcher, "Health Department…and we handle normal medical waste, but this is beyond us. He says he can see fetuses and fingers and everything." (Emphasis in transcript.)
The Parenthood Planned Parenthood with the current drain problems opened for business in 2019 at a cost of $7 million as a replacement for the embattled Reproductive Health Services Planned Parenthood in St. Louis, Missouri, which struggled to comply with abortion regulations in that state as it sent 75 women to hospital emergency rooms over the past few years. 
Today, while a small number of abortions still take place in Missouri, the bulk of Planned Parenthood's abortion business happens at the Fairfield Heights Planned Parenthood.  That's because in 2019, Illinois passed the Reproductive Health Act that nullified nearly every law that provided safety rules and protections for women and girls who might seek abortions, making the Fairview Heights Planned Parenthood essentially unaccountable to state oversight.
Does that unaccountability extend to the way they dispose of the remains of aborted babies? Maybe Cleanstream, can answer that question now that it's had an up-close and personal interaction with Planned Parenthood's sewer system just a couple of weeks ago. But from Ryan's interaction with them, it appears they aren't talking.