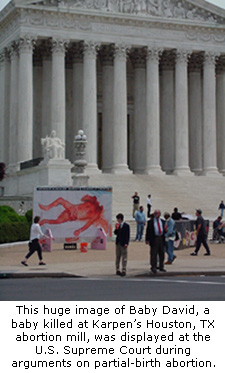 Austin, TX – When the Texas Medical Board considers the cases of five abortionists this Friday, one of those who is scheduled to make an appearance is Douglas A. Karpen. His history deserves a closer look.
The complaint against Karpen is based on two recordings made by women who had scheduled abortions at Northpark Medical Group in Dallas, Texas, at a time when Karpen was employed there. The calls, made Feb. 11, and Feb. 24, 2011, were identical recordings. There was no physician on the call to answer questions. This represents a violation of the State mandated informed consent law.
Certainly women entertaining such a serious and final decision as abortion should be allowed to ask questions and be as informed as possible. That is the law. Karpen's disregard for the informed consent law betrays a disregard for the women that come to him for medical care.
If this was the only incident in Karpen's career, it would still be a serious infraction of the law. But sadly, Karpen has a long and sorted history of disregard for women's informed consent and for the safety of his patients that the Medical Board is being asked to take into consideration when deciding what discipline Karpen should receive.
January 21, 1988: Diana A. went to Aaron Family Planning Clinic in Houston on January 21, 1988, where she was examined and treated by Karpen. Karpan suggested several possible diagnoses for Diana's symptoms including a cyst associated with pregnancy, infection in her right tube-ovary, and ectopic pregnancy. Without utilizing available ultrasound equipment to determine the location of fetus, Karpen performed an abortion on January 28. On February 7, Diana suffered a ruptured ectopic pregnancy that had not been diagnosed at Aaron due to improper reading and interpreting lab results which had arrived February 2. [Source: Harris County District Court Case No. 89-003719]
May 13, 1988: Denise Montoya was 15-years old when she went to Karpen for an abortion in her 26th week of pregnancy. Denise suffered severe bleeding, and was admitted to Ben Taub hospital. Her condition deteriorated, and she died on May 29, 1988. Her parents filed suit against Karpen and the Houston clinic where he worked, saying that they had failed to adequately explain the risks of the procedure, and had not provided consent forms, or had the parents sign any informed consent document, prior to the fatal abortion. [Source: Harris County District Court Case No. 89-16747]
December, 1989: Chad Traywick, a newly active pro-life activist, went to Karpen's Houston abortion clinic for the first time to check out the best place for a protest he was planning. According to an article that appeared on WorldNetDaily.com on January 21, 2003, Traywick indicated that when he got to the clinic the place was empty but the door was inexplicably open. He walked inside and discovered a room containing several buckets. Suspecting the nature of the contents, Traywick grabbed one of the buckets and left. Once at home, Traywick and his wife, removed the remains of a 28-week old aborted baby boy and photographed them. Horrifically, the baby's head and arm had been removed during the abortion process. Traywick named him Baby David and gave him a proper burial with over 100 people in attendance. Baby David's image has been used on pro-life signs and literature to reveal the horrors of abortion to the nation. [Source: http://www.wnd.com/index.php?pageId=16826. Contains link to photo of Baby David.]
August 28, 1990: Ruth Ann S. went to Dallas Medical Ladies Clinic, co-owned by Karpen, for an abortion that was done by Norman Tompkins. After the abortion, Ruth Ann complained of hemorrhaging, but was told that this was normal and that there was no need to return to the clinic. On November 7, Ruth Ann collapsed at work. She was taken to Richardson Medical Center, where a second procedure was performed to remove necrotic tissue that had been left in her uterus. Ruth Ann later sued Karpen and Tompkins. [Source: Dallas County District Court Case No. 18282]
August 22, 1991: Nicolette C. was 16-years old when she drove from her home in Louisiana without her parent's knowledge or consent for a second-trimester abortion at Karpen's Women's Pavillion. Karpen took the $1,800 dollars she had scraped together by pawning personal items and inserted laminaria. Nicolette was told to return the following day.
After leaving the facility, Nicolette felt fetal movements. Since she had not been informed of the nature of the procedure or the development of her preborn baby, she began to have misgivings. Nicolette changed her mind about wanting her baby dead. Karpen refused and told her to continue with abortion. He wrongly told her that the procedure was irreversible and that any attempt to allow the pregnancy to continue would seriously threaten her health, which of course is not true. Many women have had laminaria removed and continued on to deliver healthy babies, although the risk of miscarriage remains high.
Nicolette's mother eventually tracked her down and joined her in Houston. Together they attempted to persuade Karpen to stop the abortion. He wrongly told them that that reversal of the procedure could cause her to bleed to death, that it had never been done and that Nicolette would not be accepted in any hospital due to having the laminaria in place. Nicolette's mother requested a referral to another doctor or hospital but was refused such and told to report to the facility the next day.
When they got to Women's Pavilion, mother and daughter were met by Richard Cunningham rather than by Karpen. They were informed that Cunningham and Karpen had consulted and did not wish to remove the laminaria and release Nicolette to other care. After 30 minutes of "high pressure scare tactics," mother and daughter still wished to have the procedure stopped. Cunningham instructed them "to look in the yellow pages for an anti-abortion group," insisted that they sign a release form, and had them leave the facility.
Mother and daughter sought emergency care at a hospital, where Nicolette delivered a 1 lb. 13 oz. infant girl, who Nicolette named Ashley. Despite efforts by hospital staff, Ashley died six months later. [Source: www.realchoice.com and Harris County District Court Case No. 93-33063]
August, 2000: Cherise Mosley, 17, obtained an obviously fake ID from a local grocery store and used it to convince Karpen to give her an abortion in violation of the 1999 Texas 48-hour parental notification law. Mosley and her father later sued Karpen, saying that he should have known that the ID was an obvious fake because it was stated on the ID, "This is not a government document," and "Not to be used for Check-cashing purposes." Karpen lost the lawsuit, but because he was found only 10% culpable for violating the law, he was not ordered to pay any monetary damages. [Source: Two Houston Chronicle articles by Ron Nissimov dated April 13 and 15, 2004]
February 6, 2005: A sewer broke at Karpen's Texas Ambulatory Surgical Center, located at 2421 N. Shepherd in Houston, Texas causing sewage to spill into the parking lot of a neighboring car dealership. Maribeth Smith, an employee of the car dealership said she is convinced she saw human body parts mixed in with the sewage. She took photographs, believing the human tissue came from the clinic.
"Whether it's legal or not, it's not right," Smith said. "This whole area is nothing but raw sewage and bloody pieces. There were little legs coming out from one side."
A Health Department worker called 911 to report a second spill at the same abortion clinic. When asked who she was with she told the dispatcher, "Health Department…and we handle normal medical waste, but this is beyond us. He says he can see fetuses and fingers and everything." (Emphasis in transcript.)
[Source: 911 transcript dated Feb. 16, 2005; City of Houston Complaint Report Feb. 16, 2005, LifeSiteNews.com article, Feb. 17, 2005.]
These incidents paint a picture of Karpen's seedy abortion practice and his well-established pattern of ignoring the law and disregarding a woman's right to information about medical procedures. Time and again he denied women adequate information about abortion and misled them about their medical conditions. He has shown pattern of disrespect for the law and for the health and safety of his patients dating back to 1988.
Traditional disciplinary means have seemed to have little or no effect on Karpen over the years. Therefore, Operation Rescue is asking the Texas Medical Board to impose the maximum penalty possible on him in order to protect the public and help him take measures to amend his ways.
[HT to http://realchoice.com for providing much of the information – some verbatim – in this article.]