By Cheryl Sullenger
Sioux Falls, SD — Drama was not lacking on the final day of Mike Lindell's Cyber Symposium, which was held in Sioux Falls, South Dakota, and featured striking evidence of election fraud and a plan to secure our elections. Despite the attempts to disrupt and discredit it, the Symposium was successful at showing new evidence of election fraud, clarifying various aspects of the 2020 Presidential Election, and outlining paths forward for auditing all fifty states and making our future elections secure and trustworthy.
As noted previously, the day began with an announcement by Mike Lindell that he had been physically attacked at his hotel the previous night. He also informed the gathering that another unnamed Colorado official has his home raided at around 10:30 p.m., frightening his wife and four children. Electronic devices were seized. This follows the raid on the office of Mesa County Colorado's Clerk of Records, Tina Peters, as she was on a flight to South Dakota for the Symposium.
Col. Phil Waldron then briefed the Symposium on several threats that had been detected by his team, including infiltration of the venue by members of Antifa, who also were outside the Symposium venue attempting to disrupt it. He described their behavior as "typical insurrection-type activity" that was part of the color revolution that is ongoing in our nation and is attempting to divide us. See briefing video above.
[Read a good article explaining tactics of color revolutions.]
"Poison Pill"
In his briefing, Col. Waldron also described a credible threat that a "poison pill" had been inserted into their data. His team managed to find the malicious code and eliminate it before it could be released. Col. Waldron indicated that if that had not been done, some people would have been placed at risk. The attack was being handled in accordance with the Cyber Security Act of 2015 and various Executive Orders and has been reported to the appropriate authorities.
Later Col. Waldron explained during a televised interview with OANN that one of their main team members had to pull out of the Symposium due to health issues, and that impacted their ability to discuss some information they had planned to present. This, and the "poison pill" incident may be why the Packet Capture data was not more fully discussed during the Symposium, although details related to the Packet Captures is still unclear.
Freedom of Speech
Attorney Alan Dershowitz discussed Dominion Voting Systems' defamation lawsuits against Mike Lindell and his My Pillow company, noting that the government is engaged in censorship. As Dr. Shiva Ayyadurai explained during his presentation on Day 2, this is being done through the use of news and social media platforms.
"McCarthyism has become a tactic of the extreme left," Dershowitz warned.
"Censorship has been long experienced by those of us who work to end abortion," said Operation Rescue President Troy Newman. "For years the issue was ignored as we were lied about, vilified, and censored by the mainstream fake news and social media. Now that it is happening to others, people are beginning to wake up to the fact that our Freedom of Speech has been nearly obliterated at the behest of those in the government who oppose us."
Mock Election
During the Symposium, a mock election was conducted using the same voting equipment that was used in several states during the 2020 election. Participants were invited to use the machines to cast their votes.
A panel discussion about the mock election results featured Draza Smith, who holds a Master's Degree in electrical engineering and a second Master's Degree in cyber engineering. She explained how the system worked and revealed that someone inside the venue was able to hack the system in five minutes using a cell phone. The intrusion was detected within minutes and the hacker was locked out, but the demonstration proved how easy it was to hack voting machines during the election.
The primary reason for the ease of the hack was a wireless modem attached to the motherboard of the voting machines – something some election officials did not even know was there. That modem allowed connection through a wireless network.
This demonstrated that the machines were in fact accessible over the Internet despite not being hardwired to it.
Professor David Clements conducted a fascinating interview with Draza Smith explaining her election "cruise control" theory, which she also presented at the Symposium. Watch the interview below:
Antifa and China connection to elections
Joe Oltmann is a successful businessman who is being sued by Dominion Voting Systems. Prior to the 2020 election, Oltmann had an informant that gave him access to an Antifa conference call. According Oltmann, there was a man on that call named Eric Coomer, who works as Director of Strategy and for Dominion and is listed as a co-inventor of the Ballot Adjudication Software used in the 2020 election for which Dominion Voting Systems holds the patent. [Learn more about Ballot Adjudication.]
Oltmann alleges that Coomer told the Antifa conference call participants, "Trump isn't going to win. I made f*ing sure of that."
After Dominion sued him, Oltmann began to dig into Dominion and was able to discover connections with not only Antifa, but also China through the financial institution Huawei.
"Dominion is Serbian technology with Chinese characteristics," Oltmann explained.
The connection between Dominion and China is a vitally important one, since participation with a foreign government that is attempting to influence the outcome of an American election would qualify as treason.
Listen to Oltmann's presentation below.
Closing arguments
Perhaps the most compelling presentation was made by Professor David Clements, who is a former New Mexico violent crimes prosecutor. Presented in style reminiscent of closing arguments in a jury trial, Clements compared the drug cartel to the "Election Cartel" and "vote trafficking" by pointing out similarities between the election and drug cartel involvement in a murder case he successfully prosecuted.
Watch Professor Clements' impressive presentation below. (If you can only watch one video, watch this one!)
The Solution
The outcome of the Cyber Symposium will likely reverberate into the future as representatives from all 50 states return to their legislatures.
Arizona Representative Wendy Rogers announced the formation of the Election Integrity Caucus of 2021 that is composed of state legislators that will be working to audit the 2020 election in all 50 states. Rogers is also encouraging patriotic Americans to run for office to replace politicians who are opposing the audits.
For those with Telegram accounts, chat rooms have been set up for nearly every state for those who wish to participate in launching cyber forensic audits of the November 2020 election. You can access the list of states and click to join here: https://t.me/AmericaFirstAudits/1190
Col. Phil Waldron urged reforms to current state election laws that return to serially numbered paper ballots that are counted at the precinct level. That would remove the ability of the unscrupulous to tamper with future elections. He also suggested eliminating early voting and making Election Day a holiday to make it easier for everyone to get to the polls.
Rep. Wendy Rogers listed bullet points on twitter for securing elections that expanded on another twitter user's suggestions. Suggestions from both lists included:
Voter I.D.
Paper ballots.
Encrypted watermarks on ballots.
Hand counting of ballots at the precinct level
No more mail-in voting except for military and the disabled/sick.
Mandatory forensic audits if even a hint of an issue.
Swift accountability and jail time for those who violated the law.
✅ Encrypted watermarks
✅ No more machines
✅ Precinct level counting only – not county level
✅ No more mail ins other than military and disabled/sick
✅ Mandatory forensic audits if even a hint of an issue
✅ Swift accountability and jail time for those who violated the law https://t.co/u6fbql901E

— Wendy Rogers (@WendyRogersAZ) July 26, 2021
In a nutshell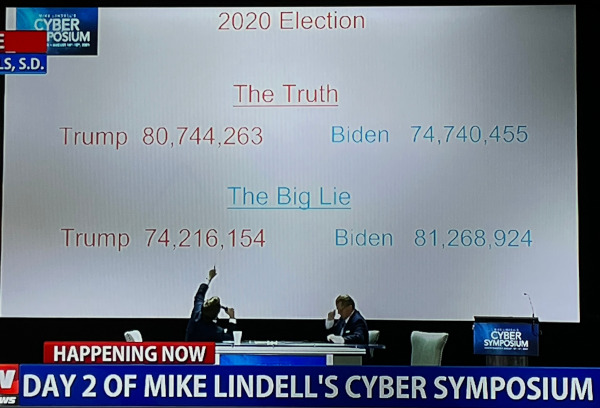 The Cyber Symposium revealed several important issues.
It showed that vote totals in every state were altered in various ways.
There were two reasons for altering the vote totals: first, to ensure a Democrat win in the Presidential Election, and secondly, to make it appear that the Biden/Harris ticket won the popular vote so the public would be less likely to be alerted to election fraud.
The election results defied every known voter trend and the heretofore accurate predictive ability of voter registration totals by party.
Restoring votes that were altered by cyber intrusions, President Trump won the 2020 Presidential Election with 80,744,263 to Biden's 74,740,455 — a difference of over six million votes! This does not count the "organic" fraud, such as ballots cast for dead people, so Trump's win was likely even larger. Just based on the elimination of the cyber alterations, Trump also handily won the Electoral College as well.
China was involved in influencing the outcome of the 2020 Presidential Election.
Voter Machines were shipped to America from China.
Antifa and Soros money was involved in influencing the 2020 election.
Election machines had security disabled.
Voting machines were connected to the internet via modems embedded on the machines' motherboards.
Voting machines were accessed remotely through those modems.
Election results were altered electronically.
There was organic election fraud via multiple scanning of votes, phantom voters, and other means.
Post-election updates done by Dominion employees in Mesa County, Colorado, deleted election data that was supposed to be preserved for 22 months after the elections, per Federal Election Law.
Those issues should be enough to persuade all 50 states to conduct a Cyber Forensic Audit of the 2020 election.
But one final take-away from the Cyber Symposium was the conclusion that those involved in altering the outcome of the Presidential Election in 2020 were willing to accomplish their goals by any means necessary.
There can be no doubt that crimes were committed and that those involved are attempting to cover up those crimes by hook or by crook, as the saying goes. That included beating up Mike Lindell for having the courage to blow the lid off the Election Cartel's methods and apparent framing of elected officials who are asking the wrong questions. The cover up also involved government laundered censorship, the destruction of First Amendment Rights, and pushing disinformation to the public through the fake news media and social media "fact checkers" which are really propagandists for the communist color revolution that is attempting jettison our Constitution in favor of an oppressive communist regime.
"To save our nation, we must all get involved. We must demand audits in every state and the decertification of the 2020 Presidential Election. We must also demand immediate changes in our state's election laws to ensure the integrity of future elections," said Operation Rescue's Troy Newman. "To stand idly by and do nothing means we lose our country and our freedoms for decades to come — perhaps permanently. For those of us who have dedicated our lives to ending abortion, it will mean that the hope of restoring legal protections for the unborn will be forever dashed. That's the reality. So, for the sake of those innocent children yet to be conceived, we must get involved in saving our elections and our Constitutional Republic."
In case you missed it, below is Col. Phillip Waldron's must-see "Your Wake Up Call."
Read Operation Rescue's Report on the Cyber Symposium from Day 1 and Day 2.