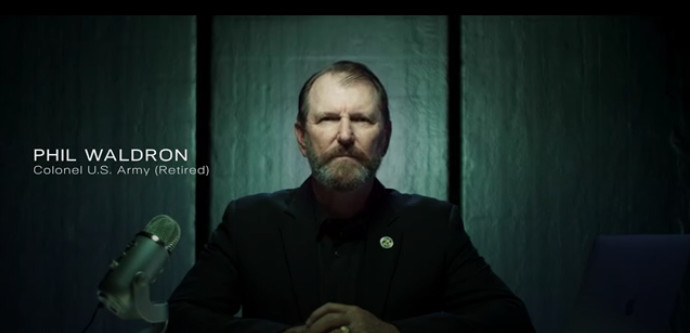 By Cheryl Sullenger
Sioux Falls, SD — Mike Lindell's 72-hour Cyber Symposium in Sioux Falls, South Dakota, got off to a rocky start today when his Frankspeech.com and LindellTV.com underwent an attack that took the live stream off air for about an hour. Lindell, who was prepared for the attack, had backups available, and was finally able to get the Symposium on the air.
Lindell announced that representatives of 47 states were in attendance along with dozens of members of the news media.
"Your Wake Up Call"
The Cyber Symposium began with the showing of "Your Wake Up Call," a powerful video narrated by Colonel Phil Waldron that explained how the 2020 elections were run by private businesses whose connections have been traced back to China. Col. Waldron then explained how China is engaged in a non-traditional of warfare to supplant the United States as the world's sole superpower that most Americans have not heard of and do not understand.
That warfare does not involve uniformed soldiers battling with guns and bombs on a traditional battlefield. It involves infiltration of every aspect of our society, the compromise of key politicians, the theft of our technology, the buying out of our agricultural lands, and the domination of our regime media – and more. [Watch "Your Wake Up Call"]
After the video, Mike Lindell conducted a panel discussion where he excoriated the social and news media for their efforts to suppress and misrepresent the true nature of the interference in the 2020 election to keep the truth from the American people.
Lindell also announced that Dominion, the company that sold election machines to several states then are said to have controlled elections in places such as Maricopa County, Arizona, served lawsuits on NewsMax, OANN, and Patrick Byrne, who is the former CEO of Overstock.com that has been involved in researching irregularities in the 2020 election.
Numbers don't lie
Dr. Douglas G. Frank is a brilliant physicist and mathematician who was the first to give a presentation. He was featured in an earlier Lindell movie called "Scientific Proof." [View Scientific Proof here.]
He discussed the algorithms that led to his discovery that those who tampered with the election used 2010 Census data to influence the outcome of the election in a way that can be predicted in every county in America.
His mathematical evidence showed that voter registration in many states often exceeds population. This is done to ensure that there is a "credit line" of phantom voters for which ballots can be pushed into the system if needed to ensure the pre-determined election result. A traditional recount would only count those phantom votes again but would not detect the fact that those votes were fraudulent in the first place.
That was just one data point that provided compelling proof that the 2020 Presidential Election was stolen from the American people.
Stunning Revelation
But the bombshell revelation of the day so far came when Dr. Frank revealed that he had been invited to participate in forensic audits that no one knows about. Dr. Frank said that audits were done in counties where the audit team had access to everything, including every election machine used by those counties in the 2020 election.
He teased of a major revelation that would be announced tonight at 7:00 p.m. CDT.
"Official" vs. "Actual" results
Lindell is expected to reveal the untampered results of the 2020 election in 25 states today, with the rest of the states' actual results to be announced tomorrow.
The first state discussed was New Hampshire, which was supposedly won by Joe Biden. The "official" results were 365,660 votes for Trump and 424,937 for Biden.
However, after the fraudulent votes were removed from the totals, Lindell showed that the actual results were 398,793 for Trump and just 391,804 for Biden. That means President Donald J. Trump really won the State of New Hampshire by 6,989 votes.
Hacked in 5 minutes
During the Cyber Symposium, a mock election on voting machines will be conducted to demonstrate how voter totals were manipulated. However, before the voting started, it was announced that one of the "white hat hackers" had already hacked the machines in just five minutes using a smartphone. The machines were then reset so the mock election could begin.
"If we don't understand what happened during the 2020 election and correct it, we will never have another honest election again. That will ensure that our government will forever be controlled pro-abortion hacks that will do everything they can to expand abortion and encode it so it can never be ended," said Trory Newman, President of Operation Rescue. "That means the data presented at this Symposium may prove to be life or death information for millions of babies yet to be conceived, and it may indeed end up saving our Constitutional Republic."
Upcoming schedule
For the next two mornings, the Cyber Symposium it is set to begin at 9:00 a.m. and end at 9 p.m., after which there will be a re-airing of the day's proceedings from 9:00 p.m. to 9:00 a.m. the next day.
We are posting updates here, @OperationRescue, on our Twitter and Telegram accounts.