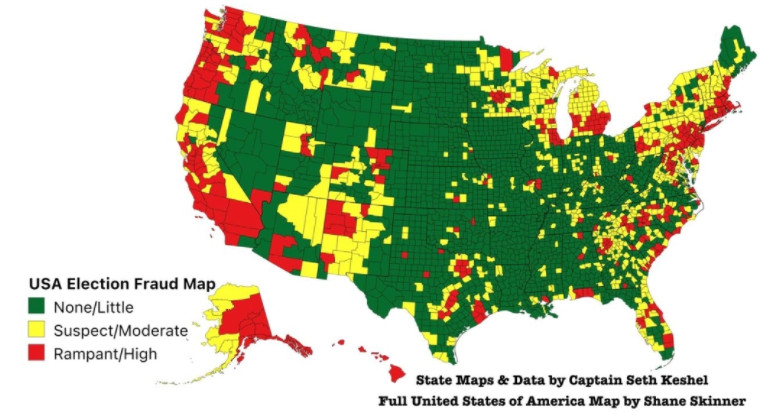 By Cheryl Sullenger
Sioux Falls, SD — Operation Rescue continues to monitor the Mike Lindell Cyber Symposium concerning the 2020 election irregularities on this final day of the 72-hour event that has been full of drama and along with the release of impressive data.
However, before updating on an eventful Day 2, here is an explanation of what happened during Tuesday's highly promoted 7:00 p.m. revelations, that took a dramatic turn during the live broadcast.
The planned presentations were disrupted by news that the office of one of the main speakers for the evening had been raided.
Tina Peters serves as the Clerk of Records for Mesa County, Colorado. She had been investigating irregularities regarding the 2020 election and the Dominion voting machines in her county. While she was in the air on a flight to South Dakota to speak at the Symposium, search warrants were executed, in relation to allegations brought by Colorado Secretary of State Jena Griswold, who accused Peters of publicly leaking BIOS passwords to her county's Dominion voting machines.
Griswold is a Soros-funded Democrat who Peters accused of threatening her and attempting to "take over" her office.
The Cyber Symposium was delayed as host Mike Lindell and others met with Peters backstage and discussed how she could continue with the information she was scheduled to share. Finally, Peters took the stage with Lindell and others to discuss the raid on her office and the allegations that had been reported in the news media.
Peters is scheduled to return on today to presumably discuss the information she planned to share.
Meanwhile, as Peters was meeting with Lindell, Dr. Douglas G. Frank, a physicist, told attendees that the 7:00 p.m. time slot was intended to have two separate reveals that included information about his involvement in previously unpublicized audits in several counties that gave him and his team full cooperation. Dr. Frank had alluded to this information earlier in the day.
Watch Dr. Frank's presentations on election algorithms and what they revealed below.
However, due to the fluid nature of developments, Dr. Frank was never able to present his findings that night.
Finally answers
The next morning, Dr. Frank directed a presentation in tandem with cybersecurity expert Ron Watkins and others to analyze two forensic images from a Mesa County, Colorado, voting machine.
Dr. Frank explained that he was involved in creating such forensic images for every machine in some counties prior to the 2020 election. That data was then analyzed and back doors into the software were found. The machines were then said to have been monitored during the elections. Afterwards, the voting machine company requested to conduct an update of the machines. Forensic images were again taken, that showed data been erased or altered. Dr. Frank said the analysis showed the machines had been manipulated and crimes were committed since it required by law to maintain election data for 22 months.
The Mesa County forensic images that were examined live during the Symposium consisted of one that was taken before the 2020 election, and one taken after the Dominion update.
Simply put, Watkins and others found that the machines had some security elements disabled and that on May 25, 2021, data going back to 2019 had been erased – allegedly by Dominion employees during the requested post-election "update."
"There appeared to be web server logs which potentially indicate that the server was accepting and executing commands remotely," Watkins later wrote.
Col. Phil Waldron, explained that analyses like the one being conducted live often take teams up to three months, so the day's finding were just a taste of what future teams might uncover.
Col. Waldron encouraged state legislatures, which have the Constitutional authority over elections, to shore up language in state laws to rid them of ambiguity to protect elections and take back the process, which has been usurped over the years by the executive branches in almost every state.
It was also emphasized that Dominion voting machines are not the only ones with problems. All voting machines have "common vulnerabilities," according to Col. Waldron.
Dr. Shiva and Government Laundered Censorship
Dr. Shiva Ayyadurai presented information about his experiences during his 2020 Senate campaign in Massachusetts. In a nutshell, Dr. Shiva, who is a naturalized U.S. citizen from India, discovered election tampering related to his election. He claimed that ballot images had been illegally deleted. When he attempted to post documentation of that on Twitter, his account was suspended.
He then learned that the Massachusetts Secretary of State's office has a "trusted Twitter partnership." He later discovered that state and federal governmental agencies routinely direct Twitter and other social media platforms to censor or deplatform citizens that they want silenced. He called it the government laundering of censorship.
This kind of censorship, likely at the behest of the government, has also impaired the ability of pro-life groups such as Operation Rescue to speak out freely on the Internet.
Listen to Dr. Shiva's presentation below.
Cheating in Every State
Captain Seth Keshel, a former Army intelligence officer, presented on his analysis of election trends and voter registration data in every state. His data showed that the results of the 2020 election defied every political trend. It also showed mathematically that Joe Biden's vote totals were about 8 million over what should have been possible.
Captain Keshel also presented ten points that he considers irrefutable about the 2020 election that make a case for audits in all 50 states.
Watch Captain Keshel's full presentation below. (Highly recommended.)
Lindell attacked
The beginning of the final day of the Symposium began with another delay as Mike Lindell notified participants that he needed time to deal with an unspecified emergency.
Several minutes later, Lindell and Col. Waldron came out an announced that last night at approximately 10:30 p.m., Lindell was physically attacked near the elevator at his hotel.
"It hurts a little, but we will never quit!" Lindell said.
Col. Phil Waldren then briefed the Symposium on other threats.
He revealed that they had been receiving credible threat warnings two weeks ago. At the Symposium, they detected bad actors inside the venue and out. They noticed some were exchanging credentials – mostly press credentials – in the parking lot. They witnessed the bad actors attempting to steal information by snapping photos of the participants' electronic device screens over their shoulders.
Col. Waldron's team photographed and identified each one and located their social media accounts. He described their behavior as typical insurrection activity that is part of the color revolution that is currently taking place in our country that is attempting to divide our country.
Col. Waldron also announced that his team detected a credible threat regarding a "poison pill" that was inserted into some of the data they planned to air. They were able to prevent the "poison pill" from causing any harm. These attacks are being handled in accordance with several Executive Orders and are being reported to the appropriate governmental agencies.
Take aways so far
Here are basic take-aways from the conference so far:
Election results in every state were manipulated for 2 reasons.

To ensure a Biden win.
To ensure that Biden "won" the popular vote to avoid any questions about the election outcome.

Election machines had wireless modems attached to their motherboards, so often election officials did not even know that their voting machines were able to be accessed by third parties.
Some voting machines have had security disabled and data illegally deleted after the 2020 election.
China was significantly involved in influencing the 2020 election.
The government is using social media to launder censorship of those who are capable of influencing others with a narrative that runs counter to the current regime.
George Soros-connected organizations funded candidates in past elections that appear to have influenced the 2020 elections.
"If we are ever to be free to speak out freely on the matter of abortion without censorship, and if we are ever able to elect another pro-life politician to office, we must put election integrity high on our priority list," said Troy Newman, President of Operation Rescue. "Lives are literally at stake in every election. We must work to ensure election integrity in every state."
Operation Rescue will continue to post updates on Twitter and Telegram. Follow us for the latest developments.