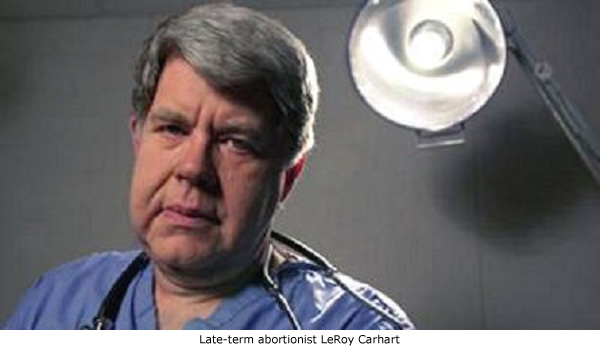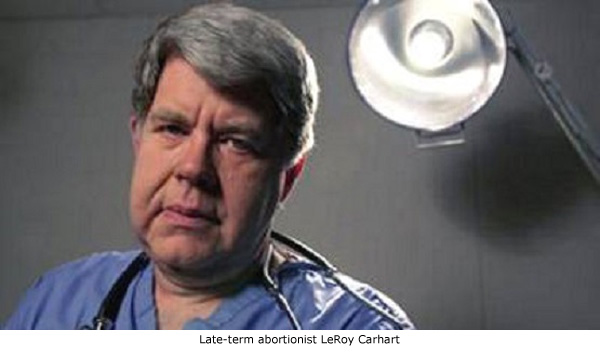 By Cheryl Sullenger
Washington, DC – The House Select Panel on Infant Lives announced yesterday that it has issued a total of nine subpoenas to notorious late-term abortionist LeRoy Carhart, Germantown Reproductive Health Services (GRHS), the Germantown, Maryland, abortion facility where he conducts abortions throughout all nine months of pregnancy, and other agencies.
The subpoenas reveal that the Select Panel is focusing on obtaining records related to Carhart's participation in the trafficking of aborted baby body parts and information related to babies who may have been born alive during attempted late-term abortions. There is also concern about the increased number of medical emergencies that have been reported at GRHS in recent months.
[READ CARHART SUBPOENA]
Subpoenas were also issued to the following entities:
•Germantown Reproductive Health Services
• Adventist HealthCare Shady Grove Medical Center
• Holy Cross Germantown Hospital
• Montgomery County Police Department
• Montgomery County Department of Fire and Rescue Services
• Montgomery County Emergency Communications Center
• Butler Medical Transport
• Maryland Board of Physicians
While the subpoenas do not seek patient medical records, they do seek information related to the emergency transport of GRHS patients since Carhart first began working there in 2010.


"We are encouraged that the Select Panel is investigating Carhart, his dangerous abortion practices, and his suspicious financial dealings that may prove he has been illegally trafficking in aborted baby body parts just like Planned Parenthood," said Operation Rescue President Troy Newman. "Since Carhart began supplying late-term abortions in Germantown, the Maryland Board of Physicians has turned a blind eye to numerous complaints related to a patient death, poor patient care standards, and other violations. It is my hope that the Select Panel can cut through the political bias that has shielded Carhart from prosecution and finally bring him to justice."
Since 2012, Operation Rescue has documented 14 medical emergencies requiring ambulance transport at GRHS and Carhart's hometown abortion facility in Bellevue, Nebraska. This includes the death of abortion patient Jennifer Morbelli resulting from complications to a 33-week abortion administered by Carhart in 2013.
Of great concern has been the recent spate of five abortions-related emergencies that took place between December 15, 2015, and April 4, 2016, which represents a dramatic increase in the frequency of patient injuries inflicted by Carhart.
Rep. Marsha Blackburn, chairman of the Select Panel on Infant lives expressed a sense of urgency to the investigation of Carhart's abortion business in her written statement released on May 11, 2016:
We have an obligation to protect the most vulnerable at all stages of life. This obligation was expressed in both the Partial-Birth Abortion Ban Act and the Born-Alive Infants Protection Act. Reports regarding the Germantown clinic are deeply troubling, both for the sake of babies whose lives are ended so close to—and possibly even after—birth and for the sake of the women who have been rushed from that clinic to the hospital with increasing frequency. In order to properly address these concerns, we have issued subpoenas not only to Dr. Carhart and his clinic, but also to hospitals and first responders who may have information that will be instructive. Time is of the essence.

Abortion emergencies involving Carhart that have been documented by Operation Rescue include:
• April 4, 2016, Germantown, MD: Hemorrhaging late-term abortion patient transported to emergency room. All other patients sent home. (Video, 911 recording, Scanner audio)
• March 30, 2016, Germantown, MD: Private ambulance called for late-term abortion patient. (Video, 911 recording, Scanner audio)
• March 20, 2016, Germantown, MD: Underaged woman transported to Shady Grove Hospital suffering "heart problems." (Video, 911 recording, Scanner audio)
• February 4, 2016, Bellevue, NE: Woman transported to hospital suffering from an incomplete abortion. (Video)
• January 19, 2016, Germantown, MD: Late-term abortion patient bleeding seriously transported to hospital. (Video and 911 recording)
• December 15, 2015, Germantown, MD: Abortion patient transported to emergency room while Carhart accompanies.
• July 2, 2014, Germantown, MD: African-American abortion patient transported to hospital.
• April 26, 2014, Bellevue, NE: Patient, 37, suffered from abdominal pain after Carhart had an "issue with the procedure." (Video with 911 recording)
• March 4, 2014, Germantown, MD: Patient hemorrhaged after 2nd trimester abortion complications.
• November 30, 2013, Bellevue, NE: Patient suffered 2nd trimester abortion complications.
• November 26, 2013, Germantown, MD: Patient required emergency surgery. (Video with 911 recording)
• July 9, 2013, Germantown, MD: Patient hemorrhaged. (Video with 911 recording)
• February 7, 2013, Germantown, MD: Patient Jennifer Morbelli died of 3rd trimester abortion complications. (Autopsy Report)
• March 31, 2012, Bellevue, NE: Patient heard moaning and screaming during 911 call (Video with 911 recording.)