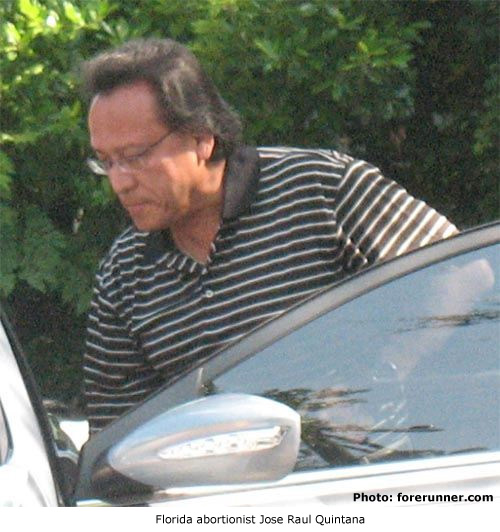 By Cheryl Sullenger
Orlando, FL – It's one thing to be a bad abortionist. Women are injured by shoddy abortions on a regular basis. Incompetency is almost a given within the Abortion Cartel. But it's another thing to be a bad abortionist who is also a sexual predator in an environment that pretends to care about women, then looks the other way when abuse happens.
Sexual assault perpetrated by abortionists is not as rare as one might think. Abortion businesses are shrouded in secrecy, and that creates the perfect climate for such abuse, something Operation Rescue has repeatedly exposed.
Now, new court documents obtained by Operation Rescue shockingly reveal how one Florida abortionist has been getting away with horror-inducing traumatic injuries to women and at least one case of sex abuse inside the abortion procedure room — all while keeping the worst of his misconduct off his medical license record where the public would have easy access to it.
Berra v. Quintana
On February 9, 2017, an abortionist named Jose Raul Quintana was working his shift at the Women's Center of Hyde Park in Tampa, Florida, a now-shuttered abortion facility with links to the disgraced late-term abortionist James Scott Pendergraft IV.
That day, Ashley Berra reported to the Women's Center for her fateful abortion appointment.
According to a lawsuit filed two months later, Berra was sexually assaulted by Quintana during her appointment.
The complaint stated:
While Ms. Berra was alone in the procedure room, when Dr. Quintana approached Ms. Berra and began to kiss her and inserted his tongue into her mouth several times. After the acts described above, Dr. Quintana then grabbed Ms. Berra's hand and placed it on his penis until Dr. Quintana became aroused and erect. Following the assault and battery, Dr. Quintana gave Ms. Berra a piece of paper with his home phone number written on it.
After the encounter, Berra immediately texted her friend, who had accompanied her to the abortion facility. Worried, the friend entered the clinic and tried to see Berra and offer her assistance.
Later, Berra shared details of the "unwanted and offensive" sexual advances with her friend.
Berra alleged in her suit that this conduct was allowed to occur because the Women' Center had a policy that authorized Quintana to be alone with patients "and to have unfettered and unsupervised access to them."
"This outrageous lapse of common sense on the part of the abortion business created the perfect environment for sexual abuse," said Troy Newman, President of Operation Rescue. "We have to wonder how many other women were abused by Quintana and were too afraid to report it."
Berra's complaint notes that this betrayal was compounded by the following notice that still appears on the Women's Center website:
We remain steadfast in our commitment to ensure that every woman who receives medical care in any one of our Florida Late Term Abortion Clinics be treated with the utmost respect and consideration. We vow to provide services for our patients in an atmosphere of warmth and kindness, free of judgment or prejudice, and where their safety and well being [sic] will always be our first priority.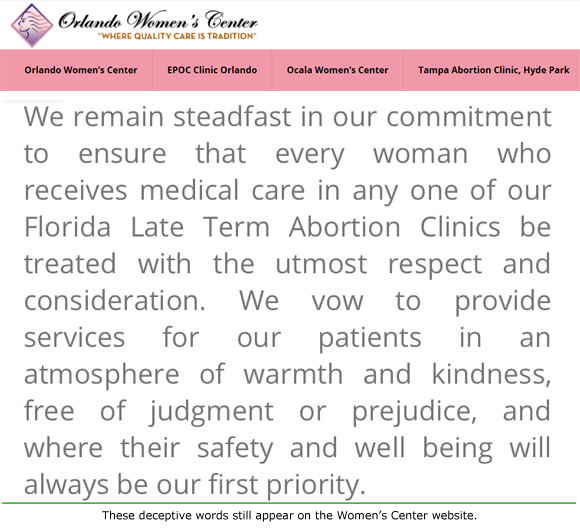 Berra's suit was dismissed on joint agreement of parties on August 29, 2017, just seven months after it was filed. Joint dismissal agreements generally mean that the case was settled out of court where the terms of the settlement kept out of the public record.
Quickly settling court cases was a pattern with Quintara.
Only mention of discipline
Seventeen years earlier, Quintana was sued for removing the wrong fallopian tube from a woman who was diagnosed with an ectopic pregnancy within her left tube. After Quintana surgically removed the woman's right fallopian tube, the pregnancy located in her left tube ruptured, putting the patient in the midst of a painful a medical emergency that left her unable to bear children.
Quintana's insurance company paid out $245,000 to settle that case less than ten months after the injury occurred.
Medical board discipline took longer. On February 17, 2004, Quintara reached a consent agreement with the Florida Board of Medicine where he was ordered to pay fines and costs totaling $7,034 and serve 50 hours of community service. A "letter of concern" was placed in his file.
Looking at Quintana's Florida medical license profile online today, it would appear that this was the only adverse incident in his medical career.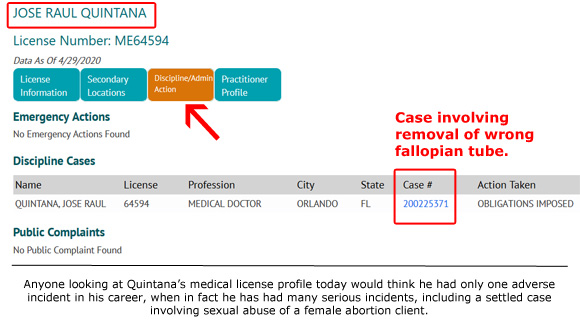 "When women are injured or abused by an abortionist, it is important for them to file complaints with medical boards in the states where the injury or abuse took place," said Newman. "Medical board discipline is a matter of public record and this gives other women access to information that can spare them from suffering harm."
Taylor v. Quintana
In 2011, Jessica Taylor sued Quintana and All Women's for a horrifically botched second trimester abortion procedure. Taylor was 16-20 weeks pregnant at the time.
According to court records, Quintana conducted a surgical abortion on Taylor on August 12, 2010, but failed to remove some of the body parts, including her baby's cranium. Due to pain and bleeding Taylor soon returned to Quintana for a second abortion the following day, where he again failed to remove all but a small amount of tissue left behind from the first abortion.
As Taylor's condition worsened, she phoned the abortion facility two more times. On August 14, Quintana prescribed medication for her, but never instructed her to go to the hospital. The next day, while still suffering pain and other issues, Taylor took it upon herself to go to the hospital.
That decision saved her life.
At the hospital she was diagnosed with septic shock, acute renal failure, sepsis, respiratory insufficiency, hypovolemic shock, peritonitis all due to a perforation of the uterus and intestine. Her baby's cranium was found lodged in her abdominal cavity. Surgeons were forced to remove 22 inches of her bowel.
Quintana's insurance company settled this case out of court for $250,000 six months after the suit was filed. No mention was made of this case or settlement on Quintana's medical license profile.
Bradley v. Quintana
On January 21, 2011, a minor identified only as K.M. kept an appointment at the All Women's Health Center in Gainesville, Florida, where she received an abortion from Jose Quintara.
According to a lawsuit filed by K.M.'s mother on April 20, 2012, Quintana failed to appropriately dilate the girl's cervix over time to accommodate the abortion instruments. He also allegedly failed to properly examine the remains of K.M.'s aborted baby.
K.M. suffered an incomplete abortion that caused pain and further medical complications, including the aggravation of an unstated pre-existing medical condition.
The case was settled for the usual amount of $250,000 seven months later.
Other malpractice settlements
Injuries to other women who received insurance payouts due to injuries caused by Quintana have been noted on Medical Malpractice Closed Claims Reports on file with the Florida Office of Insurance Regulation.
April 27, 2006: Insurance paid $65,000 to a woman who received a botched uterine prolapse surgery in 2003.  She suffered injury to her ureter and required a hysterectomy.
March 14, 2011: Quintana's insurance paid out #175,000 to settle a malpractice lawsuit involving injuries received during an exploratory laparotomy. Quintana caused a bowel perforation that required surgical repair and a temporary colostomy. 
April 11, 2013: No insurance money was paid in a case against Quintana that was abandoned.  The plaintiff had alleged she endured a negligent abortion in which her uterus was torn, leading to a hysterectomy.
"Quintana has been a one-man wrecking ball in the lives so many women. Given the permanent harm and overall human misery he has caused, it is unconscionable that he is still allowed to practice in Florida," said Newman. "His medical license profile is misleading, and I wonder how many women would have walked away from abortion appointments had they known the true breadth of his incompetence and perverse conduct. There is no doubt that Quintana continues to pose a danger to the public."
View Quintana's profile on AbortionDocs.org for additional documentation.