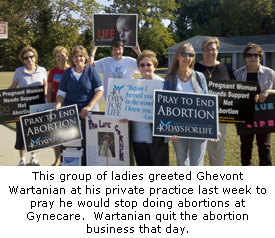 Severna Park, MD — Abortionist Romeo Ferrer, 69, whose medical license was suspended by the Maryland Board of Physicans earlier this month, has closed his Gynecare Center abortion clinic after his replacement abortionist suddenly quit last week.
Operation Rescue discovered that abortionist Ghevont Wartanian had been hired to fill in for Ferrer during his suspension. Due to recent publicity surrounding Ferrer's troubles and an unrelated illegal late-term abortion scheme operated by notorious abortionist Stephen C. Brigham, Wartanian had expressed reluctance to do abortions at Ferrer's troubled clinic beyond September 30.
Operation Rescue published an exposé on Wartanian's troubled past on Monday, September 20.
Just two days later, Wartanian met with pro-life leader Michael Martelli of Living Hope for Life, who had moved a scheduled prayer vigil to Wartanian's private office where no abortions are done, hoping to persuade him to stop abortions at Ferrer's clinic. After a cordial 45-minute discussion, Wartanian agreed to stop doing abortions effective immediately. He called Gynecare, cancelled his existing appointments, and told the clinic he would not be coming back.
With no one to replace Wartanian, Ferrer has permanently closed Gynecare. The clinic telephone plays a recording informing callers of the closure and asking them to call back periodically for "future developments." The recording tells women seeking abortion appointments to refer to the phone book or Internet.
However, the office space occupied by Gynecare has been listed as available for leasing, confirming Wartanian's claim to Martelli that the closure is permanent.
"Gynecare is no longer a functioning abortion mill, and the two abortionists that worked there are not currently engaging in the abortion business. This is a huge victory for the team of pro-life groups that worked together for this outcome," said Operation Rescue President Troy Newman.
Romeo Ferrer faces permanent license revocation for the abortion-related death of Denise Crowe in 2006. Ferrer could also face criminal charges for killing Crowe during a second trimester abortion after he overdosed her on pain-killing drugs while failing to monitor her vital signs. Pro-life groups, including Operation Rescue, had pressured the MDBP to suspend his license, which was done on an emergency basis on September 8, 2010.
Operation Rescue worked with a number of pro-life groups to expose Ferrer and close his abortion clinic, including Pro-life Unity, Living Hope for Life, Christian Defense Coalition, Defend Life, and Cherish Life Ministries.