News video coverage of press conference below.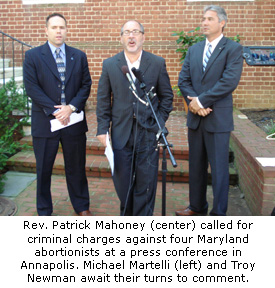 Annapolis, MD – Pro-life leaders gathered outside the Maryland State House on Wednesday to call on officials to criminally charge four abortionists whose medical licenses were either suspended or non-existent in the first place.
Troy Newman of Operation Rescue told the media that the only way to protect the public from abortionists like the four recently making headlines for their bad behavior is to put them in jail.
Last week, Maryland suspended the medical licenses of Utah abortionist Nicola Riley and Delaware abortionist George Shepard, Jr. for helping the notorious Stephen Chase Brigham operate a two-state illegal late-term abortion scheme that landed one woman in the hospital last month. Brigham would begin abortions as late as 36 weeks at his Voo4rhees, New Jersey abortion mill, then the next day, travel by caravan to a secret abortion mill in Elkton, Maryland, where the abortions would be completed.
Brigham is not licensed to practice medicine in Maryland. That state issued a cease and desist order telling him to stop practicing illegally in Maryland. Abortions after 14 weeks are illegal in New Jersey in clinics like Brigham's Voorhees office. New Jersey has since suspended his medical license pending a hearing on October 12.
(Read OR's Investigative Report "Botched Abortion Nightmare: 'I wish I never heard of them'")
The group of pro-life spokespersons is also demanding that criminal charges be brought against abortionist Romeo Ferrer, who killed who killed Denise Crowe during a botched abortion in 2006. Ferrer's medical license was also suspended last week.
Joining Newman at the press conference were Rev. Patrick J. Mahoney of the Christian Defense Coalition in Washington, DC, Peter Shill from Pro-life Unity in Virginia, Jack Ames of Maryland's Defend Life, and Michael Martelli of Living Hope for Life in Maryland, and others.
The group pointed out that abortionist Rapin Osathanondh was sentenced to jail earlier this week after pleading guilty to manslaughter in the abortion-related death of Laura Hope Smith. Newman noted that prosecutors are reluctant to pursue criminal charges against abortionist because abortion is a political hot-potato.
"Abortionists must be held to the same standard of the law as everyone else. In fact, often lesser forms of discipline do not work on them, so jail terms are necessary to protect the public from abortionists who will otherwise continue to act outside the law with shoddy practices that endanger the lives of women," said Newman.
Operation Rescue has already filed a formal request for criminal charges with the Maryland Attorney General's office. OR will be urging New Jersey to properly charge Brigham in that state as well.