By Cheryl Sullenger
Wichita, KS – A medical emergency at the Trust Women abortion facility in Wichita, Kansas, on October 26, 2018, has resulted in the hospitalization of one woman.
Operation Rescue obtained the 911 recording and Computer Aided Dispatch printout related to the incident and found that a 41-year old woman who "just got out of surgery" was hemorrhaging from lacerations received during the abortion procedure.
Apparently, the lacerations were in an internal location that made it difficult for the abortionist reach them. Possibilities include a lacerated cervix or uterine wall.
"And there's lacerations, and she's bleeding. We can't get it — we can't get to it," the Trust Women caller told the 911 dispatcher.
The ambulance arrived at the Trust Women abortion facility at 12:01 p.m. Sixteen minutes later, the woman was transported "CODE YELLOW" to Wesley Medical Center for emergency care not available at the abortion facility. Code Yellow indicates an "Urgent (potentially life-threatening illness or injury)."


The Trust Women abortion facility has gone under several names over the years. It is located in the building that once housed George Tiller's infamous late-term abortion facility, Women's Health Care Services. It was the primary site of the 1991 Summer of Mercy rescues that drew national attention to the evils of abortion.
Four years after the closure of Tiller's abortion business in 2009, his former political lobbyist Julie Burkhart, purchased the building and opened her own abortion business under the name South Wind Women's Services. Once it became clear that South Wind was violating state regulations that prohibited those who were not licensed physicians from operating medical facilities, a second business, Wichita Women's Center, was created.
"Since it began, this abortion facility has operated as if they are above the law," said Troy Newman, President of Operation Rescue. "If state laws had been properly enforced instead of being blocked by a corrupt county court, this abortion mill would never have been allowed to open in the first place."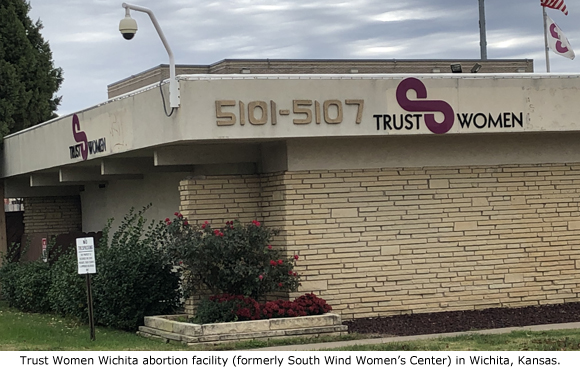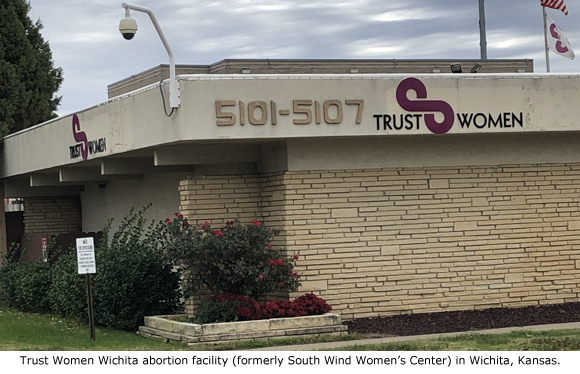 The Trust Women Foundation, which has partially funded the abortion business has had more than its share of troubles, including a number of botched abortions.
Its political action committee was repeatedly fined for election law violations, including the improper use of PAC money to fund the for-profit abortion business. By studying Trust Women's filings, Operation Rescue discovered grossly shoddy bookkeeping and nearly $37,000 in missing funds that disappeared without a trace. A complaint was filed with the Federal Election Commission and the Trust Women PAC was eventually forced to cease operations.
Two blatant examples of the facility's disregard for the law and for other citizens, the clinic's alcoholic security guard was convicted of battering female pro-life activist. Another clinic security guard attempted to steal a pro-life sign from a nearly blind activist, who was falsely arrested and hauled off to jail for trying to protect his property. Thankfully, the activist was later acquitted of all charges.
In 2015, Operation Rescue obtained 911 records that revealed a desperate call from the mother of a pregnant teen who had been taken to the Wichita abortion facility by other family members against her will for an abortion she did not want. At the time, Burkhart had refused to allow police into her facility to conduct a safety check on the minor girl.
"This clinic is a menace to women, to their babies, and to the public," said Newman. "They use deception, bullying, and other abusive means to intimidate women as well as pro-life supporters that just want to help women and save babies. They can't close fast enough."

To learn more about medical emergencies at this and other abortion facilities, visit Abortion911.com.