By Cheryl Sullenger
Unlicensed abortionist Bertha Bugarin, is now serving 6 years, 8 months in a California State women's prison for committing illegal abortions. Some history is in order concerning her shoddy and illegal abortion business, Clinica Medica Para La Mujer De Hoy. This narrative was written to help the reader better understand the people and the circumstances that have led to the current criminal cases against Ms. Bugarin.
While we have included some details of the horrific nature of her abortion business, the information Operation Rescue has on file is far too voluminous to include here in total. What you are about to read is just the tip of the iceberg.
No Medical Background – No Problem
Bertha Bugarin had no background in medicine. In fact, her business experience included management of various restaurants in the Southern California area. It is unknown how the twenty-something Hispanic woman originally met the aging abortionist Nicholas Braemer, but she began a long partnership with him in the 1980's. Together they formed a company known as B&B, and opened a chain of abortion mills in Southern California that were rivaled only by Family Planning Associates and Planned Parenthood.
Bugarin and Braemer once owned eleven abortion mills in three densely populated areas of Southern California where there were large, poor Hispanic populations. Those areas were Los Angeles, Orange, and San Diego Counties. Bugarin took pride in her successful business plan of targeting Hispanic neighborhoods for abortions. In addition to television, newspaper, and phone book ads, Clinica Medica would often pay $25 a day to homeless or poor people off the street to distribute coupons offering discounted abortion rates throughout these neighborhoods.
Investigations Reveal "Shop of Horrors"
In the late 1980's and early 1990's Operation Rescue held a number of clinic blockades, or rescues, at several of the notorious Clinic Medica sites. News of Braemer's many botched abortions and lawsuits caught the attention of the pro-life community, especially Troy Newman at Operation Rescue.
A San Diego area pro-life activist, Cheryl Sullenger, discovered that the Bugarin chain had expanded into Chula Vista, near San Diego, in the mid-1990's and established a regular pro-life presence there. She began to do research on the three abortionists who she discovered were associated with the Chula Vista location.
What she discovered shocked her.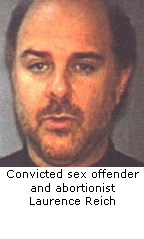 Not only were there "reams" of documentation about Braemer's horrific abortion record, but she discovered that two other abortionists, Mohamed Dia and Laurence Reich, also had monumental problems of their own. Dia had been previously disciplined by the California Medical Board for botched abortions and was under investigation for Medi-Cal fraud and three serious cases of abortion negligence that landed three women in the hospital with life-threatening injuries. It was also learned that Reich was a convicted sex offender who had raped and molested his patients in the 1980s. In fact, business cards distributed at the Chula Vista abortion mill misspelled his name as "Reish," likely to keep unsuspecting women from learning the truth about Reich's record of sexual abuse.
Operation Rescue Launches 1-Year Campaign
When Newman took over the leadership of Operation Rescue in 1999, his first project was to focus attention on the Clinica Medica Para La Mujer De Hoy abortion chain. He, with Sullenger's help, began to investigate and expose the dangerous abortionists that operated at the Bugarin abortion chain. They made leaflets about the abortionist's records, picketed the neighborhoods where the abortionists lived, and held press conferences about the problems at the abortion chain.
The heightened public awareness and pressure that it generated worked. Within that year, first Mohamed Dia, then Nicholas Braemer surrendered their medical licenses. Along with more botched abortion accusations, Braemer, now 60, had been caught violating his probation by doing abortions at Clinica Medica, an "unapproved facility" under his probation restrictions.


Also during that time, it was discovered that one of the Clinica Medica abortionists, who went by the name of Steven Turnipseed, or "Dr. Steve," actually had no medical license. With the help of a young staffer, Operation Rescue was able to document that "Dr. Steve" was a fraud that was committing illegal abortions on unsuspecting Hispanic women, who were either too afraid or unaware of how to report his shoddy and illegal practices to the authorities. Within three months of a formal complaint having been filed by OR with the California Medical Board, "Dr. Steve" left the Clinica Medica abortion chain and disappeared.
These were the first indications that the Bugarin abortion mills were willing to hire unlicensed workers to commit abortions – but they would not be the last.
Reich the Rapist
With the surrender of Braemer's medical license, the job of the abortion chain's "medical director" fell on Laurence Reich. Sullenger made numerous complaints to the Osteopathic Medical Board of California, through which Reich was licensed. She told them that it was only a matter of time before Reich, a sex criminal, would offend again, but her complaints fell on deaf ears – for a time.
Bugarin's "Poster Boy" – Phillip Rand
During this time, Clinica Medica began closing some of the abortion clinics under pressure due to a lack of abortionists. Bugarin continued to hire troubled abortionists with serious professional and personal problems.
Among those was San Diego abortionist Phillip Rand, the virtual "poster-boy" for the Clinica Medica chain. He had lived a troubled life. In the 1960's his wife, Sunny, was found executed in her kitchen in what was believed to be a mob hit over shady financial dealings. Professionally, Rand had been sued over 40 times and was disciplined again and again by the Medical Board throughout the years. Rand was hit with a $4 million judgment against him for botching the delivery of a baby that resulted in permanent brain damage to the child. He was able to sufficiently hide his assets and never paid one cent to the suffering family.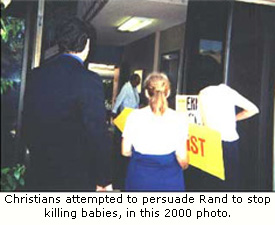 Rand most frequently operated at the Chula Vista location, but as Bugarin's stable of abortionist dwindled, he was forced to "ride the circuit," traveling from clinic to clinic in order to keep Bugarin's mills open.
In August, 2003, Rand botched an abortion on a woman whom California Medical Board documents name only as "A.P." She had gone to the Santa Ana Clinica Medica Para La Mujer De Hoy to undergo a second trimester abortion. In spite of not having the proper facilities to perform a late abortion, Rand attempted the procedure. Medical Board records show that Rand did not administer any anesthesia or painkillers, both standard in the procedure. Upon completion of the abortion, Rand left the clinic. When A.P. became ill, the two unlicensed medical assistants who had assisted Rand called him and asked that he return to the clinic. Already en route to his San Diego home, Rand refused to return and told them to call 911. When the paramedics from the Santa Ana Fire Department arrived at the clinic, they found A.P. in a pool of blood. One paramedic was so incensed by how he found A.P. that he reported Rand to his supervisor who, in turn, notified the Medical Board. A signed declaration from the paramedic noted, "This was the worst post-partum patient situation at a medical clinic I have ever encountered during my time as a paramedic."
Shockingly, it was Nicholas Braemer who made the call to 911, three full years after having surrendered his medical license. What was Braemer doing at the abortion mill in Santa Ana, a clinic from which the Medical Board had previously banned him? That question has never been answered.
It took 20 months for the 83-year old Rand to finally surrender his medical license. Even then, it was only after the Medical Board had suspended it and declared him a danger to the public, a designation that was long overdue.
More Troubled Abortionists
Other troubled Clinica Medica abortionists included:

A tragic case of "I told you so!"
In 2002, Reich pleaded "no contest" to two counts of sexual assault on his patients. Sullenger's fears that Reich would continue to victimize his patients – fears were repeatedly rebuffed the Board of Osteopathy – had become a reality. According to a news report, "two women accused Reich of sticking his fingers inside their vaginas without medical necessity. Both women said Reich asked inappropriate sexual questions and both said he gave them his home phone number." It became clear that Reich was a sexual predator who used the abortion business as an opportunity to access victims.
In California, the Board of Osteopathy can investigate complaints, but has no power to revoke a license. That power lies with the State's Attorney General's Office, which negotiated with Reich's attorneys for three years after his second conviction, while Reich was appallingly allowed to continue his abortion business. The Board had apparently learned its lesson the hard way, rejecting several agreements offered by the Attorney General's office as being too lenient.
Under pressure, Reich finally surrendered his license in April, 2006. One would think that was the last to be heard from the notorious rapist/abortionist, but it was not to be so.
Task Force Raids
Desperate to keep her last remaining abortion mills operating, Bugarin began to do abortions herself. This information eventually made its way to the Los Angeles Police Department Health Authority Law Enforcement Task Force (HALT), which raided Bugarin's four Los Angeles County mills on August 1, 2007. Those raids resulted in the arrest of Bugarin and her sister Raquel, who was charged with aiding and abetting Bertha in the commission of illegal abortions without a medical license.
Bertha Bugarin, now 47, was charged originally with five felonies and two misdemeanors while her sister was charged with five felonies. Charges were later added, bringing Bertha's felony count to 18. She posted bond and was ordered to stay away from her abortion mills.
Above the Law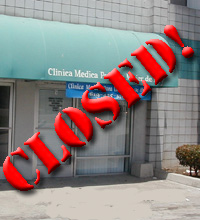 Two months later, pro-life sidewalk counselor Luis Mendoza photographed Bugarin outside her Chula Vista office wearing scrubs and a stethoscope. Police were notified, and the photos were published by Operation Rescue, bringing attention to the heretofore-unpublicized case.
Twelve days later, the Los Angeles Times published a shocking exposé on Bugarin's troubled abortion business.
Less than two weeks later, disgraced abortionist Laurence Reich as again arrested by the Los Angeles Police Department. Their investigation revealed that Reich had continued to commit abortions after he had surrendered his license in 2007. He was charged with three felonies and released on $60,000 bond.
Bugarin had intentionally kept Reich on as an abortionist even though she knew he was a twice convicted sex offender that used her clinics to access his victims and that had no medical license. She knew illegalities and the risks to women, but just did not care.
Busted Flat in San Diego
Meanwhile, the Chula Vista Police Department was conducting an investigation of their own. Over the years, they had received numerous complaints about Bugarin's Chula Vista operation from pro-lifers who believed she was operating outside the law.
Finally, nine women came forward with stories of botched abortions received at Bugarin's hand. Many women suffered from incomplete abortions and were forced to return to have their abortions done again. One woman was hospitalized three times, and birthed a live baby that died three hours later.
On June 19, 2008, Bugarin was arrested and charged in San Diego County with ten felonies and one misdemeanor for practicing medicine and prescribing drugs without a license. Bugarin appeared on television newscasts wearing a blue prison jumpsuit and shackles. If convicted, she faces nine years in jail.
Bugarin's Chula Vista abortion mill has since closed.
UPDATE: On January 30, 2009, Bugarin was sentenced to serve 3 years and 4 months in prison for 7 felonies related to illegal abortions. She was immediately taken into custody. On April 24, 2009, Bugarin was sentenced to 6 years and 8 months in prison for her crimes in San Diego County where she had pled guilty to everything with which she had been charged. Her sentences will run concurrently.
A pattern has been clearly established: Bugarin and her abortionists have no consideration or respect for the law and, in spite of repeated efforts at discipline, have continued to operate as if they were above it. Probation and license restrictions – even the lack of a medical license – has proved to be no deterrent whatsoever to them. The only way to stop Bugarin and her cohorts from continuing their illegal and life-threatening reign of terror on the women of Southern California is to put them behind bars.