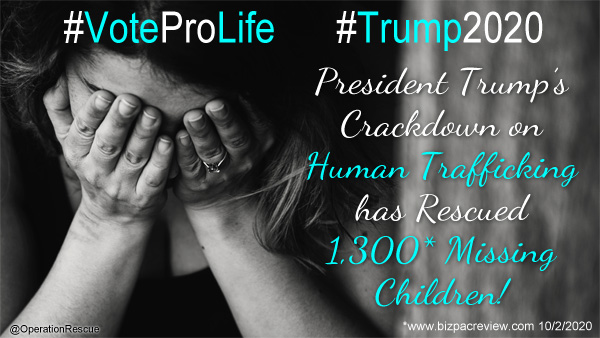 By Cheryl Sullenger
The Pro-Life Movement is primarily focused on ending abortion in America and giving support to pregnant women who would otherwise be vulnerable to abortion. While it may seem that the matter of human trafficking is a separate cause, in reality, the abortion and the trafficking of women and children are intertwining causes.
Troy Newman, President of Operation Rescue, wrote last month about Planned Parenthood's involvement in conducting abortions on women and minors who were sex-trafficked. In that article, Newman quoted from a report published by the American Association of Pro-Life Obstetricians and Gynecologists (AAPLOG) that stated a shocking statistic.
Out of 768 sex-trafficked women who responded to their survey, nearly 90% (683) had at least one abortion between the ages of 11 and 17. Eighty-eight percent of those 683 women, noted that their abortions had taken place at Planned Parenthood.
While, President Donald J. Trump has done much to take away abortion funding and establish policies that respect and protect innocent life from the moment of conception until natural death, what many may not know is that during President Trump's first term, there has been a dramatic crackdown on human trafficking within the United States.
Since President Trump's administration began in January 2017, and through August, 2020, the USA Today reported that the FBI along with Homeland Security Investigations and ICE have made 8,559 criminal arrests related to human trafficking. The number of arrests have increased each year – all of which have outstripped the number of arrests during former President Barack Obama's last year of office.
Another news story reported that during the Trump Administration, approximately 1,300 missing children have been rescued by the U.S. Marshall's service through August 2020. And that does not even take into account the adult women who have been rescued.
In October alone, a quick Internet search turned up the following news stories:
Of the 124 women and children rescued from human trafficking rings in these October incidents alone, if 90 percent of them had at least one abortion, in keeping with the abortion rate reported in the AAPLOG study results, that would mean over 110 abortions may have taken place as a result of sex trafficking.
"When human trafficking is stopped, abortions are also prevented," said Troy Newman. "That makes ending human trafficking a huge issue for pro-life voters. The Trump Administration has done more to address human trafficking than before it, and we are grateful to them for the lives this enormous effort has saved."
Vice President Mike Pence held a conference call on January 9, 2019, in which he sought support for the border wall. During that call, he told participants, including Operation Rescue staff, that human sex traffickers and other criminals were victimizing women and children by the thousands, and that human trafficking over the U.S./Mexico was, at that time, a two-billion-dollar annual trade.
President Trump's border wall has contributed to hindering human traffickers who were pouring over the U.S. Border with Mexico before he took office. Trump announced over the weekend that 400 miles of border wall have so far been completed, making the border safer than it has ever been.
"Trump's heroic crackdown on human trafficking has saved lives and spared women and children torment at the hands of their traffickers.  We support his efforts to protect the innocent – from the unborn to adults – from exploitation, abuse, and death," said Newman.  "For the pro-life supporter, Trump has more than earned our votes.  The pro-abortion Biden-Harris ticket, wants to re-open our borders to illegal crossers, and that will surely include human traffickers.  That, along for their radical support for abortion, disqualifies Biden and Harris from receiving our votes.  I look forward to a second pro-life Trump term."