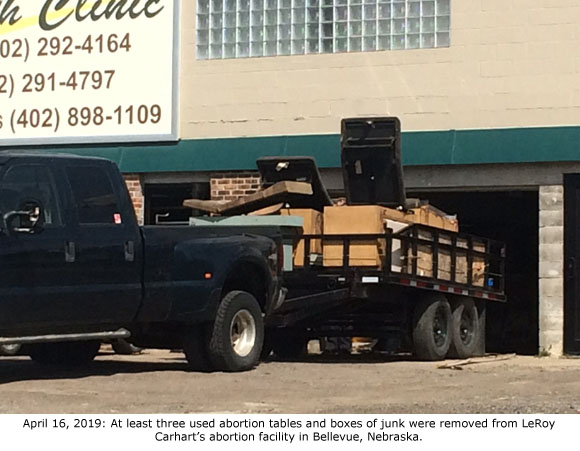 By Cheryl Sullenger
Bellevue, NE – Tuesday was apparently spring-cleaning day at the Abortion and Contraceptive Clinic of Nebraska in Bellevue, Nebraska.  A prolife activist snapped this photo of a pickup hauling away a trailer full of junk from the basement of the abortion clinic.
Carhart owns and operates this clinic in Nebraska, now going by the sanitized name "Bellevue Health Clinic," where abortions are done up to 20 weeks gestation. He also operates a full-term abortion facility in Bethesda, Maryland, where he conducts abortions throughout all nine months of pregnancy.
The trailer contained at least three decrepit abortion beds that looked like something straight out of Kermit Gosnell's "House of Horrors" clinic.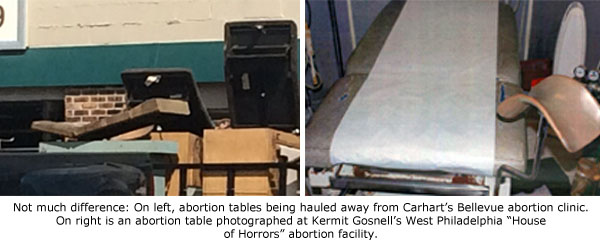 Carhart has never been known for keeping a tidy space. In 2009, an accidental fire broke out in the garage of the abortion facility that was attributed to improper storage practices.
He soon reopened his clinic before repairs had been fully made and dangerously conducted abortions using a generator with extension cord for power. After pro-lifers reported these frightening conditions, the City of Bellevue closed him down until repairs could be properly completed.
Why the sudden cleaning frenzy now?
Carhart, who is 77, is rumored to be in very poor health. He has kept up a strenuous weekly travel schedule between Nebraska and Maryland for years.
Could he be preparing to wind down his abortion businesses? Stay tuned!