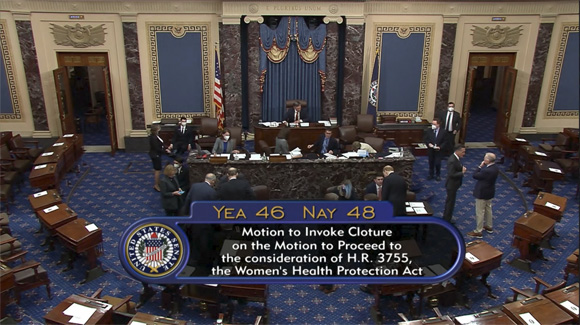 By Cheryl Sullenger
Washington, D.C. — In a big win for abortion opponents, the U.S. Senate voted last night to block the Democrat's far-reaching abortion bill, H.R. 3755, which would have encoded Roe v. Wade and nullified nearly every pro-life law in the nation.
The vote was 46 in favor and 48 opposed to considering the legislation – not even close to the sixty votes that were needed to move the bill on.
Sen. Joe Manchin was the lone Democrat to join the Republicans in voting against consideration of H.R. 3755.
Prior to the vote several GOP Senators made impassioned pleas against the pro-abortion legislation, which would have mandated abortion without restrictions in every state.
"This vote sent a strong message that America is weary of the human suffering that abortion has inflicted on our nation. We are so grateful to every Senator who voted against this horrific bill. With their votes, they literally saved the lives of countless innocent children," said Troy Newman, President of Operation Rescue. "We also are thankful for all the pro-life people who contacted their Senators in opposition to H.R. 3755. You share in this important victory."
Known as the "Women's Health Protection Act" by Democrats, and the "Abortion on Demand Until Birth Act" by pro-life Republicans, this failed legislation was an attempt to nullify an expected pro-life win in the upcoming ruling from the Supreme Court in Dobbs v. Jackson Women's Health Organization. The Supreme Court is expected to uphold the Mississippi ban on abortions after 15 weeks, which is at the heart of the case. However, there is speculation that the nation's highest court could use the opportunity to overturn the 1973 Roe v. Wade decision that decriminalized abortion, leaving it up to each state to decide whether abortions will be allowed.
The abortion legislation was also meant to counter the Texas Heartbeat Act, which prohibits abortions after a fetal heartbeat is detected, usually around six weeks of pregnancy. That state law has reduced abortions in Texas by around 60 percent.
"Now is not the time to let our guard down. Yesterday's vote was a great victory, but I am sure this pro-abortion administration has more tricks up their sleeves that they will gladly use to ensure abortion profits continue to flow to their campaign donors in the Abortion Cartel. Vigilance is still required as long as Planned Parenthood cronies control our federal government," said Newman. "Please pray for our Supreme Court justices as they prepare to release their ruling on Dobbs sometime this spring."