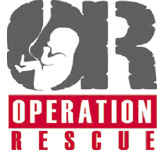 Wichita, Kansas — Two abortionists who planned to set up separate abortion businesses in Wichita have both agreed not to do abortions at this time.
Operation Rescue worked behind the scenes to insure that Greg Linhardt and Mila Means dropped plans to bring abortions back to Wichita, one of the largest abortion-free cities in the United States.
Linhardt, an anesthesiologist, has informed Operation Rescue's sources that he has quit his abortion training and will not be doing abortions at all.
Means reached an agreement with her landlord, Foliage Development, not to follow through with plans to begin abortions at her current office. In exchange, a lawsuit and temporary restraining order filed against her to halt her abortion business has been put on hold. Thus far, she has not been able to locate a landlord in Wichita that will lease office space to her.
Operation Rescue president Troy Newman, who was listed in the suit as a potential witness for Mean's landlord, led a large protest at her office, and exposed her checkered background that includes financial problems and previous disciplinary action levied against her by the Kansas State Board of Healing Arts (KSBHA).
Previously, Operation Rescue was successful at preventing Nebraska's infamous abortionist LeRoy Carhart from opening a late-term abortion business in Kansas after the closure of George Tiller's Women's Health Care Services, where Carhart worked on a part-time basis.
At the time of Tiller's death, he was facing an 11-count disciplinary petition from the KSBHA for illegal late-term abortions and had announced his retirement just prior to his death. That petition was based on a complaint filed by Operation Rescue.
Before that, Operation Rescue bought the building housing Wichita's only other abortion clinic, Central Women's Services, with the stipulation in the real estate contract that the abortion clinic would not be allowed to stay. This forced the abortion business to close. After documenting the horrific conditions found at the clinic upon taking possession of the building, Operation Rescue completely renovated the structure and it now serves as OR's national headquarters and a memorial to the pre-born.
"We have worked long and hard through peaceful, legal means, using tactics developed over decades of pro-life experience to keep Wichita abortion-free. The rest of the pro-life movement should be encouraged that it is possible, with God's grace, to drive abortionists out of their communities and keep them out," said Newman.