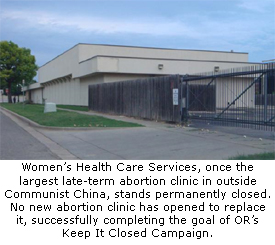 Wichita, KS — Operation Rescue announces that it has successfully concluded its Keep it Closed campaign to prevent the opening of a new late-term abortion clinic in the Midwest just six months after it began.
Operation Rescue launched the campaign in August, 2009, after late-term abortionist LeRoy Carhart pledged last year to open an abortion clinic specializing in late second and third trimester abortions within 50 miles of Wichita to replace the now-closed Women's Health Care Services in Wichita, Kansas.
"This campaign has reached all of its goals and has now been successfully concluded," said Operation Rescue President Troy Newman. "As a result of our efforts to block the opening of another late-term abortion clinic, a huge region of the nation's heartland is now abortion-free."
With the prevention of the reopening of another abortion clinic in the Midwest, an abortion-free zone has been created that stretches from Lincoln, Nebraska, to Oklahoma City, and from Kansas City to Denver. The largest city in Kansas, the college community of Wichita, remains abortion-free.
Accomplishments of the Keep it Closed campaign:
Successfully petitioned Wesley Medical Center to deny hospital privileges to Carhart should he attempt to open an abortion clinic in the Wichita area.
Successfully prevented Carhart from opening an abortion clinic within 50 miles of Wichita as planned, or anywhere in Kansas.
Successfully obtained an investigation of Carhart with the Nebraska Department of Health.
Collected and submitted affidavits to the authorities from former Carhart employees blowing the whistle on illegal activities they witnessed while in Carhart's employment.
Successfully obtained a criminal investigation of Carhart, which is proceeding.
Successfully prevented Carhart from taking George Tiller's place as the number one late-term abortionist in the nation.
Created public awareness that has prompted the Nebraska legislature to pass new late-term abortion restrictions.
"We know from first hand-experience that when abortion clinics close, lives are saved. This campaign was a huge success that will likely continue to bear fruit," said Newman.
"However, we are painfully aware that viable babies continue to die at a few existing abortion clinics throughout the country. Our focus will now shift to these areas and will continue to work through all peaceful and legal means available to expose those dangerous late-term abortion businesses."