By Cheryl Sullenger
Wichita, KS – Valentine's Day usually brings heart-felt thoughts of love and romance. But for one woman, the day was characterized instead by a life-threatening medical emergency and an unexpected ride in an ambulance to a local hospital emergency room.
Instead of celebrating Valentine's Day with her loved ones, she sought an abortion at Trust Women, an abortion business located in Wichita, Kansas. There, something went terribly wrong.
An ambulance was called to Trust Women on February 14, 2022, at approximately 1:45 p.m. for a woman who was hemorrhaging after an abortion, according to an emergency radio dispatch recording obtained by Operation Rescue.
The woman was believed to have been taken by ambulance to Wesley Medical Center for treatment for her life-threatening condition that was unavailable at the Trust Women abortion facility.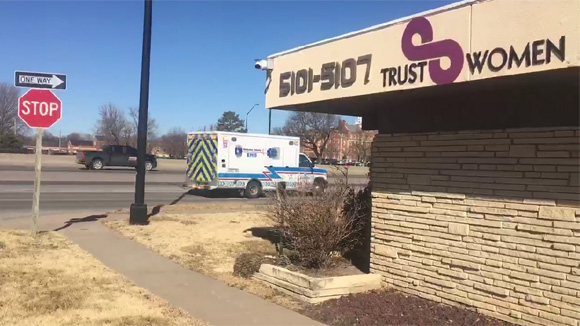 Operation Rescue was tipped to the emergency as it was in progress. Operation Rescue President Troy Newman responded to the abortion facility and photographed the ambulance as it left Trust Women with lights flashing and sirens blaring – an indication of a serious medical emergency.
While filming the emergency, Newman was verbally attacked by the facility's unstable security guard, Carl Swinney, who has a documented history of alcoholism and battery against peaceful pro-life activists. He is homeless and purportedly lives at the abortion facility.
"This is the eighth time we have seen an ambulance at Trust Women," said Newman. "But in Kansas, abortion facilities are not licensed or inspected. When women are injured at abortion facilities, medical oversight agencies essentially turn a blind eye. Kansas is a strong pro-life state, but the state government has betrayed the people in favor of keeping abortionists unaccountable for the harm they cause."
Trust Women first opened in 2013, in the same building where Women's Health Care Services once operated before its closure in 2009. Women's Health Care Services, which was owned and operated by the nationally known abortionist George Tiller, who once described his business as the largest late-term abortion facility outside Communist China.
Today, that facility conducts surgical abortions up to 22 weeks.
Trust Women has been in the news lately after it and its Oklahoma affiliate experienced an increase in Texas women seeking abortions after the passage of the Texas Heartbeat Act. That law prohibits abortions after a fetal heartbeat can be detected, usually at six weeks of pregnancy.
A survey of abortion facilities nationwide verified that despite the news media's hyperventilation over Trust Women being "overwhelmed" by Texas customers, women wait only 11 days from the time they make an appointment at Trust Women until they receive one – equal to the national average waiting time for a surgical abortion.